Woohoo, dreams come true! Except when they do they're rarely as you imagine.
I lived in Tampa for over a decade, and when I did I had three realistic "dream" routes out of Tampa International Airport (key word being realistic, though I would've certainly taken an Emirates A380 nonstop flight to Dubai as well):
Alaska to Seattle
American to Los Angeles
Lufthansa to Frankfurt
The first two came true. Alaska launched service between Tampa and Seattle back in June. Too bad I don't really have a need to fly to Seattle anymore. And American's flight between Tampa and Los Angeles launched just last week.
Lufthansa was more of a stretch, but I figured it was always a possibility. What could be better than taking a shower at home and having caviar a couple of hours later enroute to Frankfurt. Or for that matter, going to the First Class Terminal in Frankfurt and then taking a nonstop flight home. Sounds good, right?
Well, there's great news and not-so-great news. The great news is that Lufthansa will be starting 5x weekly Airbus A340-300 flights between Frankfurt and Tampa as of September 25, 2015.

Lufthansa A340-300
Per airlineroute.net, the flight will initially operate with the following schedule:
LH482 Frankfurt to Tampa departing 11:00AM arriving 3:50PM
LH483 Tampa to Frankfurt departing 5:20PM arriving 8:45AM (+1 day)
Then starting October 25, 2015, the flight will operate 4x weekly with the following schedule:
LH482 Frankfurt to Tampa departing 2:35PM arriving 7:55PM
LH483 Tampa to Frankfurt departing 9:25PM arriving 12:40PM (+1 day)
The bad news is that this flight will be operated by Lufthansa's new low cost configuration, Jump. The A340-300 will feature 298 seats, spread across three cabins:
18 business class seats
19 premium economy
261 economy seats
This does represent a pretty substantial increase in capacity over Lufthansa's more "traditional" configuration. Lufthansa's A340-300s with first class feature just 241 seats, so this Jump configuration represents a ~20% increase in capacity.
Based on the press release I believe Lufthansa will be installing their new business class seats on the Jump A340-300s, which are fully flat. While not an amazing product, it is a huge improvement over Lufthansa's old business class product.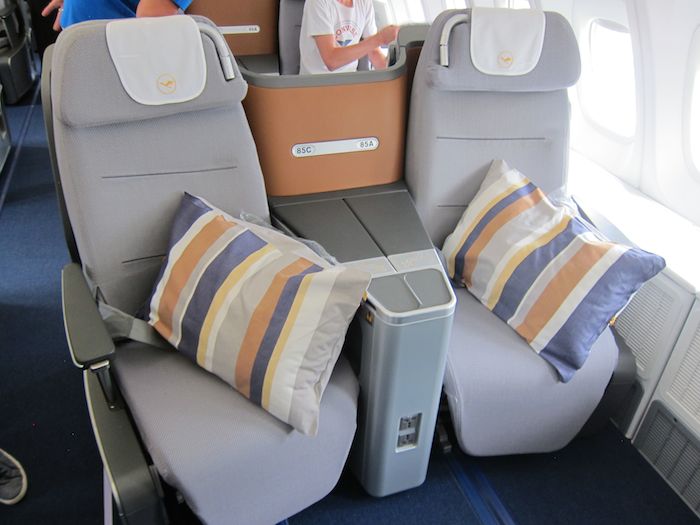 Lufthansa's new fully flat business class seats

So yay… I think!