I have a somewhat different approach to most when it comes to holiday travel, in that I prefer to travel on holidays to avoid the crowds and get cheaper flights, instead of around them. My family is fine with it, and this year it has resulted in me flying on Thanksgiving and Christmas (what can I say, I enjoy spending those days with my AAmerican family as well).
I'm actually heading back to Seattle right now, flying from Palm Beach to Chicago to Seattle.
My flight out of Palm Beach was scheduled for 3:20PM, and I got to the airport at around 2:15PM, to leave a bit of extra time in case security lines were long.
Fortunately they weren't, and I was at the gate before 2:30PM. At about 2:40PM, about 10 minutes before boarding was scheduled to begin, the gate agent announced a delay… of three hours. As a matter of fact the plane hadn't even left Chicago yet. I wasn't going to get angry at the agents and I'm totally understanding of delays, though I do wish they would have announced it a bit earlier, as the delay wasn't a surprise. My parents were driving home from Palm Beach to Tampa after dropping me off at the airport, so I was stuck at the airport.
Meanwhile the agent makes an announcement saying to form a line at the podium if you want them to check on alternative connections. I got in line while also looking at options on my phone, mainly because I wanted to ask them whether the crew was originating in Palm Beach or coming in from elsewhere (in which case I was concerned they may be timing out). The guy in front of me in line was a Platinum member. The gate agent looked at alternative options to his final destination, and there were none for tonight. So he gives the gate agent "five minutes to call the Platinum line and find another flight" for him or "there will be consequences." Classy.
I sit in the terminal for a good three hours, knowing it'll be well after 6PM when the flight leaves, given that the inbound aircraft wasn't due in till 5:55PM. Fortunately Palm Beach Airport has free Wi-Fi, so the wait wasn't that bad.
It's 6:30PM by the time we take off, aa.com shows an arrival time of 8:50PM, while my connection would be at 8:40PM, leaving me a connection of negative ten minutes.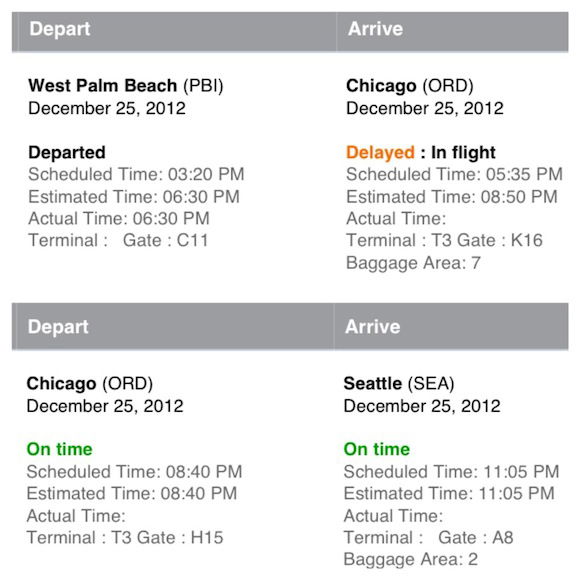 Also, as luck would have it, there was an infant seated right in front of me. I'm totally fine with babies in first class, though it drives me nuts when parents don't put in any effort (regardless of which cabin they're flying). In this case the baby screamed the whole flight, and the mom just laughed about it.
Unfortunately the baby was actually the nicer of the two noises in my vicinity, as I had a seatmate that wouldn't shut up. For whatever reason I've had a hard time getting over jetlag since getting back from the Middle East, and I've been getting up outrageously early and going to bed early as well. As a result I was tired by the time I was flying, given that I had been up for 16 hours. I wanted to nap, so I put on my headphones. Unfortunately my seatmate didn't get the hint. The pair of seats across from us were empty, so I explained I'd move over there as I wanted to lean against the window to sleep (I was seated in the aisle next to him otherwise).
That still didn't stop him, he continued to have a conversation with me from three seats away. At that point I literally closed my eyes, put on my headphones, and pretended not to hear him. I don't want to be rude, but sometimes you just don't feel like talking.
Then when we deplaned he gave me his business card and said if I'm ever looking for a job to call him. What the…?
Fortunately we made up a bit of time in the flight, and got to the gate at 8:36PM, meaning I had a four-minute connection. I ran for my connecting gate, H15, which was just a few gates away, and made it there while the door was still open. The agent scanned my boarding pass, though the machine made the same noise you get on "The Price is Right" after you lost the showcase showdown. She looked at it more closely and said "wait a second, how the heck did you make this? We assumed you'd misconnect as your aircraft doesn't show as even being on the ground yet."
So by some miracle I made it. I'll be able to sleep in my own bed tonight, and I'm actually excited not to have any travel planned… as of now.
Hopefully those of you that celebrate had a calmer, less talkative and scream filmed Christmas. Ho ho ho…