South Africa's newest airline, LIFT, has just started accepting reservations. The airline is odd — it will operate one of the oldest A320 fleets in the world, and also promises to offer a world-class customer experience.
All of this comes as aviation in South Africa in general is struggling, as South African Airways is more or less out of business, though who really knows what's going on at the airline.
The story of South Africa's LIFT
LIFT is a new airline that is a collaboration between Gidon Novick (the founder of kulula, a South African low cost carrier), Jonathan Ayache (a former Uber executive), and Global Aviation (a South African charter airline that primarily operates wet lease flights).
The reason LIFT is able to get started so quickly is because for all practical purposes it's part of Global Aviation, which is how the airline is licensed, has its air operator's certificate, etc.
There's even a fun story behind the name of the airline — the founders held a naming competition, and there were over 25,000 entries. LIFT was chosen as the name, as that's supposed to "capture the marvel of the physics of flying," and "encapsulates a view of the world and our beautiful country."
Those who suggested the name LIFT are receiving free flights for a year, and will have their names inscribed on the company's first aircraft.
What planes will LIFT fly?
LIFT will initially fly three Airbus A320s, which they're taking over from Global Aviation (if you can even call it "taking over," since LIFT will be part of Global Aviation). The planes will be in a one cabin layout, and will be old.
Global Aviation's A320s are an average of over 30 years old, as the airline has the second oldest A320 fleet in the world. Of course if planes are well maintained that's not an issue at all. But still, it's not often you see a startup launch with 30+ year old planes. On the plus side, I guess the planes aren't costing LIFT much.
What routes will LIFT fly?
Tickets are already for sale on LIFT's website for the first two routes, which will launch as of December 10, 2020:
6x daily Johannesburg (JNB) to Cape Town (CPT)
1x daily Johannesburg (JNB) to George (GRJ)
We'll see how that evolves over time, but that's the plan as of now. The airline is hoping to capitalize on domestic tourism demand during the peak summer travel season.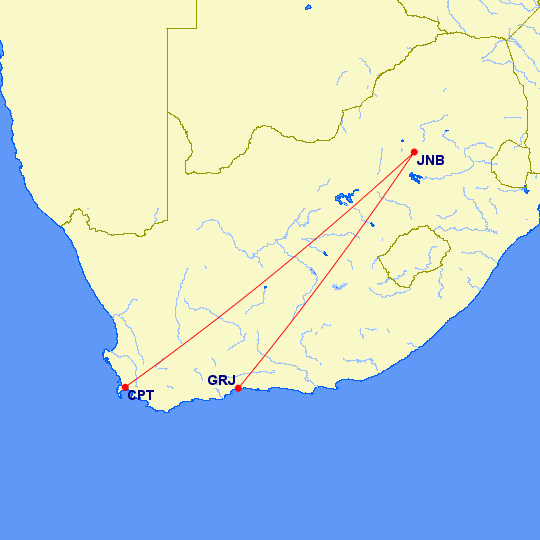 What are LIFT fares like?
LIFT doesn't have any change or cancelation fees, so all tickets are fully flexible. While the airline is marketing this as a core part of its value proposition, we'll see how that evolves over time. After all, many airlines are waiving change fees nowadays due to all the uncertainty.
One-way fares between Johannesburg and Cape Town start at 855ZAR, or 54USD. They don't actually get all that much more expensive than that, though I imagine that could change if flights start to fill up.

What will make LIFT different?
There's already quitea bit of competition in the domestic South African market (especially between Johannesburg and Cape Town). What will set LIFT apart? The claims are that:
LIFT has a "different and more flexible operating model which uses technology to offer a world-class customer experience"
LIFT tickets are all fully flexible, allowing travelers to change and cancel without penalties
LIFT cabin crew and ground staff will wear clothes from online fashion retailer Superbalist
Travelers will be treated to "proper coffee" from Vida e Caffè on morning flights, while afternoon flights will feature a South African wine tasting
The airline is hoping to achieve a cost base that's 30% lower than competitors
My take on LIFT
I'm curious to see how this experiment goes. On the one hand, I find talk of technology being a priority to be a bit funny, given the airline has a very basic website and doesn't even have social media accounts. I haven't yet seen any specific examples of what will set LIFT's technology apart.
If I had a dollar for every travel company that promised technology would be a point of differentiation, only to not have great technology, I'd have enough money to cover another six months of CARES Act funding. 😉
Now, here's what I find most interesting about LIFT — the airline seems to have virtually no downside:
I imagine Global Aviation's A320s are mostly just sitting around right now, given how little demand there is for passenger wet leases due to the pandemic
LIFT is even technically part of Global Aviation, so the airline does have an incredible ability to adjust capacity with resources that already exist; if flights are full they can add more flights, while if this doesn't work out, the planes can just go back to Global Aviation
Not many startup airlines have that kind of flexibility…
Bottom line
LIFT is South Africa's newest airline, and it will be launching operations as of December 10, 2020. The airline will initially operate two domestic routes with 30+ year old A320s. The airline is promising great technology, hip uniforms, good coffee, and wine flights.
Only time will tell what the airline actually delivers…
What do you make of LIFT?
(Featured image courtesy of Anna Zvereva)