I spend a lot of time here talking about airline soft products. As airlines keep improving the quality of their first and business class, it's a topic I find really interesting, as there's such variation in quality.
However, at the end of the day it's almost universally agreed upon that business class is all about the seat. The primary benefit of flying business class is being able to land at your destination well rested. The bells and whistles are nice, but if you have a comfortable bed, that's more important than anything.
How much does meal service really matter?
When I review a business class meal service on a quick overnight flight, some people will comment "business travelers don't care about food, they just want to go straight to sleep."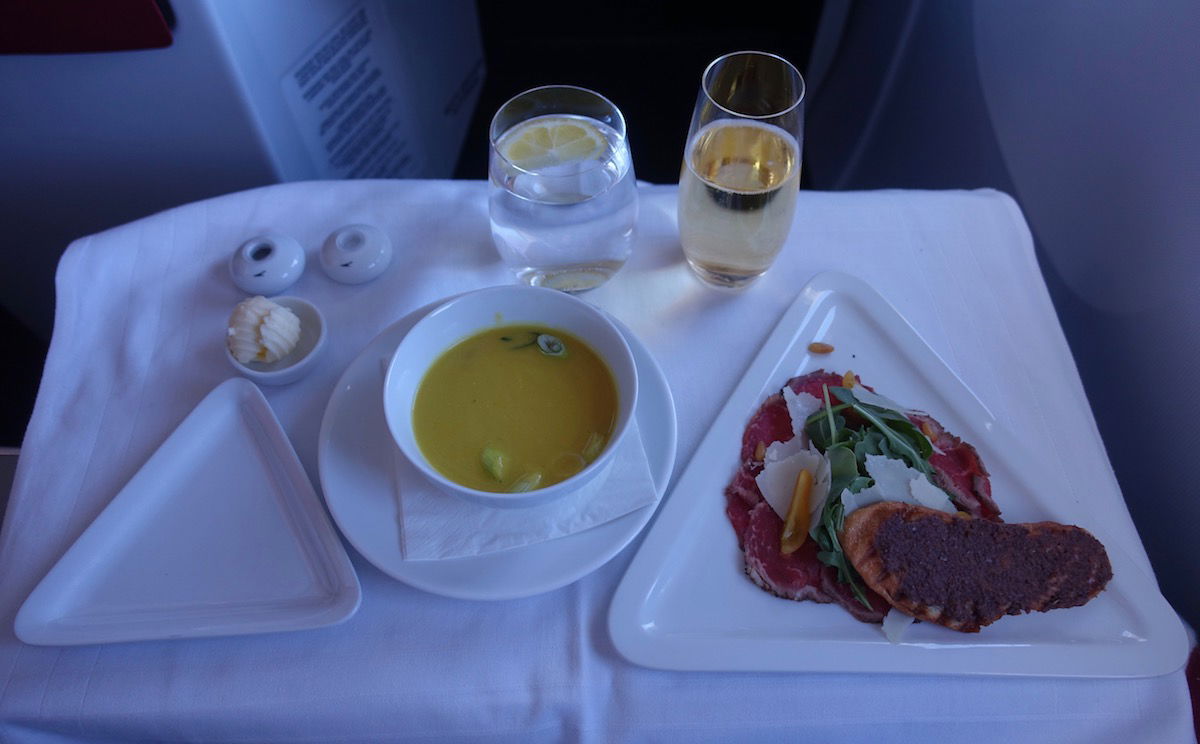 I think that's largely true, and some people may be surprised to learn that I actually think airlines provide too much service in business class on some flights.
I'll go so far as to say that I'd almost like to see some airlines eliminate meal service on quick overnight flights altogether. I take issue with airlines that have really drawn out meal services, especially when they're not even good.
How much do meal services impact those who don't want them?
We all have different sleeping patterns. Some people can fall asleep anywhere, anytime. Other people need the perfect conditions to sleep. Then there are some people who can force the right conditions using sleeping pills, eyeshades, earplugs, alcohol, etc.
I'm not sure how much of a minority I'm in, but I'm someone who falls asleep really easily if the conditions are right, but if they're not, I really struggle.
Ford and I are opposite in that regard. He'll be able to fall asleep before a plane takes off, but then he'll suffer from insomnia when we're at our destination in a proper bed. Meanwhile I can't fall asleep unless I have a bed and it's dark and it's cold, and then when I'm asleep, I'm good to go.
Maybe I should take sleeping pills when flying. Maybe I should use eyeshades and earplugs (maybe it's weird, but I'm really uncomfortable at the thought of using them, as I feel like I'll get robbed/generally get creeped out when sleeping in "public" that way).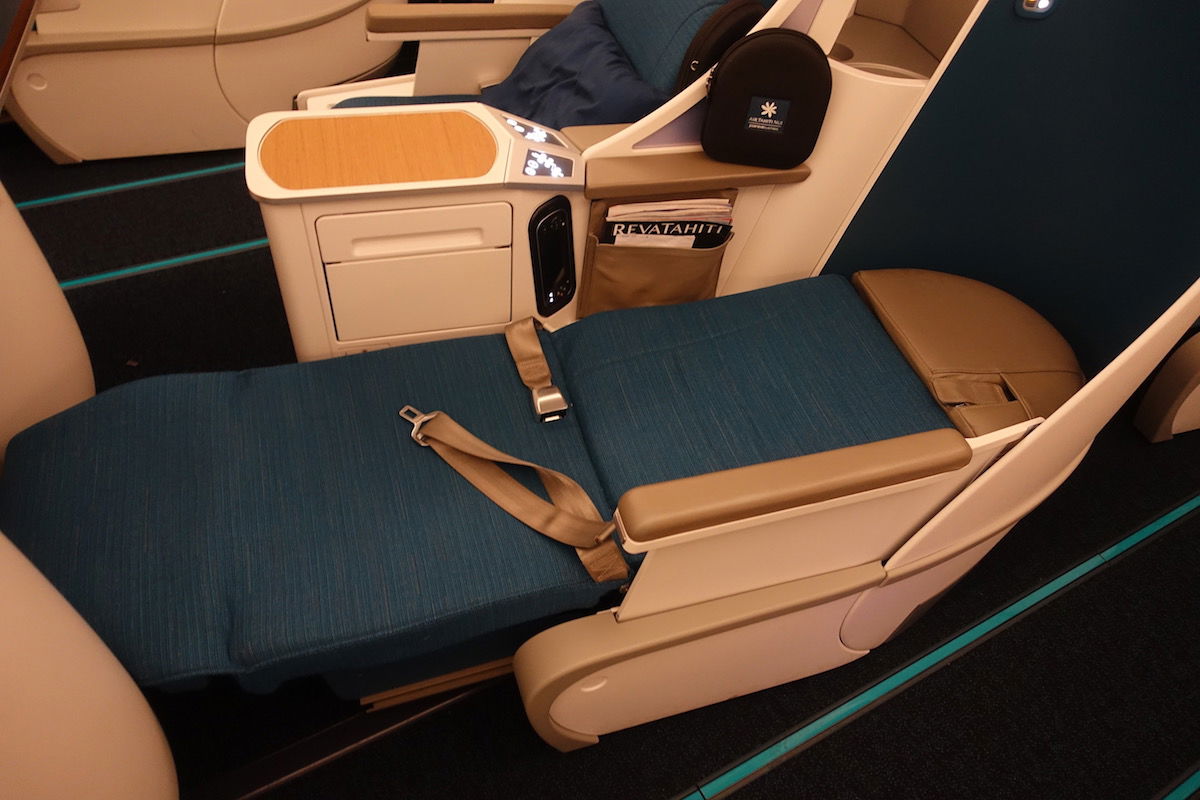 I'd like to see airlines offer less service in business class
Airlines are always looking for ways to cut costs, so here's something that I'd consider to be a genuine improvement that would also save them money.
I'd love to see airlines simplify service on short redeye flights. I'm not necessarily saying this should be on all flights, but rather let's talk about a 6-7 hour redeye from the US East Coast to Europe.
Realistically it's two hours after takeoff before the cabin is quiet, and then typically the lights are turned on about 90 minutes before landing for another service. You really only have 3.5 hours of "peace" on your quick overnight flight that way.
I'm not saying there's a "one size fits all" solution, but in general I'd actually like to see airlines get a bit creative here, assuming they're not willing to offer dine on demand. For late night, short redeyes:
If you're going to offer a dinner service, serve everyone food on a single tray, so that the meal service is done within an hour of takeoff
Greatly simplify the breakfast offering; instead of waking everyone up unnecessarily early, how about instead preparing a box with some fresh fruit, a croissant, yogurt, etc., that passengers can eat during the descent (this is something British Airways offers as an option on their Club World London City service)
I know this won't be popular with some, but otherwise completely eliminate one of the meal services; offer dinner or offer breakfast, but not both
Like I said, I don't think there's a perfect solution here. Furthermore, I recognize that everyone is on a different schedule, so while most people might be sleeping on a redeye, some might be awake the whole time because of where they're connecting to and from.
Still, if business class is all about the seat, I think that should extend to creating a serene environment. It shouldn't be that for half of an overnight flight the lights are on and there's a lot of noise from the service being provided (which is inevitable, no matter how hard the crew tries to be quiet).
Some airlines have offered a sleeper service in some parts of the cabin, where those seated in some parts of business class can't have a meal. Perhaps that's a good solution. However, that's not a widespread practice, and for many airlines that's not practical, since business class is in a single cabin.
So maybe this is more a situation of knowing what I like and what I don't like than having the perfect answer.
Being served a tasty snack on a single tray within 30 minutes of takeoff when flying from Los Angeles to Tahiti? LOVE!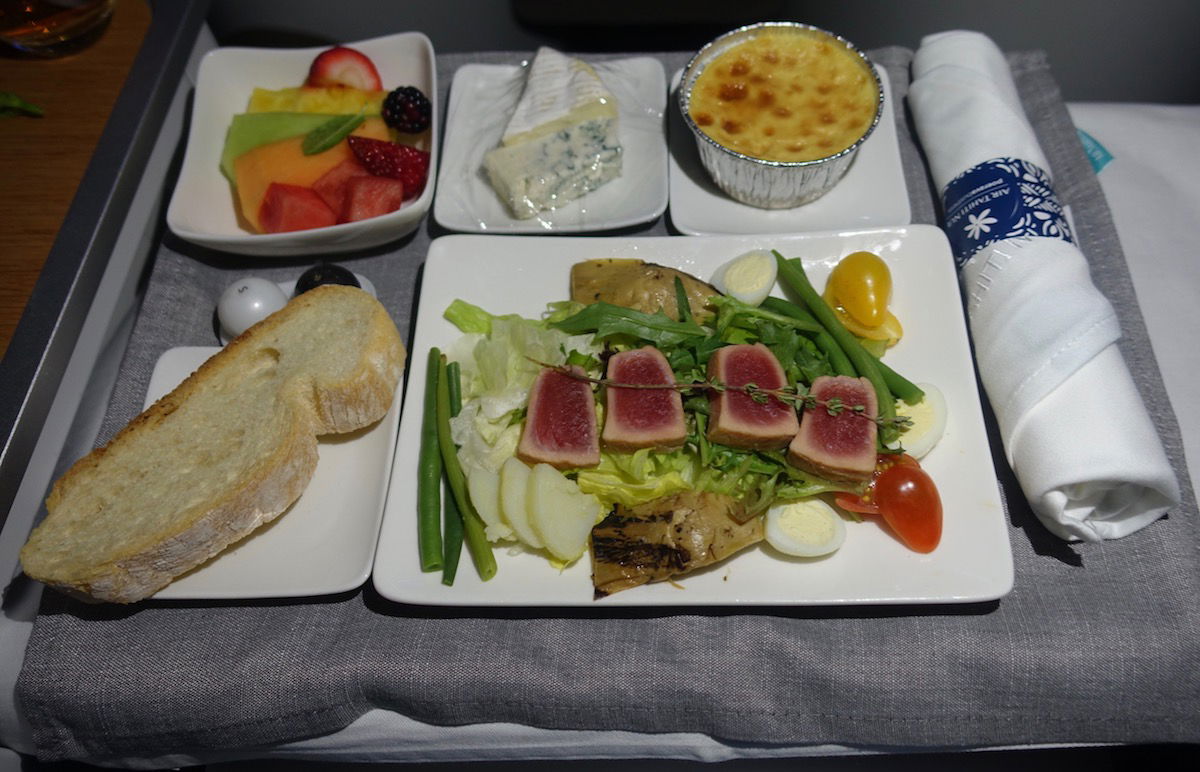 Being woken up 90 minutes before landing for this breakfast when flying from Tahiti to San Francisco? Nope.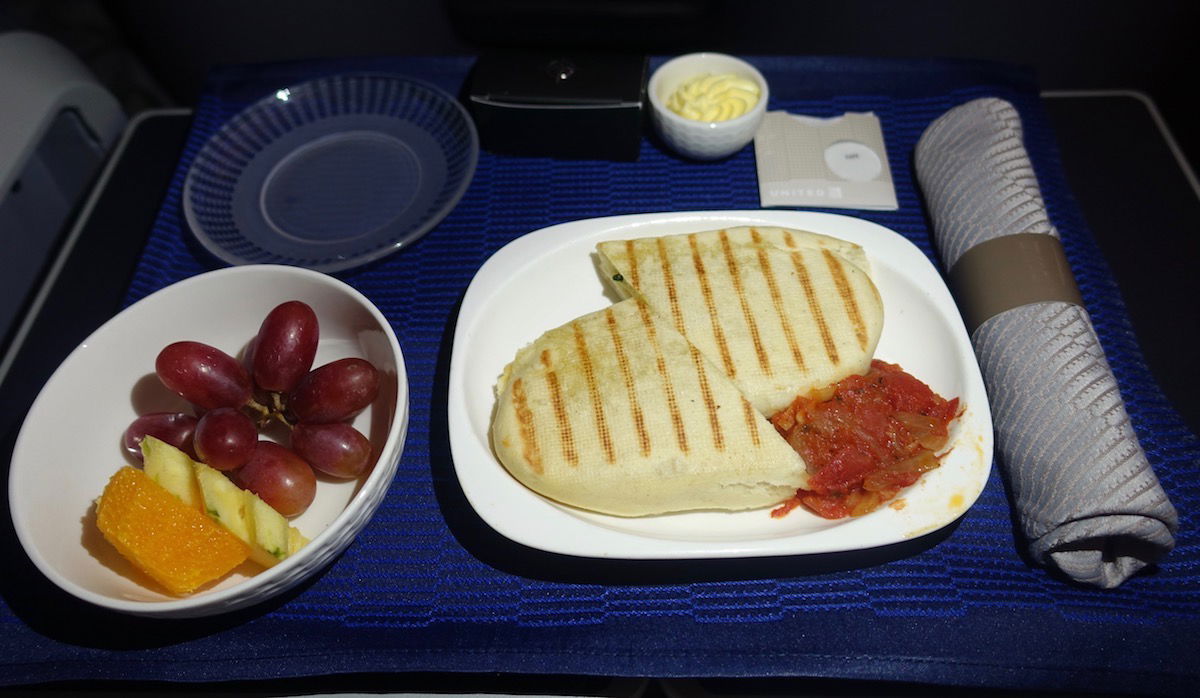 I'm curious how you guys feel about this.
Would you like to see airlines reduce service on short overnight flights? Are you able to completely sleep through any meal services without being awoken, or do you struggle to do so in the same way I do?