Good morning from Madrid after a quick flight from Miami. While I managed to get a few hours of sleep, I can't help but at least mention how lazy and rude the crew was in business class. I generally find service on American to be excellent, and I've only on a handful of occasions had service that I consider to be truly sub-par.
I flew roundtrip to Barcelona about a week ago and had phenomenal service in both directions. In both cases I talked to the crew and they commented about how frustrated they were with what's going on at American right now, though said "as soon as I walk through the airplane door I put on a smile because you guys pay my salary." A great attitude to have, and it was reflected in the humor and attentiveness with which they approached service.
Unfortunately tonight's crew didn't seem to have that mentality. The purser was actually pretty nice (she always asked how the food was, if I wanted anything else to drink, etc.), but the two flight attendants working the aisle couldn't have cared less, and couldn't have done a better job at showing it.
Both didn't once smile, speak a full sentence to my friend or me, or pass through the cabin a single time except during the service.
When taking drink orders they simply said "drink?" Despite asking for a refill several times, each time the flight attendant asked whether I was drinking Coke or Diet Coke (look at the sheet on which you took meal and drink orders!). Compare that to the flight to Barcelona, where they didn't just memorize my drink preference, but also my name.
Service was incredibly slow, and not on one occasion did they actually place anything on my tray table (including the meal tray itself). Instead they always handed it to me to put down.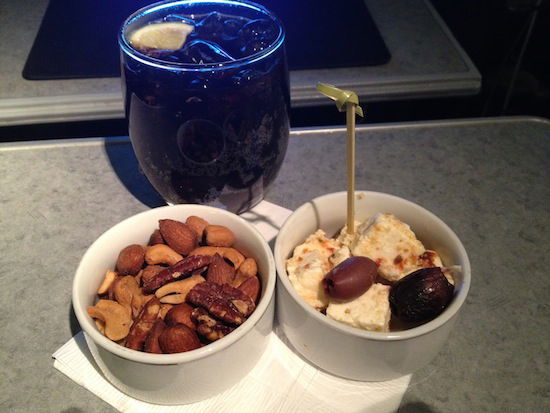 After takeoff the purser asked whether we wanted to be woken for breakfast. My friend didn't want to be woken up, though that's not to say he didn't want breakfast (it just means if he was sleeping he didn't want to be woken up… seems simple to me). My friend was watching a movie when breakfast service began, though was ignored by the flight attendants, so he waved them down and asked if he could have breakfast. She responds with "well the manifest says you don't want to eat," and she almost walks away, though he responds "no, I was asked whether I wanted to be woken up for breakfast, not whether I wanted breakfast." She responds with "well that's not what the sheet says." Unbelievable.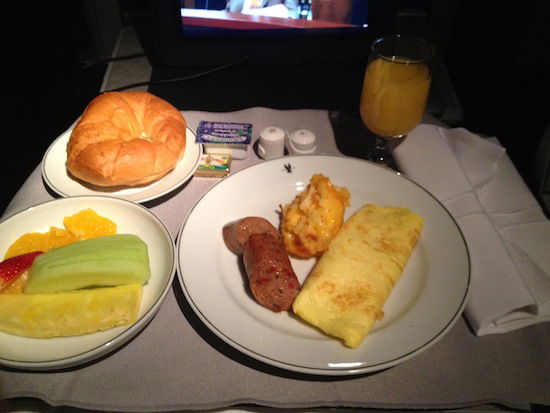 After breakfast media players were collected (American has Samsung Galaxy Tabs on the 767 in business class), and the flight attendant dropped the entertainment system of the guy seated across from me right in my, erm, sensitive area. She went to grab it and didn't even apologize or say a word. You're supposed to serve me hot nuts, not drop stuff on them…
Anyway, it wasn't any one thing in particular that made this crew suck, though just a combination of everything. Passengers deserve a basic level of respect, be it in first class, business class, or coach, and when you don't get that it's pretty disappointing. Here's to hoping these two individuals are part of the 15-20% of flight attendants cut with the reorganization (then again, they were very senior, so I suspect not).