This is an update to a post I wrote earlier.
---
Ethiopian Airlines is Africa's fastest growing airline, and it's incredible the route network they've managed to build. While South African Airways is perpetually on the brink of liquidation and Kenya Airways is doing what they can to recover, Ethiopian Airlines is thriving.
The airline has just announced a significant change to their LAX route, and I suspect there's more to it.
In June 2015, Ethiopian Airlines launched flights between Addis Ababa and Los Angeles. The flight stops in Dublin in both directions, and Ethiopian Airlines has pick-up rights there, meaning that passengers can choose to just fly between Los Angeles and Dublin, if they want to.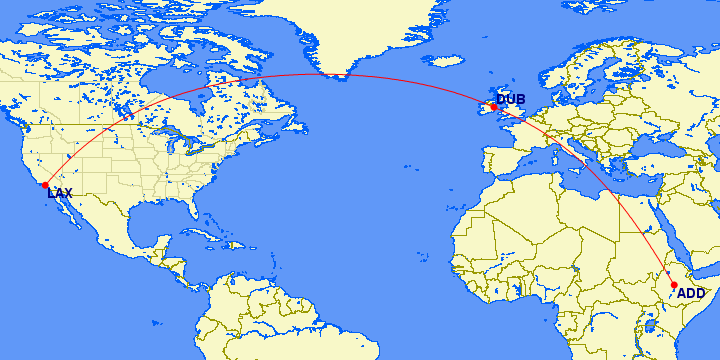 That sure is an exotic way to fly between Los Angeles and Dublin! It has also often been one of the best options for scoring a Star Alliance transatlantic business class flight out of LAX.
Earlier today it looked like Ethiopian Airlines was going to cancel the route altogether, as they pulled inventory for the flight. That's not the case, however. Instead Ethiopian Airlines has simply stopped accepting bookings for the fifth freedom flights between Dublin and Los Angeles.
As a refresher, this 4x weekly flight operates with the following schedule with a Boeing 787-8 aircraft:
ET504 Addis Ababa to Dublin departing 1:25AM arriving 6:50AM
ET504 Dublin to Los Angeles departing 7:50AM arriving 10:35AM
ET505 Los Angeles to Dublin departing 11:35PM arriving 5:35PM (+1 day)
ET505 Dublin to Addis Ababa departing 6:35PM arriving 5:25AM (+1 day)
This is a rather bizarre move. The airline can't operate the route between LAX and ADD nonstop in either direction, so they need to make a stop. As of now it even appears like they'll continue to stop in Dublin. But they won't have pick-up rights anymore.
As a point of comparison, Ethiopian flies to three other US destinations, and only in one of them do they pick-up passengers for a fifth freedom service:
The Chicago route is operated nonstop eastbound, and has a refueling stop (though no pick-up rights) in Dublin westbound
The Newark route is operated via Lome, Togo, and Abidjan, Côte d'Ivoire, on alternating days in both directions (with pick-up rights)
The Washington Dulles route is operated nonstop eastbound, and has a refueling stop (though no pick-up rights) in Dublin westbound
Bottom line
Unfortunately Ethiopian Airlines is no longer an airline you can book exclusively between Los Angeles and Dublin.
I suspect there's more to this. It's not logical for the airline to simply maintain the schedule while no longer taking fifth freedom bookings, because presumably some people were using the airline to fly between Los Angeles and Dublin.
My guess is that the airline may be making bigger changes to this route, which is why they've stopped accepting bookings between Los Angeles and Dublin. I can't personally vouch for this, but reader John notes the following in the comments section:
I just looked on the Ethiopian Airlines Ireland Facebook page. The moderator just posted this update:

"the Los Angeles flight is in the system but operating from Lagos. It will no longer have a European stop."
This actually sort of makes sense — Los Angeles to Lagos is within the range for the 787-8, the stop is on the way, and it could explain why they closed bookings between Los Angeles and Dublin.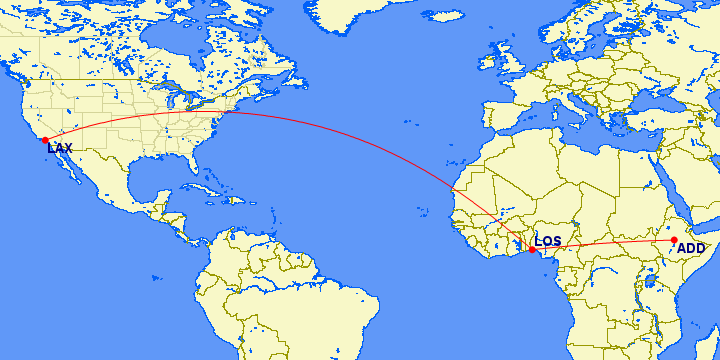 If a nonstop Los Angeles to Lagos route happens, it would also means that LAX joins the "six continent" airport club, as the airport already has service to five continents.
What do you make of Los Aneles to Dublin no longer being open for bookings on Ethiopian, and of the Lagos rumor?