If you have any Marriott Bonvoy points that you're looking to redeem for a hotel stay, it could make a lot of sense to make that reservation today.
Two significant changes are happening to Marriott Bonvoy as of tomorrow, Tuesday, March 5, 2019:
Marriott will be introducing Category 8 hotel pricing at 62 hotels; up until now Marriott has only had pricing up to Category 7, meaning that the cost of top hotels will go from 60,000 points per night to 85,000 points per night, which is a cost increase of over 40%
Marriott's annual award category changes will kick in; in total about 380 hotels will be changing price, with about 40 hotels decreasing in cost, and about 340 hotels increasing in cost
You can find all the award pricing that's changing at this link.
Later in 2019 Marriott will also be introducing peak and off-peak pricing, though that's not kicking in as of tomorrow. With peak pricing we'll see the absolute highest cost redemptions (Category 8 during peak season) increase to 100,000 points per night.
As a reminder, here's what the award chart will eventually look like: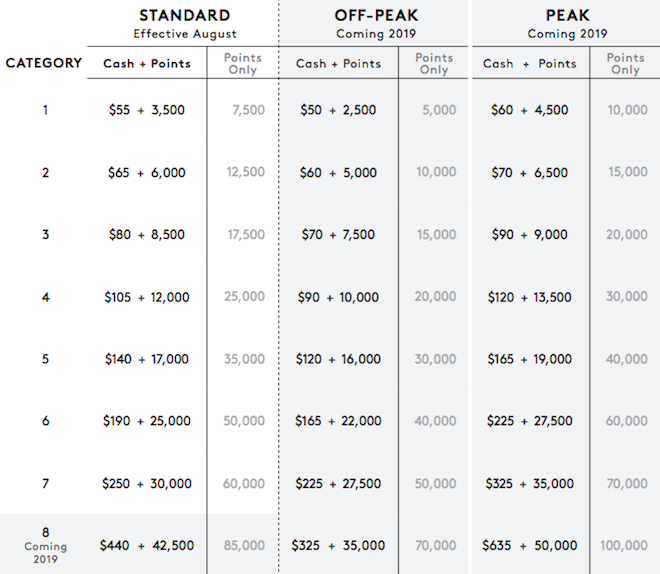 So this is your last day to lock in a booking before the price changes. Marriott even lets you lock in a points advance booking, where you can book now and then accumulate points later, which can represent a good deal. You just need to have enough points for the stay at least 14 days before you check-in.
These category changes are based on when you book rather than when you actually stay, so it can make a lot of sense to lock in some stays for the coming year.
The challenge is that Marriott is still having IT issues, and in many cases hotels aren't showing awards when they're supposed to. In some cases this can be solved just by phoning up Marriott, while in other cases it's not quite so easy to solve…
Anyone locking in some last minute award bookings today before tomorrow's award pricing changes?