Several days ago I wrote about LAN restarting 3x weekly nonstop flights between Los Angeles and Santiago. As of now the route has just been announced for the peak season, between October 16, 2016, and March 25, 2017, but I imagine it has the potential to be extended beyond that if it performs well.
The flight will be operated by a Boeing 787, featuring 30 business class seats in a 2-2-2 configuration. They're all fully flat.

LAN's 787 business class
This flight complements LAN's existing service between Los Angeles and Santiago via Lima, which is still fairly direct but does prevent a good night of sleep, given that you have to make a stop before the last three hours of your journey.
While the flight was first available for booking a few days ago, I didn't initially see any award availability. However, it looks like LAN has finally gotten around to loading award availability, and it's excellent. LAN has seven business class award seats on many flights between Los Angeles and Santiago.
Availability is equally good in both directions, and it seems to be wide open through mid-December (after which I'm not seeing much space).
LAN was previously extremely stingy with releasing availability between Los Angeles and Lima, and at most I'd usually see one business class award seat, so this is fantastic. You can book this award for 50,000 American AAdvantage miles or 45,000 Alaska Mileage Plan miles one way, and there are no fuel surcharges. If you want to search award availability, you're best off using British Airways' website.
If you're interested in the space I'd recommend booking as soon as possible, as I doubt it will last. For what it's worth, American allows five day holds on award tickets, while Alaska doesn't allow any holds, though does allow you to cancel an award ticket for free up to 60 days before departure.
The reason I think space won't last isn't necessarily because it'll get booked up, but rather because LAN is extremely erratic when it comes to releasing award availability. Typically when they load a new route they'll make a good amount of award space available, and then just days later they'll pull it. I wouldn't be surprised to see that happen here.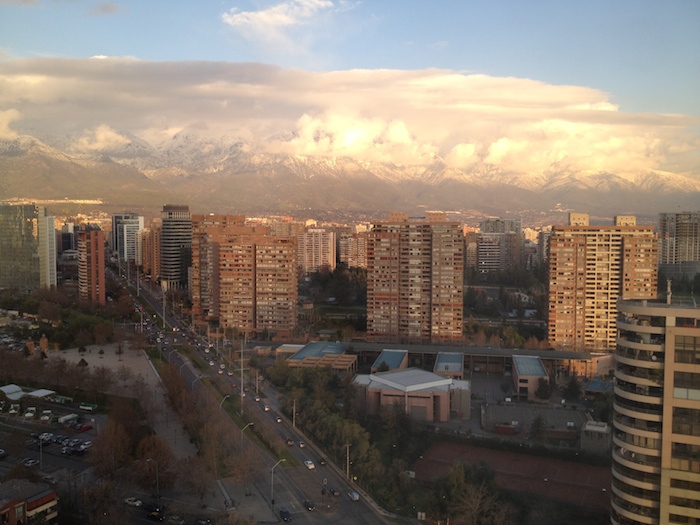 Santiago, Chile
Bottom line
This new nonstop route from California to Chile is one of the most convenient ways for people on the west coast to get to Southern South America. Whether you're trying to go to Santiago or connect elsewhere, this flight is a fantastic option. I'd highly recommend locking in something with this availability as soon as possible if you think you'll be interested.
Is anyone able to take advantage of this business class award availability between Los Angeles and Santiago?