Airlines have varying policies on holding award tickets. Some — like Air Canada Aeroplan, British Airways Executive Club, and Delta SkyMiles — don't allow holds on award tickets at all.
Other airlines do allow award ticket holds under varying circumstances. Some will hold award tickets for a day, some for a few days, and some only if you already have enough miles for the ticket in your account. Conventional wisdom suggests that American AAdvantage is among the most generous, in allowing award ticket holds for five days. That's quite a long time, and means you have enough time to "plan" a points transfer from Starwood Preferred Guest.
Korean Air SkyPass has the most generous award ticket hold policy
None of the above programs even come close to holding a candle to Korean Air Skypass' award hold policy. In most cases Korean Air SkyPass will hold an award ticket for travel on Korean Air metal until two days before departure. And that's even if you don't have any miles in your account!
Korean Air has quirky rules for booking award tickets
It's ironic that Korean Air is so lax about their award ticket hold policy, given that they have so many other strict rules about redeeming miles. For example:
You can only redeem Korean Air SkyPass miles for immediate family members
In order to issue an award ticket over the phone you have to fax in your passport and other documentation
They need to call you in order to issue an award ticket — they won't issue it if you just call, because there's a separate department that handles that
So while it can be a pain in many ways to book Korean Air SkyPass awards, their hold policy is out-of-this-world generous.
Why Korean Air SkyPass is so valuable
As I wrote about last month, there's a ton of value in Korean Air's SkyPass program, which partners with Chase Ultimate Rewards (although unfortunately this went away in 2018). For my own travels, I've redeemed more Korean Air SkyPass miles this year than any other mileage currency.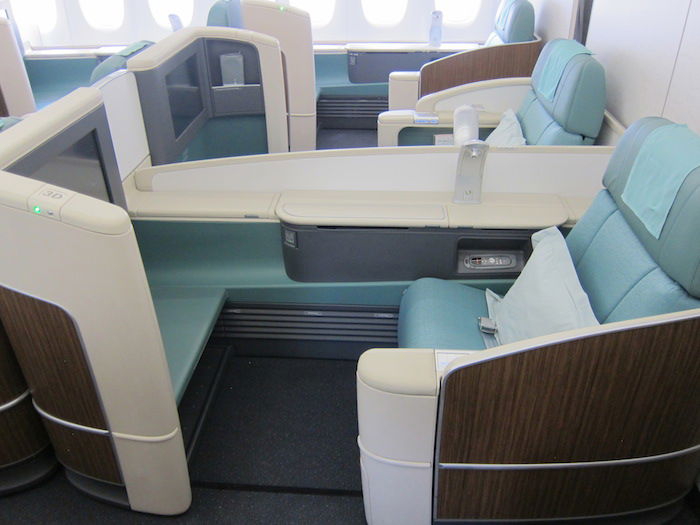 Korean Air A380 first class
That's because:
Korean Air SkyPass has an incredible amount of first class award space between the US and Asia
Korean Air SkyPass redemption rates are quite reasonably priced, at 160,000 miles roundtrip in first class between the US and North Asia


Tons of Korean Air first class award seats, even far in advance!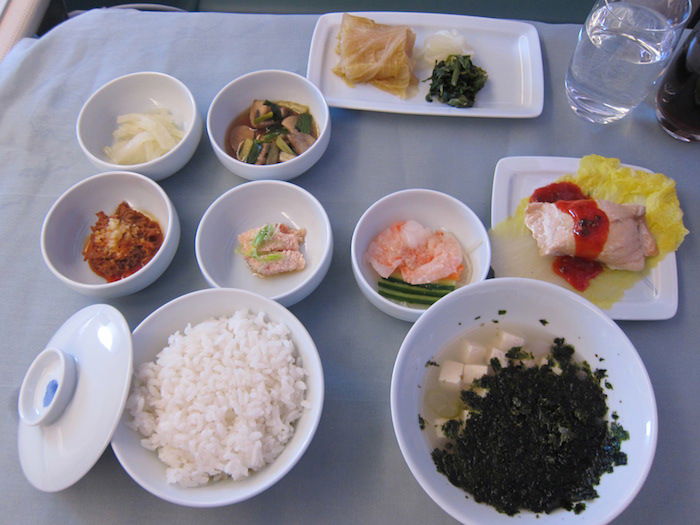 Meal in Korean Air first class
Implications of long award holds
Practically speaking, why is it so awesome that Korean Air will let you hold award tickets for months?
You can place an award ticket on hold for travel in the future, and continue working on accruing enough miles to redeem for it. You're basically able to lock in a future award ticket without having enough miles yet.
You can use it to hedge your bets. If you're hoping for a different type of award or aren't sure about your dates yet, it's a good way to speculatively lock in availability.
Keep in mind that Korean Air SkyPass is extremely generous on award ticket changes as well. They don't charge fees for changing or canceling award tickets either.
How do you get such a long hold?
It's worth noting that typically they'll only allow holds for partner award tickets for about five days. But for Korean Air metal, they'll usually proactively offer a ticketing deadline a couple of days before departure.
Sometimes if you're planning way in advance (10+ months out), they'll "only" hold it until a month prior to departure. But in my experience they'll almost always proactively offer an astoundingly long award ticket hold.
Check out this post for more information on redeeming Korean Air SkyPass miles.
Bottom line
Don't abuse it, but it's certainly a good trick to know about. I've received a handful of emails in the past week from people that tried to redeem Korean Air miles and said "my ticket is on hold until a couple of days before departure, is this a mistake?" So going forward this will be a useful post to refer people to. 😉