Well this is just awful…
Bek Air Fokker 100 Crashes In Almaty
This morning a Bek Air Fokker 100 scheduled to operate the ~600 mile domestic flight from Almaty to Nur-Sultan, Kazakhstan, crashed shortly after takeoff. The plane had about 98 people onboard, including 93 passengers and five crew (note that there are still some minor inconsistencies regarding this).
The plane took off from Almaty's runway 5R (this is over 14,000 feet long) at around 7:21AM this morning, but failed to gain altitude, and broke through a concrete fence shortly after departure. No fire broke out, but the plane broke into several sections.
There are inconsistent reports as to how many people died and were injured, with most reports suggesting that 12 people have died, and 66 were initially taken to the hospital, with an additional 12 (or so) people being in critical condition.
The captain was 58 years old and died in the crash, while the first officer was 54 years old, and has suffered serious injuries.
I'm sure we'll have more information soon.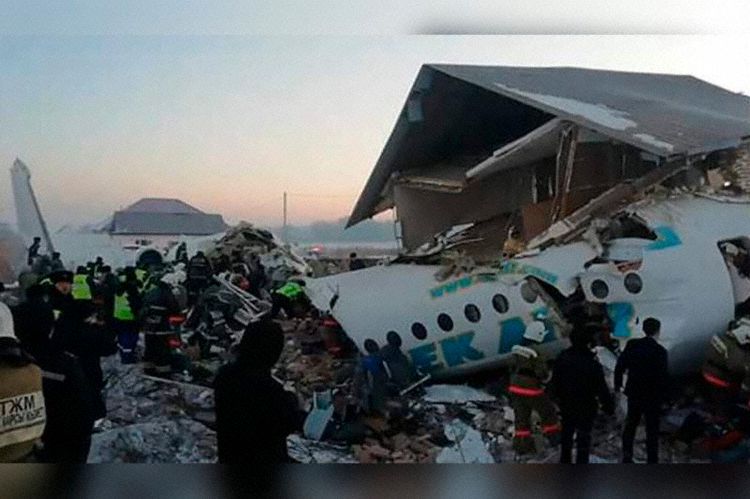 What Is Bek Air?
For those of you not familiar with Bek Air, they're a Kazakh airline that operates a fleet of eight Fokker 100s, so this is the only type of plane they fly. Kazakhstan's Civil Aviation Authority has suspended the Air Operator's Certificate of Bek Air following the incident, and Fokker 100s are also grounded in the country.
The Fokker 100 involved in the incident had been in service since 1996, so was about 23 years old.
What We Know About The Plane Crash
Again, there are still inconsistent reports as to what exactly happened. Kazakhstan's Deputy Prime Minister initially reported that the aircraft struck its tail on the runway twice, with a distance of about 300-400 meters between the strikes.
Then at the end of the runway, the plane turned sharply right, and then with the landing gear retracted the plane failed to gain altitude. It would appear that the plane never gained more than 100 feet of altitude, at most.
The plane came to a stop to the right of the end of the runway.
Currently they're investigating if there was a technical fault or pilot error, or what could have caused this. Runway conditions were good, though it's noted that frost had developed on the wings of some planes due to ice. It's not known if that was a factor here.
Bottom Line
It's heartbreaking to see a fatal plane crash like this, especially with a dozen or more fatalities. Hopefully an investigation is carried out to ensure something like this never happens again.
My thoughts are with those onboard and their families…