A US-Bangla Bombardier Q400 had an accident on landing this afternoon at Kathmandu's Tribhuvan International Airport. The accident occurred on flight B211 operating from Dhaka shortly after 2PM local time, which was a roughly 400 mile flight. The plane veered off the runway on arrival, and then caught on fire.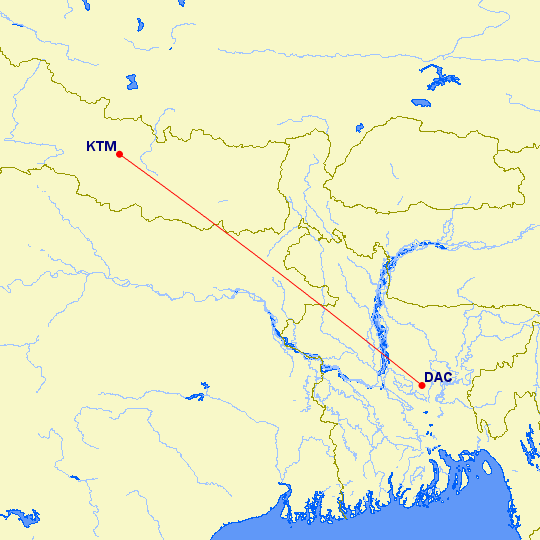 The plane has the registration number S2-AGU, and was built in 2001, and has been operating for US-Bangla since 2014. The plane previously flew for SAS, Royal Jordanian, and Augsburg Airways.
For those of you not familiar with US-Bangla, they're a privately owned Bangladeshi airline that has been around since 2014. The airline is based at Hazrat Shahjalal International Airport in Dhaka, and has a fleet of four 737-800s and three Bombardier Q400s (they had four prior to today).
FlightGlobal reports that there were 67 passengers and four crewmembers on board, and that 20 have been rescued so far and transported to hospitals. Authorities have confirmed there are casualties, though haven't yet revealed how many.
It's too early to know for sure what happened, though some reports have suggested there was a "technical fault," while others suggest there was an unstable approach that ended poorly. I'm sure we'll find out soon.
Based on weather reports it appears that winds were light when the plane landed, though there were thunderstorms and a few low clouds. Kathmandu's Airport remains closed for the time being.
Here are some pictures of the accident site:
७६ यात्रु बाेकेकाे युएस बंगला बिमान दुर्घटना, उद्दार जारी ! #TIA ( Pic- @IsarojB ) pic.twitter.com/F9UVjuBWbT

— Narayan Amrit (@amritna) March 12, 2018
Bombardier Dash Q-400 aircraft operated byUS-Bangla Airlines configured to carry 78 passengers skidded off the runway while landing at the Tribhuvan International Airport (TIA) Kathmandu Nepal on Monday. pic.twitter.com/hruCwDTrty

— Nirajan paudel (@njnpaudel) March 12, 2018
Photos from the #TIA #Kathmandu #Nepal #USBangla pic.twitter.com/Lhdj0Itm7H

— सोझो चोर™🇳🇵 (@sojho_chor) March 12, 2018
My thoughts are with those onboard, and their families and friends.
(Featured image courtesy of Murad Hashan)