As a (somewhat) newly minted American Executive Platinum member I've been doing a lot of American flying lately in order to requalify. Up until now, though, I haven't actually taken a transcon with them.
I thought all domestic first class products were more or less created equal, but boy was I wrong. My opinion all changed on my flight this evening from Miami to San Francisco.
I should start by mentioning that my upgrade cleared at the 100 hour Executive Platinum upgrade window and I was able to select a seat that was FEBO "friendly" (American takes meal orders starting in the front of the cabin on even numbered flights and back of the cabin on odd numbered flights).
While American only has blankets in domestic first class for most flights, on transcons they have the same pillows they have in international business class, along with a thicker blanket than what's found on other domestic routes.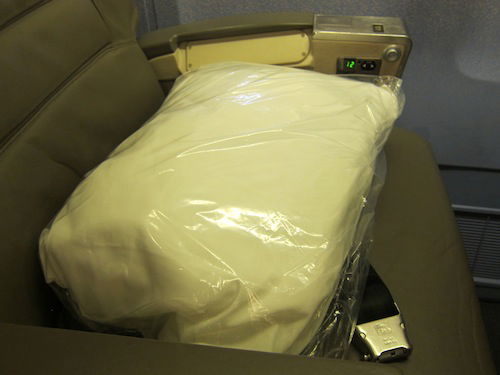 Pillow and blanket
Pre-departure offerings consisted of water, orange juice, or champagne.
As soon as we were airborne the flight attendant distributed menus and hot towels. I kind of forgot what those looked like, since I don't remember the last time I got a menu on a domestic flight.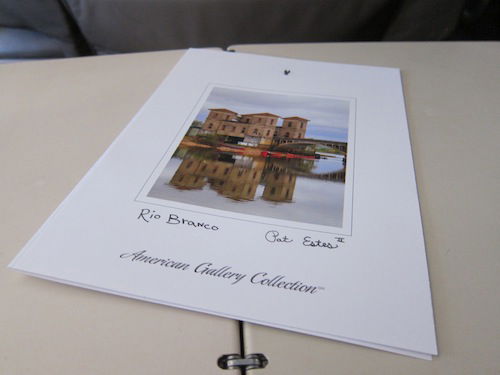 The menu read as follows: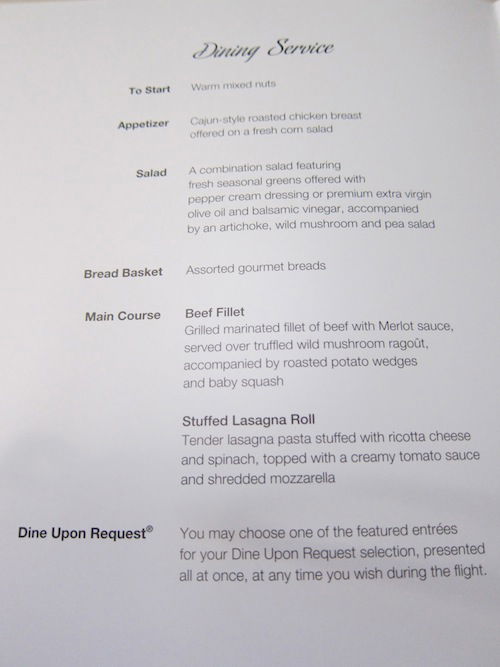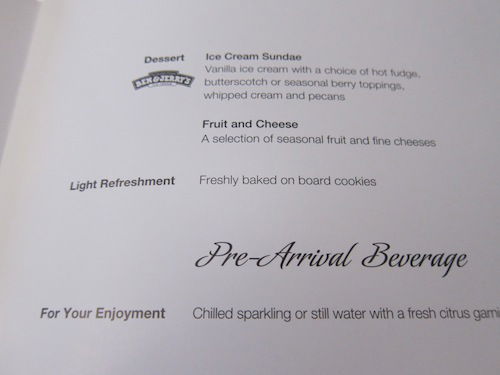 Minutes later the service started. The purser first distributed tablecloths and took meal orders, starting at the back of the cabin since it was an odd numbered flight.
In the meantime the other flight attendant came through the aisle with the beverage cart, serving beverages of choice and hot nuts. Refills for nuts were offered twice before the rest of the meal service began. Drinks were constantly being topped off as well.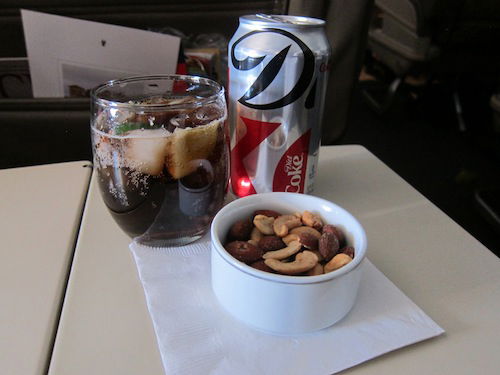 Diet Coke with lime and hot nuts
The appetizer consisted of chicken on corn and beans, which was spicy and quite good. The salad probably looks plain, but it was actually quite good since all the good stuff was buried under the lettuce. Bread was also offered, and I went with a pretzel roll, which was amazingly delicious.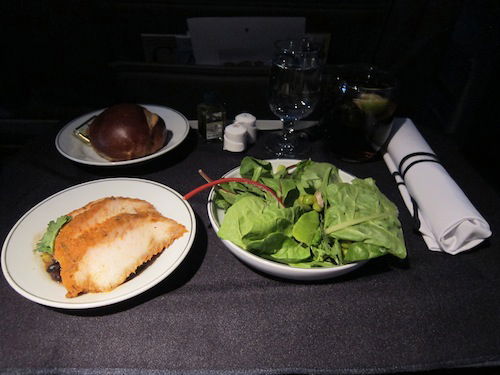 Appetizer and salad
Once the appetizer and salad were cleared, the flight attendants brought out the main course. I went with the beef. While it wasn't masterfully presented it was tasty and medium rare, which is rare on an airplane.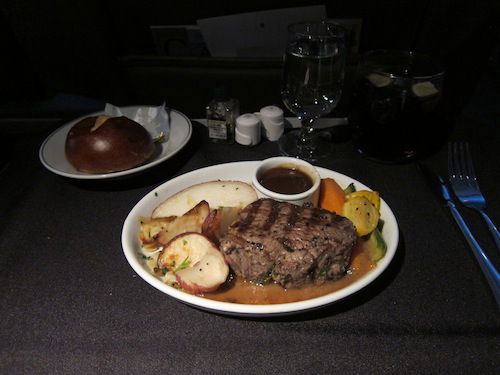 Main course
Once all the main plates were cleared the dessert cart was rolled out, with the option between a cheese plate and ice cream sundae. Coffee and tea were also offered.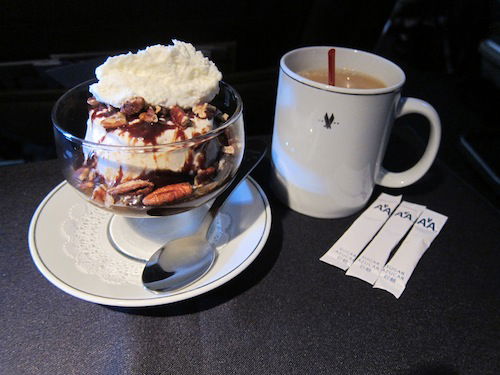 Dessert
Shortly thereafter individual bottles of water were distributed.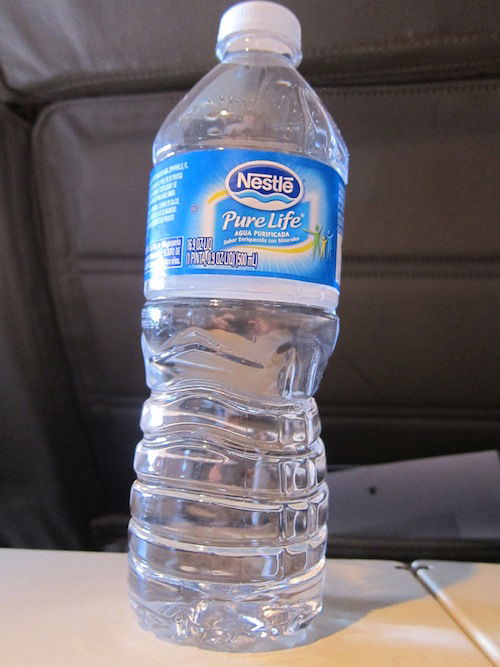 Water bottle
About 90 minutes before landing warm cookies (chocolate chip and oatmeal raisin) and milk were served.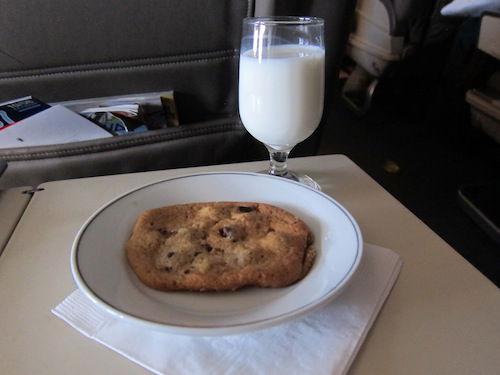 Then 30 minutes before arrival sparkling water was served. I never understood the point of that offering, since you can order it at any time if you wanted to…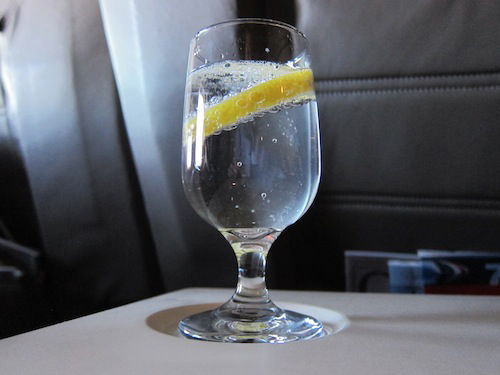 Sparkling water
Ultimately the meal service is only a small part of the overall experience, but it really blew me away compared to what I'm used to. I felt like I was in international business class (the catering was very similar to what I had from Miami to Buenos Aires back in March).
The service was also spectacular. Both of the flight attendants working first class were constantly smiling and used terms like "may I" and "my pleasure," which to me is the difference between fine service and great service.
The huge negative to the experience is that the flight was operated by a 757. American's 757s have among the most uncomfortable first class seats imaginable with no sort of a headrest and very limited recline. Furthermore, they're the only plane in the domestic fleet that doesn't have Wi-Fi.
But overall, hot damn, American is good.
The only interesting thing of note was my seatmate, a wannabe supermodel. She wore sunglasses, read about ten fashion magazines, and did her nails. When the flight attendant offered her dinner she said "I don't eat carbs or meat."