The past few weeks we've seen United, US Airways, Delta, and American all raise their change fees. As a consumer this has been extremely aggravating to watch, because change fees in no way reflect the cost of providing that service. We might not like paying for checked bags, but at the end of the day we can rationalize the fact that checking bags costs the airline money. Meanwhile with change fees, if I book a ticket 11 months out and decide to cancel it two days later, what exactly am I paying $200 for? I'm not really costing the airline anything, it's not close enough to departure that I was preventing someone else from snagging that seat.
So while we've seen the legacies match one another, I was kind of curious to see how the low cost carriers would react. JetBlue announced an increase in change fees today, though it's not a change that really makes my blood boil.
Their change fees used to be $50-100 depending on how expensive the ticket was, though now they're as follows:
Changes and cancellations made 60 days or more prior to departure date:

Changes and cancellations made within 60 days of departure date:

$75 per person fee for fares under $100
$100 per person fee for fares between $100 – $149
$150 per person fee for fares $150 or more
So do I like the fact that they've increased their change fees? Of course not. But I can appreciate the fact that they differentiate between someone making a change more than 60 days out and someone making a change closer to departure, since there very often is a cost to a passenger canceling a seat close to departure, given that they may not be able to resell it.
Also, I can appreciate the fact that they have different change fees for different fare types within 60 days of departure. Now, as you'll see the fees are structured in such a way that not a whole lot of value will be left over after the fee, but it's still better than a flat $200 fee, or whatever.
Meanwhile members of JetBlue's Mosaic program get a pretty nifty new perk as of today — no change or cancellation fees!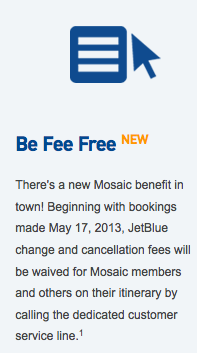 This is probably my single favorite perk of being MVP Gold with Alaska — you don't pay change or cancellation fees, so when you cancel a ticket the funds can go back into your "travel wallet." Selfishly one of the reasons I'm happy to see JetBlue add this perk is because I think it's now less likely that Alaska will get rid of the perk.
So while I really hate an airline raising their change fees, I do appreciate the logic behind it here. They're recognizing that those cancelling far out are costing them less than those cancelling close to departure. They're realizing that not all fare types deserve the same change fee. And they're also realizing that elite members deserve a break sometimes.
So in a very backhanded way, I guess kudos(ish) JetBlue?