Readers often share negative situations they have with airlines and ask for advice. My take on these situations usually falls into one of three categories:
The customer is right and airline is off base
In an ideal world the customer would be right, but airlines have a lot of power and are unforgiving, so the airline is right because they say they are, and the rules support that
The airline is right and the customer has unrealistic expectations
Well, reader @alitheplanegeek shares with me a situation that unfolded on a JetBlue flight yesterday, where my reaction can simply be summed up as… ¯_(ツ)_/¯.
I'm very confused, and I'm curious if anyone has any theories as to what exactly we should make of "Felipe" at JetBlue. Is he a helpful employee going above and beyond, or someone trying to scam a customer?
The Felipe JetBlue situation
To set the scene:
The reader was supposed to fly from San Francisco to New York in JetBlue Mint yesterday on flight 616, scheduled to depart at 4PM
The flight was delayed, and he received notices that the flight was pushed to 6PM, and then to 8PM, both of which he was ultimately okay with
At 11:40AM he received an email from someone named "Felipe" at an AOL email address, with the subject line "F616 delayed," and with the following content:
if you can please call Jetblue San Francisco at XXX.XXX.XXXX. Your flight is 6 hours delayed. We have a flight that leaves at 2:05 pm. Please call

Thank you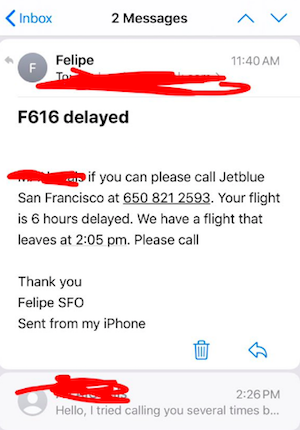 From there:
Felipe told him on the phone that the flight would depart at 11:30PM, which didn't work for him, so he just asked Felipe to cancel the flight, as he booked another ticket on United
Felipe didn't answer any of his subsequent calls or emails
At this point he started to get suspicious, as the email had been sent from a personal email address, and Google still showed the flight departing at 8PM
He called JetBlue reservations, and they confirmed that his ticket was being refunded and agreed to waive the change fees given the delay (it appears the fees hadn't been waived prior to this point), but also noted that all communication is done through official company channels, and said they had no record of him having talked to Felipe
He feels like JetBlue is brushing him off for a situation that one would assume the airline would want to investigate
The reader also notes that he takes some responsibility for the situation:
However, I also should take some responsibility. US airlines aren't known for customer service, so receiving a personal email addressed to me should've rang alarm bells.
But he's also confused about why this happened:
There's one thing I don't understand what were his intentions? Why would he try and get me out of the flight? Maybe to have someone on standby to go on the flight? Maybe just to screw over Jet Blue? I can't say.
My take on this situation
I really have no clue what to make of this situation. On the surface I'd like to give Felipe the benefit of the doubt:
He was trying to be proactive in helping a customer rebook when a flight was delayed, even if he went through channels he wasn't supposed to
He didn't answer subsequent calls because he was busy/working gates, and couldn't pick up his phone
But those are about the only potential excuses I could even come up for with him. It doesn't appear the flight was ever delayed until 11:30PM, it would appear he didn't properly document the record, and he also didn't use the appropriate forms of communication.
So clearly this guy wasn't acting properly, but what I can't figure out is what his motive would have been for all of this? If Felipe wasn't who he says he is (as JetBlue seems to be suggesting), what's his motive to get someone off a flight?
Was he working in an official capacity (maybe the flight was oversold in Mint?), or what other capacity could he be working in? Was he trying to get a friend on the flight, or get someone else a Mint upgrade? I believe the airline has pretty strict policies with Mint, so unlike other airlines it's not "employee class."
This is a true mystery to me, and I'm curious if we can crowd-source some theories here as to what could explain this. I'll also try to get an explanation from JetBlue, even though it seems they haven't been cooperative up until this point.