It's safe to say that Delta and Virgin Atlantic have had a special relationship since Delta purchased a 49% stake in the British airline in 2012.
In particular, in 2014 Delta and Virgin jointly announced an expanded partnership of sorts, whereby Delta would take over one of the twice-daily nonstops operated by Virgin Atlantic between Los Angeles and London, and Virgin would take over one of the 3 daily nonstops operated by Delta between Heathrow and Atlanta.

Delta launched its London to Los Angeles service on October 26, 2014, operated on a Boeing 767-300ER.
The service seemed to dovetail nicely not only with Delta's expanded Virgin Atlantic partnership, but with Delta's commitment to building up its Los Angeles hub.
I'd had an award booking scheduled for next February which included a leg on Delta from Heathrow to Los Angeles in Delta One. On Monday I got a revised itinerary sent to me, with the LHR-LAX flight cancelled and a routing via Paris and Atlanta on Air France and Delta metal substituted instead.
Curious, I started looking at Delta's schedule and noticed that its flights between London and Los Angeles had been discontinued starting around October 5, 2015.
Indeed, airlineroute.net confirms that Delta has canceled not only its Heathrow-Los Angeles route, but also its Heathrow-Newark route, as of October 5.
On the one hand, it might appear Delta is scaling down its presence at Heathrow (though it will still serve Atlanta, JFK, Minneapolis and Detroit, of course, as well as Seattle, Boston and Philadelphia).
But Delta's cancellation of its London to Newark route may well be a function of its gate swap with United more than anything else.
However, Delta's cancellation of its London to Los Angeles route is very interesting. It seems the second daily nonstop service will be revived by Virgin Atlantic once the Delta flight disappears.
Considering the fanfare with which Delta launched its London to Los Angeles less than 8 months ago, it's a bit surprising that Delta has already decided to close down the route, without even giving the route a full year.
Given that this route is Delta's only transatlantic route from Los Angeles, Delta is effectively ceding European service at LAX to United and American. Both United and American will continue to fly from LAX to Heathrow.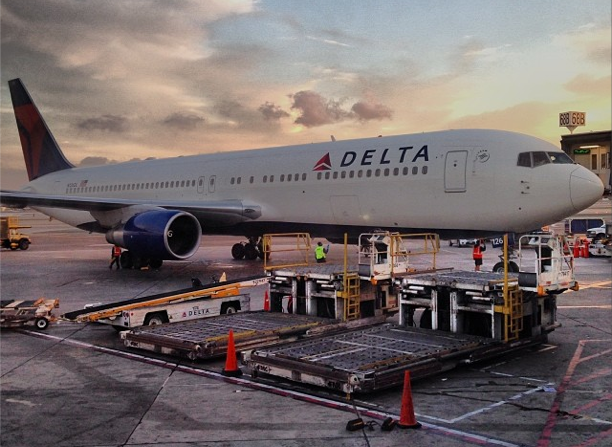 Granted, neither United or American operate flights to any European destination other than London from LAX, which leads me to think that while all of the "big three" legacy carriers are vying for a hub-like presence in Los Angeles, none of them see the profitability in actually building an expansive hub system. As it is, to fly from LAX to anywhere in Europe other than Heathrow, you'll need to fly on a foreign carrier.
Obviously, Delta will still have a presence in London and in Los Angeles, but Delta seems to be acknowledging its "hub" at LAX is best utilized for a limited number of transpacific routes (Delta flies to Tokyo-Haneda and Tokyo-Narita, Sydney and soon will fly to Shanghai) and routes to Mexico and Central America.
Of course, United and American also fly from LAX to Tokyo, Sydney and Shanghai. So in context, Delta isn't taking away a European flight to beef up its presence ex-LAX elsewhere. It's simply reducing its international presence at LAX in absolute terms.
Bottom Line
There's no doubt Delta's recent announcement of the LAX-LHR route was intended to bolster the airline's presence in Los Angeles and strengthen its ties with Virgin Atlantic.
Delta's decision to cancel LHR-EWR may well be a function of Delta's gate swap with United, although Delta will continue to serve Paris and Amsterdam from Newark (a tad bizarrely, in my opinion, since those should be more logically served by Delta partners Air France and KLM, but aren't).
Delta's sudden decision to discontinue the LAX-LHR route, though, seems to suggest that the airline didn't see much of a future in operating a transatlantic route out of LAX.
Delta's put some money into building a beautiful new terminal at LAX and a specially-outfitted check-in lounge for Delta One passengers. It seems a bit discordant for Delta to cancel one of its key international routes out of LAX just a few weeks later.
What do you think? Does Delta pulling out of LAX-LHR signal a retreat from its LAX hub, or is it simply more economical for Virgin Atlantic to fly the route?