I've been trying to review as many new airlines as possible this year, and that's something I hope to continue next year. As I look at the airlines I've flown this year, some of the most enjoyable flights have been on airlines I would have previously considered to be pretty random from a U.S. perspective, like Air Astana.
I'd love to visit Iran at some point (I've heard great things from people who have visited), though for now I'm going to hold off on that. That being said, I'm fascinated by the country's two major airlines, Iran Air and Mahan Air.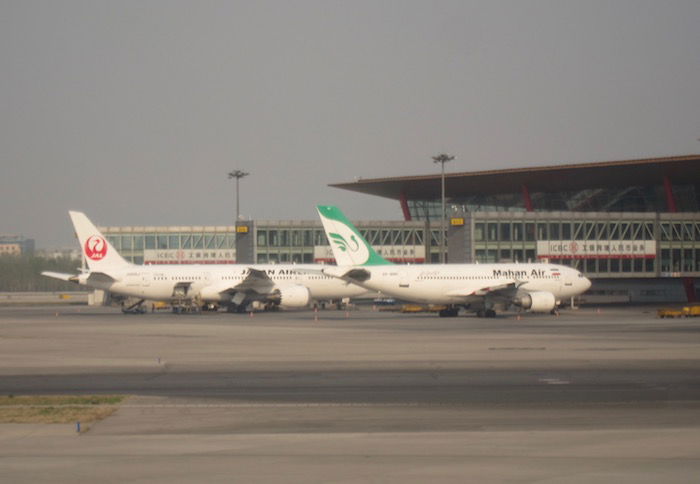 Due to sanctions in place with Iran (at least up until now, though that's slowly changing), the airlines have primarily operated second hand planes, given that they haven't been allowed to order new planes from Airbus or Boeing. As a result, the airlines have pretty old planes and inconsistent interiors.
As I wrote about back in 2013, Mahan Air took over some A340s from Lufthansa, and they haven't even bothered to update their interiors. The below first & business class cabins should look pretty familiar, as they're the old Lufthansa cabins.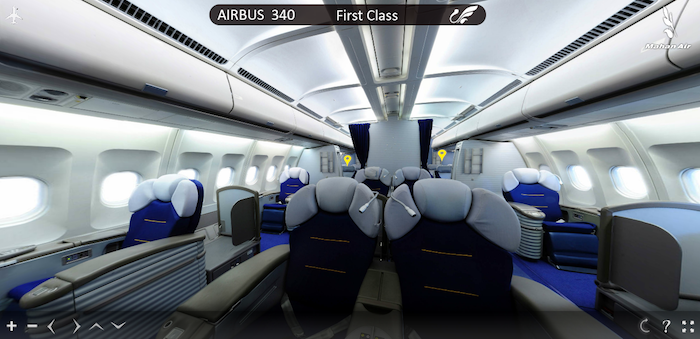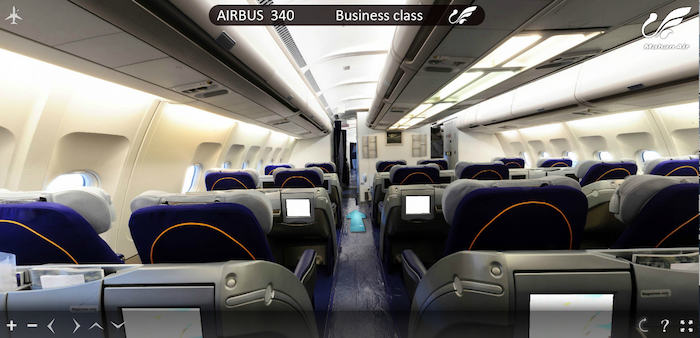 The timing of this is pretty funny, because for whatever reason I was looking into transit policies for Iran, and best I can tell I shouldn't have any issues transiting Tehran without a visa using my German passport. So I then started looking at some of the business class fares published by Mahan Air.
Funny enough, just yesterday a reader posted in the Ask Lucky forum asking for a Mahan Air review, and View from the Wing also posted about the "dangerous" cargo Iranian airlines carry.
I'm intrigued by these airlines. Sam Chui has shared his experience flying Mahan Air between Dubai and Tehran. In particular, I found this tidbit interesting:
All Iranian airliners carries security guard in plain clothes, they usually sit near the cockpit and monitor everything in the cabin. On my flight it was no different, the security chief allowed me taking pictures but did checked all of my photo in my camera. We chatted a little although he speaks only Farsi. He seems fascinated about my passion towards aviation and decided to do me a favour by allowing me inside the cockpit! The security has the final say on all matters onboard Iranian airliners.

I sat behind the pilots (2 cockpit crew) for 10 minutes watching a great sunset before we descend into Tehran on a very clear but cool evening. Our cruising level was 32,000 feet at Mach 0.82. The captain told me he flew a range of plane from Bae146 to Tu154, from B747 to A340, impressive CV! Both pilots were shocked I was only transitting Tehran in just few hours! May be it is another call to visit the land of Persia next time!
Wow!
Mahan Air has some great business class fares, like between Dubai and Kuala Lumpur (via Tehran) for under $800 one-way.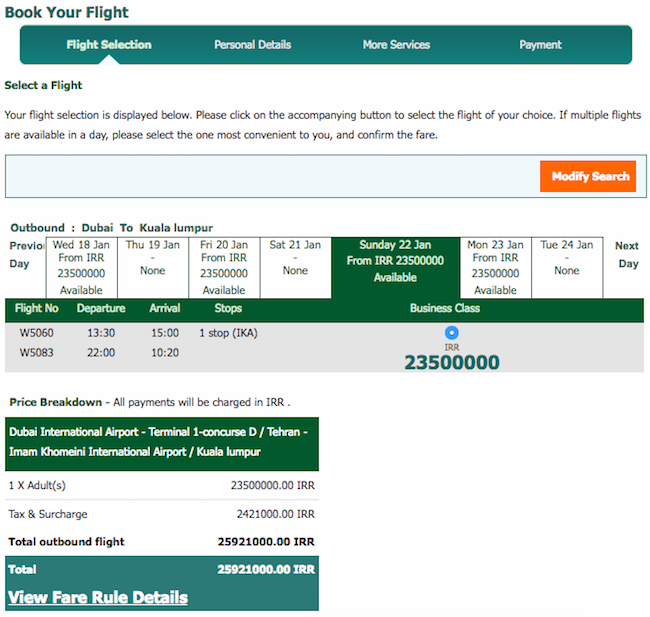 The one odd thing is that I can't for the life of me figure out what kind of an aircraft Mahan Air uses on any routes. Maybe I'm missing something, but throughout the booking process I don't see an option to see the type of plane, select seats, etc. Obviously I'd rather book an A340 than an A310.
So, what do you guys think — would a review of Iran Air or Mahan Air be interesting? Am I crazy for considering this?