Small Luxury Hotels of the World is a group of over 500 boutique hotels that don't otherwise belong to any hotel chain (you can see their locations here). They have a loyalty program, (not so) creatively called The Club of Small Luxury Hotels of the World.
It's actually a pretty lucrative program, because even just for joining you get room upgrades on your first stay. Then after your first stay you become a "Loved" member, which gets you room upgrades, complimentary continental breakfast, and late check-out. Then after five stays you become an "Honoured" member, which gets you (in addition to the above) a free night, priority room upgrades, and early check-in.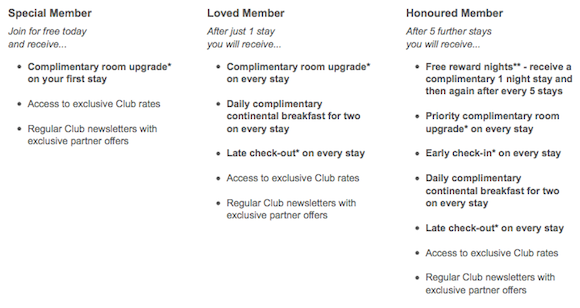 While these benefits aren't earth shattering, reader Stephanie points out that if you register now you can become a "Loved" member with your first stay, meaning you're immediately eligible for room upgrades and complimentary breakfast. Just sign up through this link.

There's definitely some overlap between the hotels here and those that participate in American Express Fine Hotels & Resorts and Virtuoso, though there's no reason you can't benefit from both programs.