Miami (MIA) is my home airport, and I like to keep a close eye on some of the unique "visitors" the airport gets. While I'm not in Florida at the moment, it looks like the airport had a rare visitor yesterday, and I couldn't help but do a bit of digging.
A SWISS Airbus A220's journey from Zurich to Miami
On the evening of Monday, March 28, 2022, a SWISS Airbus A220-300 landed at Miami Airport with the flight number LX5050. Specifically, the roughly one year old jet with the registration code HB-JCU touched down at the airport at 5:30PM. Keep in mind that the A220 is a (very efficient) narrow body aircraft that SWISS typically uses for short haul flights.
Perhaps even more interesting, the plane performed a parallel landing with a SWISS Boeing 777-300ER, which was arriving nonstop from Zurich at around the same time. I wonder if that was a coincidence, or intentional.
Looking at the flight tracking history of the jet, the SWISS A220 was flying from Montreal, as that flight took around 3hr7min. On Sunday, March 27, 2022, the same jet flew from Zurich to Montreal, with the same flight number. That was also operated nonstop, and took 8hr19min.
That shows you just how capable this plane is, given that it can cross the Atlantic without stopping. Admittedly that was largely only possible because the plane was mostly empty, but still, how cool.
What's the purpose of this flight?
We know that a SWISS A220 flew from Zurich to Miami via Montreal, but why?!
As it turns out, Airbus is doing a promotional A220 tour around the Americas, clearly in an attempt to sell the jet to airlines. Airbus and SWISS reached an agreement for one of the Switzerland-based carrier's newer A220s to be used for this demonstration.
You can expect that Airbus executives will be meeting with airlines in North America and South America over the coming days. Furthermore, it's expected that the jet will be on display at the FIDAE Air Show in Santiago, Chile, from April 5-10, 2022.
These kinds of promotional sales tours are fairly common for aircraft manufacturers, and with fuel prices as high as they are right now, I suppose this is a good time to show off this fuel efficient jet. I'll be keeping an eye on the aircraft's registration code in the coming days. I'm curious to see if it makes any stops in Chicago, Dallas, Panama City, Bogota, etc.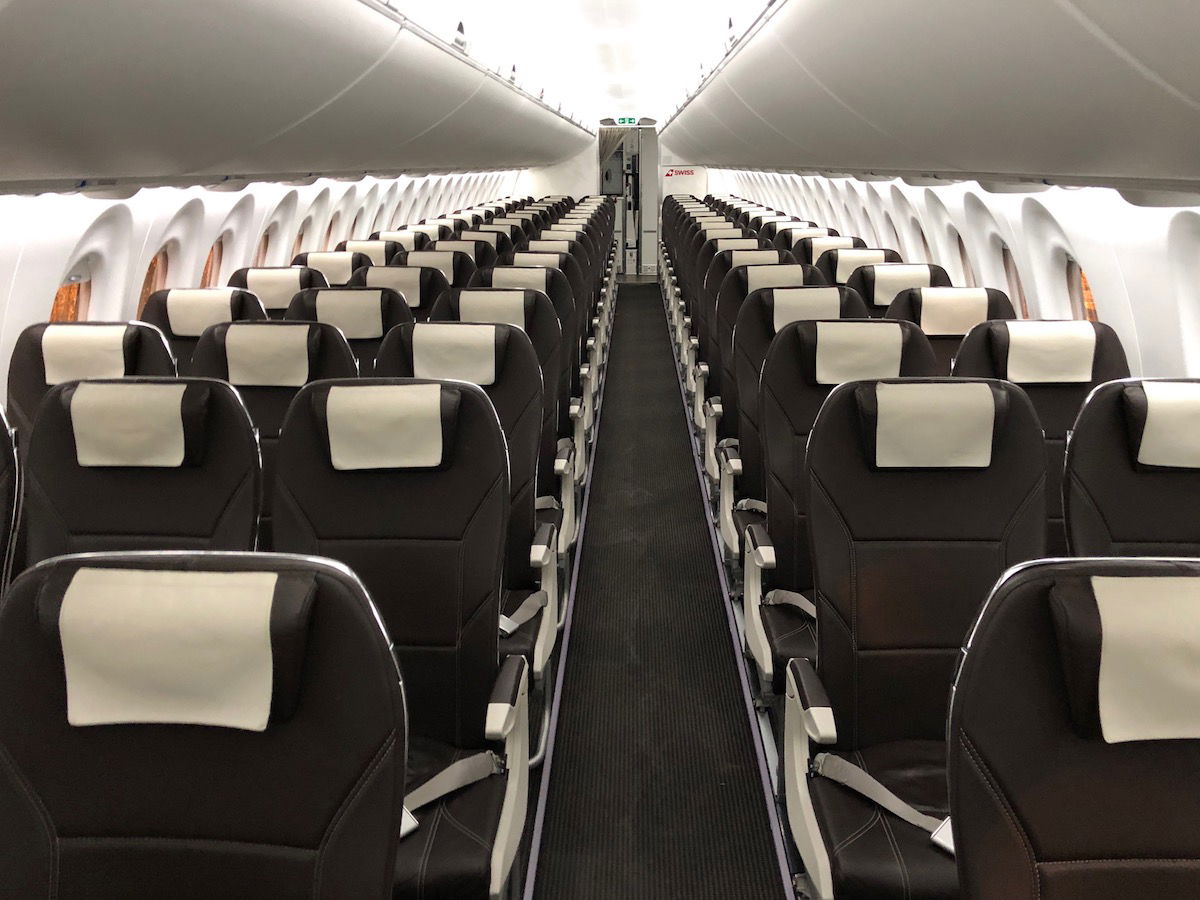 Bottom line
A SWISS Airbus A220 flew to Miami yesterday, which sure is an unusual visitor for the airport, given that the jet rarely crosses the Atlantic, aside from delivery flights. The plane even had a parallel landing with a SWISS Boeing 777-300ER in Miami, operating the regularly scheduled flight from Zurich.
As it turns out, Airbus is operating this SWISS A220 for a promotional tour around the Americas, which will see the plane making several stops. In roughly a week the plane will be at an air show in Chile, so I'm curious to see where it flies in the meantime.
If you see a SWISS A220 at an airport in the Americas in the coming days, now you know why…
What do you make of this SWISS A220 flight to Miami?