Have you ever had an airline's flight status page just show completely wrong information? Well, I encountered that yesterday in a way I've never seen before.
My dad's Silver Airways flight showed a four hour delay
Yesterday I booked my dad a ticket on Silver Airways (which I've reviewed before) from Fort Lauderdale to Tampa for same day travel. The fare was reasonable and schedule worked for him, so I booked the ticket for him and then immediately sent him the mobile boarding pass.
The flight was supposed to depart at 4:30PM and arrive at 5:45PM, but when I sent him the mobile boarding pass, he correctly noted that the flight showed a 9:42PM arrival. Huh?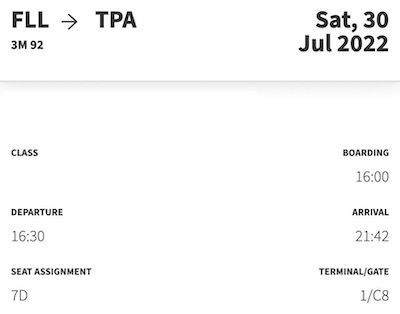 That's odd. I went to Silver Airways' flight status page, to see what was going on. Well, now it all made sense — the flight was showing a delay of over four hours. and was now due to depart at 8:34PM rather than 4:30PM. Rats!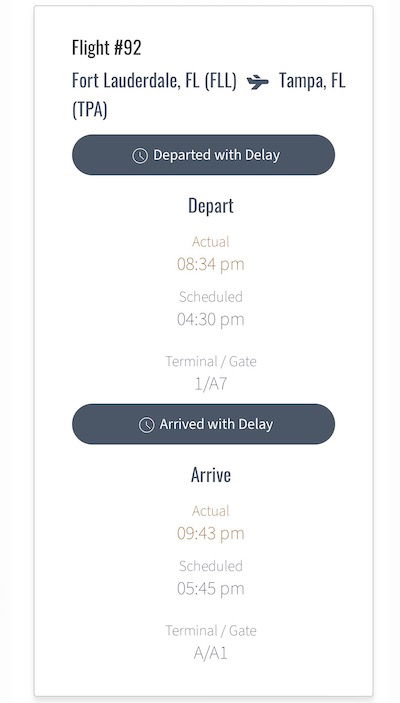 I also checked ExpertFlyer, and noticed that the "comments" section for the flight did hint at a similar delay, showing an 8:34PM departure and a 9:43PM arrival.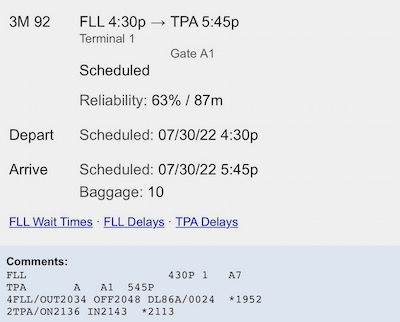 I made him aware of the bad news, though fortunately he hadn't yet left to the airport. Despite Silver Airways and ExpertFlyer being in agreement, something just seemed a bit off here, though:
I was tracking Silver Airways planes that were inbound & outbound to Fort Lauderdale, and all were more or less on-time
I found it odd how the flight status page listed the status in past tense ("departed with delay" and "arrived with delay"), even though the flight hadn't yet left
Other flight tracking sources, like Google (which uses Cirium data) and Flightradar24 showed the flight as being on-time, and even showed a tail number for the plane, as the plane was on the ground in Fort Lauderdale at the correct time
Based on that, my only theory was that the delay was due to crewing, and that they knew they could only get a pilot or flight attendant at a certain time
I contacted Silver Airways, and they had no information beyond what the flight status page showed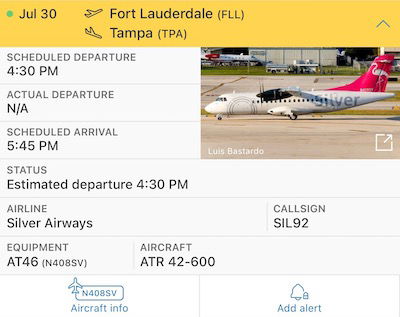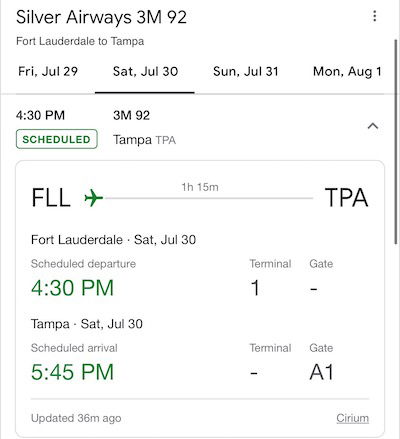 So, what ended up happening?
I didn't want my dad to sit at Fort Lauderdale Airport for over four hours, so initially I told him to just stay put until there was a further update. Nothing changed about the flight status through any source, but somehow my gut just said that something was wrong with the flight status, and that the flight might just operate on-time.
I noticed that the flight the evening before had operated with the revised schedule that Silver Airways' flight status suggested applied to this flight. Did someone at Silver Airways just accidentally update status for the wrong date?
I apologized in advance to my dad in case I was wrong, since sitting at Fort Lauderdale Airport for four hours is very much not a prize.
So he showed up at the airport at 3:45PM, and was through security by 4PM. Moments later the flight boarded, and operated as planned. He even arrived in Tampa a few minutes early.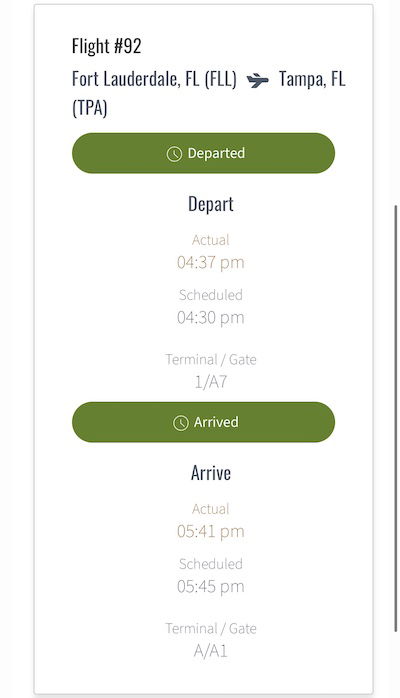 I can't help but wonder how may people ended up missing the flight due to this incorrect flight status, or what caused that to begin with.
Bottom line
Typically when an airline posts a flight delay, you can trust that it's accurate. Now, airlines may sometimes change their mind and move a flight forward if conditions change. However, in all my years of flying, I don't think I've ever seen an airline seemingly just post the wrong flight status altogether.
My dad's Silver Airways flight showed a four hour delay through Silver Airways' website, yet ended up operating on-time. My best guess is that somehow the flight schedule for the previous day was instead loaded for his flight. I'm not sure how that actually happened, though…
What would you have done in this situation?