As some of you may remember, last year Sam F. wrote a post about American's Business Extra program, which is their excellent business rewards program. Now Sam is back to share his experience dealing with in-flight food poisoning. Shockingly this is something I've never dealt with firsthand, so I was especially interested to read about this, and am curious to hear from those of you who have dealt with it as well.
---
Lucky's April post, "Tips For Going Number Two On A Plane With Grace," and its amazing comments section got me thinking a related taboo subject: in-flight food poisoning.
In 2016, I had the misfortune of getting food poisoning in-flight. Twice. The first episode was in January in Emirates first class from Dubai to London. The second was in November, flying Etihad business class from Abu Dhabi to New York.
As has become customary in OMAAT posts, I'll preface this by acknowledging that I had the luxury of traveling in premium cabins on these flights. I have no doubt that being curled up in a lifeless ball would have been even more unpleasant in an economy lavatory than in what became my private Emirates A380 shower suite.
The purpose of this post is two-fold:
Bring the subject of in-flight food poisoning out of the shadows
Share practical coping strategies
The Emiratis Are Trying to Kill Me
I flew 80 legs and over 150K "butt in seat" miles in 2016. A grand total of two of those flights departed the UAE and both times I got horribly, violently ill.
While I cannot pinpoint exactly what made me sick, I believe in both cases it was from food consumed in the lounge pre-flight.
Round 1 in Emirates first class from Dubai to London was the more severe episode. During the 7-hour flight, I spent approximately 4 hours in a shower suite with the proverbial "coming out of both ends" every 15-20 minutes. I had neither the strength nor courage to return to my seat for fear of not making it back to the lavatory in time when the next wave hit.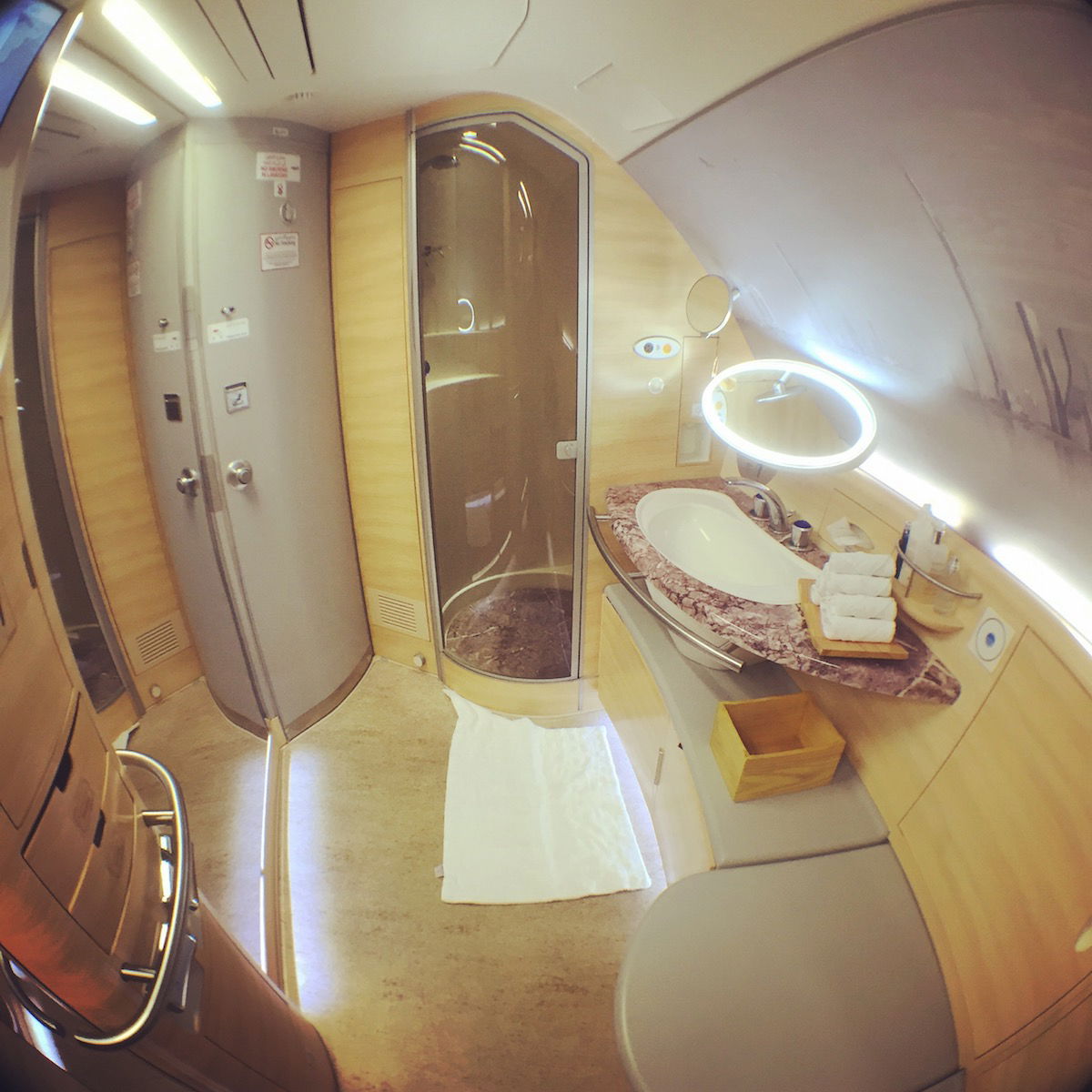 Instead, I acquainted myself with the heated floor of the shower suite, delirious and dangerously dehydrated, alternating between chills and profuse sweating, unsure of when it would all be over. While I planned on informing the crew that I would need an ambulance on arrival, about 30 minutes prior to landing I was able to compose myself enough that I felt I could get to the hospital on my own (and without causing a scene).
The crew did what they could, which is exactly zilch. They checked on me on occasion but they could not offer any remedy. Ultimately, this was a dragon I had to ride solo.
Fast-forward 10 months to round 2 in Etihad business class from Abu Dhabi to New York, which was relatively less severe. The bouts of "coming out of both ends" were fewer and farther between, which allowed me to return to the comfort of my seat where my wife kept a watchful eye. And my old friends chills, sweats, and aches made sure I was never lonely.
The highlight of this flight came during my first visit to the lavatory. I woke up approximately 5 hours into the red-eye flight and immediately recognized the symptoms. I nudged my wife and told her I would be gone for a while, grabbed an airsickness bag, and headed for the handicap lavatory, which I knew would be more spacious.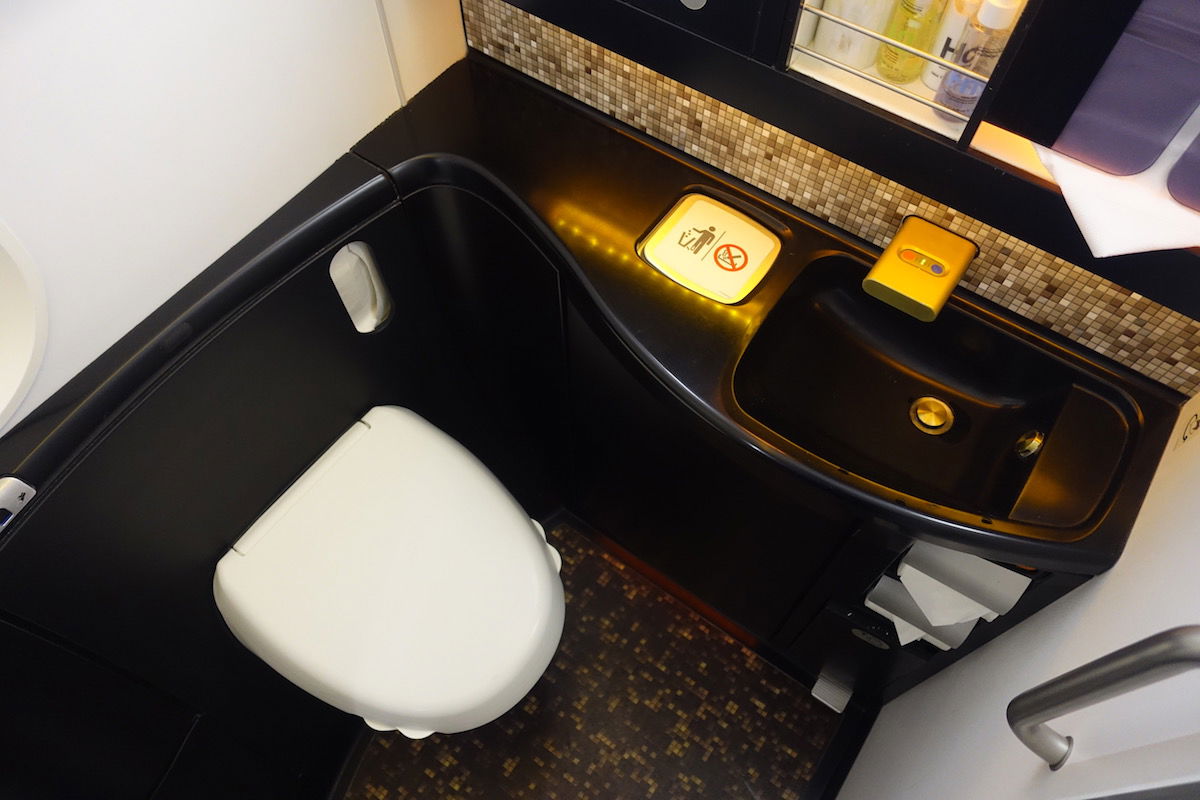 Thirty minutes later, after experiencing the carnage of my body waging war against itself, I was ready to return to my seat. As I prepared to do so, I realized that the crew had not restocked the toilet paper. Or the tissues. Or the paper towels. There was not a scrap of any paper product that I could use to clean myself up.
I MacGyvered that situation but will spare you the details.
Lesson Learned
After my first dalliance with in-flight food poisoning, I assumed it was a once-in-a-lifetime event and that I had now paid my dues. After the second occurrence, I decided that leaving it to fate might not be my best strategy. So I started researching food poisoning remedies and formulated a plan for how to deal with it in-flight should it ever happen again.
The two products I found to be most effective in combating the causes and symptoms of food poisoning are activated charcoal and apple cider vinegar. Both are available in pill form and over the counter (or Amazon), making them ideal for travel.
Activated charcoal works by binding with the toxins in your body, and is commonly used in hospitals to treat drug overdoses. Apple cider vinegar works by coating the gastrointestinal lining and killing bacteria, providing near instant relief.
A few months ago I once again got sick with a food-borne illness. While I was fortunate to be in a hotel room and not on a plane, the combination of activated charcoal and apple cider vinegar worked wonders and helped me to start feeling better within half an hour. It is a combination that now I swear by and travel with at all times.
Not everyone metabolizes activated charcoal and cider vinegar the same way so your mileage may vary. The moral of the story is figure out now what works for you, and bring it with you whenever you travel. Hopefully you'll never need it in the air, but if you do, you'll thank your lucky stars that you came prepared.
And even if you never get food poisoning on a plane, chances are a travel companion or someone else on the plane will. And when they do, you'll be there to lend a helping hand.
The main purpose of this post is to share strategies and learn from each other's experiences.
Have you ever had food poisoning on a plane? Do you have a go-to remedy when traveling?