I swear I'm not trying to be crass here, but I feel like this is a topic that needs to be addressed. Collectively the blogosphere shares tips for maximizing all aspects of travel, but perhaps there's no area where some suggestions are more necessary than airplane bathroom etiquette.
I'm the last person who would typically want to discuss this stuff, but I feel like someone's gotta do it. Last night I was waiting for the single rear lavatory on a plane, and as soon as the guy opened the door I unintentionally gave him a look of pure horror. It smelled like someone had died after an all you can eat Mexican buffet. While I heard him flush, there was still toilet paper and some "residual" excrements in the toilet bowl when I went to use it. In addition to actual chunks of you-know-what, the entire toilet bowl looked like an A380 skidded off a dirt runway during monsoon season. There's a lesson to be learned here, so let's get to it.
I don't think anyone enjoys going number two on a plane, but if you're going to, there are some basic ways to minimize the impact it has on other passengers.
When to go to the lavatory
If it's going to take a while, there's a strategy to when you should use the lavatory. Don't go right after takeoff, right after the meal service, or right before landing, when everyone else wants to go. The best time to go is right as the crew starts their service, since a cart will be blocking the aisle, and passengers will be looking forward to the food and drinks. Furthermore, during that time the flight attendants won't be in the galley "observing."
If it's a longhaul flight, wait at least 30 minutes until after the drinks or trays are cleared.
Which lavatories to use
This is for your own convenience, rather than the convenience of others. Airplane lavatories keep getting smaller and smaller, though this isn't true across the board.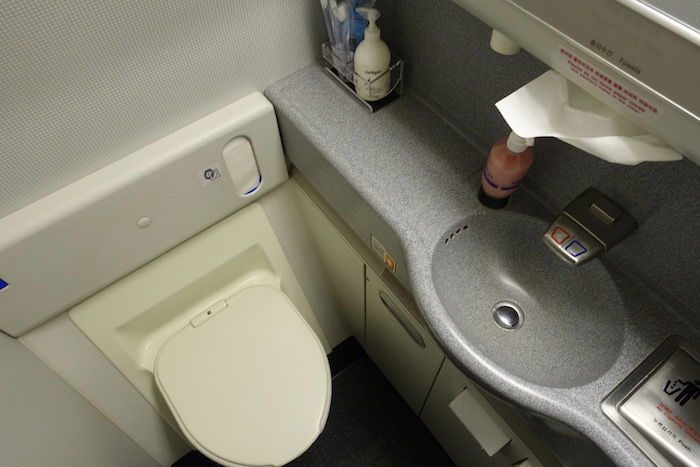 Typically there's at least one larger lavatory on most planes, if not more. Do what you can to find it.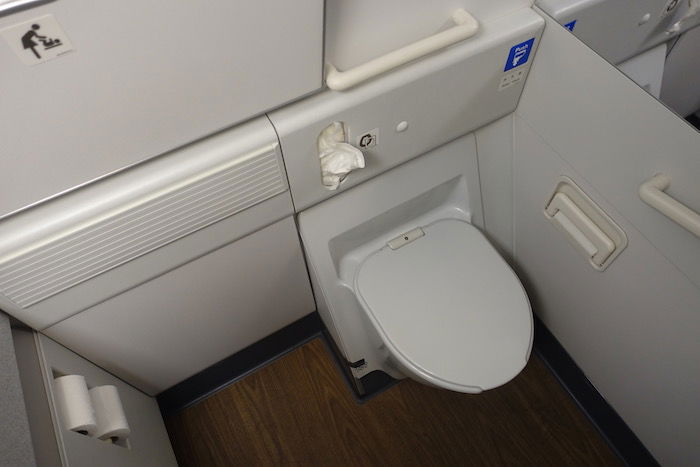 Furthermore, assuming you're on a bigger plane with several lavatories, go to one that's in the same area as others. That way if a line forms, everyone won't be waiting for you.
How to minimize the smell
You'll sometimes see crews put coffee bags in the lavatories, which are intended to minimize odors. I've seen some suggest that you should ask a crew for a coffee bag before going into the lav. Personally asking that sounds sort of horrifying to me. But there are ways you can minimize the smell:
Flush as soon as you "go," and then again a couple of moments later — there's no shame in frequent flushing as long as you leave a clean and pleasant smelling lavatory
When you're done, use a lot of soap when you wash your hands — airlines typically have foaming soap, and you'd be surprised by how much of a difference it can make in terms of the smell
Bring a toiletries bag into the lavatory as if you're brushing your teeth, and worst case scenario, spray some perfume or cologne; don't go all Bath & Body Works on the place, but a spray or two will go a long way (sometimes the airlines even have a mist in the lavatory)
How to leave the lavatory spotless
Most airplane lavatories use suction technology, so a spotless toilet bowl may be tougher to achieve than elsewhere. With that in mind:
If there are any "marks" or toilet paper sticking to the side of the bowl, take a mouthwash cup, fill it with water, and pour it over whatever you're trying to remove; adding a bit of water will make it all go down much easier when you flush again
Depending on how self conscious you are, just take a paper towel and wipe the inside of the bowl as needed; it's not like there's water, and you should be able to avoid direct contact completely (besides, it gives you another opportunity to soap up your hands, further improving the smell of the overall environment)
Then of course wipe down the sink area, etc.
By the time all is said and done, the lavatory should look more spotless than when you entered it.
Bottom line
Again, I'm not trying to be gross here. However, it also occurred to me that a lot of people avoid going to the bathroom on planes at any cost. Personally I'd rather use a bathroom on a plane than a public airport bathroom with stalls. Of course you can take as much or as little of the above advice as you'd like. I share it as someone who has flown roughly four million miles, and who is incredibly OCD.
Anyone have any further tips to add?