For the past few years, most of IHG's global hotel promotions have been customized. Everyone gets some type of offer, but different members get targeted for different versions of the offer.
The logic is that hotel loyalty programs want to generate incremental revenue, so they'd like to get you to increase the business you'd otherwise give them, rather than just reward you for stays you'd make anyway. By customizing offers they can better encourage the behavior they're looking for.
Last week IHG revealed the details of their next global promotion. So while we've known what the offers were, the promotion is live for stays as of today, September 1, 2019. This is worth posting a reminder of because it could make sense to adjust your IHG stay activity to account for the new promotion.
IHG's current global promotion is called "Make Every Stay Count" (it's a version of their Accelerate offer), and it's valid for stays between September 1 and December 31, 2019. To see the details of your offer, you'll need to log in to your IHG Rewards account and then register. Registration closes on October 18, 2019.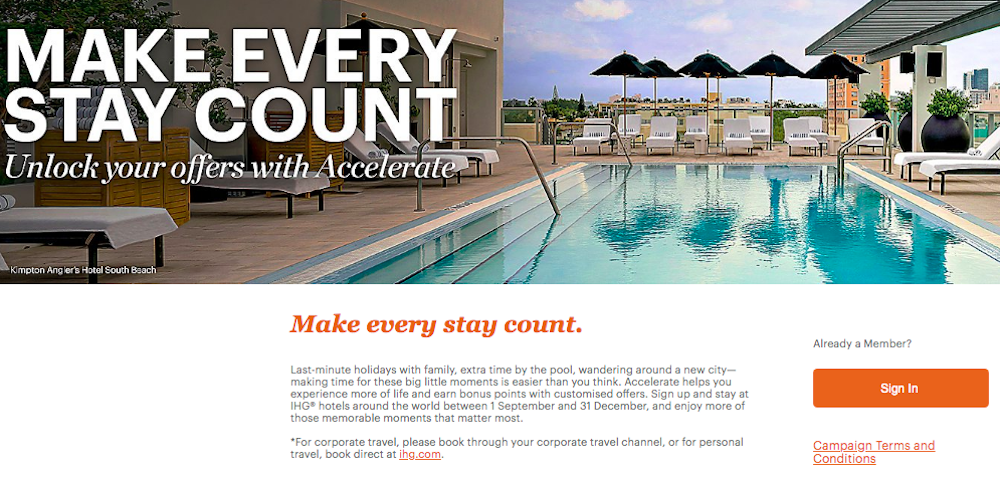 My version of the offer is for up to 35,900 bonus points after completing up to four tasks.

My tasks include the following:
Discover Our Brands — 14,400 bonus points (stay at three brands)
Saturday Stays Bonus — 8,000 points (stay two weekends, including a Saturday night and another night)
Stay A Little Longer — 12,000 bonus points (book two stays of four or more nights)
Spend On Your IHG Credit Card — 1,500 bonus points (pay for one stay with your IHG Card)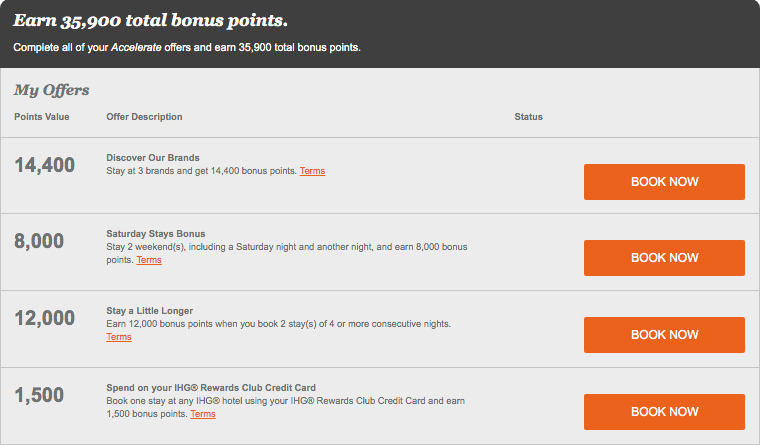 Is it just me, or do these promotions keep getting worse, in spite of IHG points getting less valuable? In the past these promotions offered an "achievement bonus," though starting with the summer promotion they didn't.
This promotion offers the lowest number of bonus points of any Accelerate promotion I've had, and it also is the toughest to unlock, given that I'd have to make two stays of four nights each, as well as an additional stay (to stay at three different brands).
While I generally appreciate these gamified promotions, this offer isn't terribly lucrative for me.
I'll easily earn 1,500 bonus points for paying for one stay with the IHG Card, but that's about it.
What does your fall 2019 IHG Accelerate Promotion look like, and do you plan on taking advantage of it?