A couple weeks ago, I presented the results of our InterContinental Hotels Group (IHG) Priceless Surprises promotion for Team OMAAT. This was the promotion where you earned one game entry for either staying at an IHG property or, in the case of most of us, for sending in a hand-written index card. Then Hello World would email you a link to the "elevator game" where you would push a button to select one of the six floors, and (hopefully) win a prize.
My mom, who happens to be retired, filled out 94 entries for each of myself, my wife, herself, and my Dad. Since she was in a groove, she also sent in 94 for Tiffany and her husband as a bit of a thank-you for some award booking help. That gave us 564 entries for Team OMAAT, which initially resulted in 495 game pieces. Eventually, at the advice of several readers, I emailed Hello World to request the missing game pieces, and sure enough, they obliged.
Collectively, we rode the elevator 564 times and amassed a lot of data along the way. Although I presented our preliminary results, I now want to crunch the numbers a little harder. By doing so, I think we can try to determine whether or not this was a fair game and answer questions like:  Did IHG and Hello World award points in accordance with their published terms and conditions? Or were we all playing with a loaded die, or in this case, a rigged elevator?
It's a very reasonable question to ask of any contest, promotion, or game of chance, even ones that were "free" to enter.
Before we begin, however, please keep in mind that I'm not a statistician, but I did stay at a Holiday Inn Express last night! OK, just kidding. I really just mailed in an index card!
Sorry, couldn't resist.
Prize Groups
To recap, there were three groups of prizes:
We didn't win any Group A prizes, and you probably didn't either. So the real discussion is about the Group B and Group C prizes.
Data Collection
I logged what my family won during every play of the game in a spreadsheet. I asked Tiffany to do this for her elevator rides as well. She actually went so far as to record a video of her playing the game over and and over and over again. I'm sure it'll go viral on YouTube any day now….
Here is the play-by-play log for each of us, Travis (T1), my wife (W), my Dad (D), my Mom (M), Tiffany (T2), and Tiffany's husband (H). Note that my Dad won a $50 prepaid Mastercard which was one of the bigger Group B prizes. I included it in the figure as a 4500 point prize, mostly because it needed to show up somewhere. Also, Tiffany (T2) managed to get more non-winning duds (0 points) than anyone else. Boo.

Play-by-play logs for each member of Team OMAAT
And here is a chart of our winnings, including all 564 game plays.

IHG points won for each team member
In the end, we received 100% of our expected game pieces, meaning that we played the game once for every entry that we submitted.
Those are the basics. Now let's dig in.
What Was The Expected Value Of 94 Game Plays?
As you may recall, there was a lot of discussion and debate over the expected value of this promotion. This was largely because IHG listed the chances of winning as odds, though many believed they were actually probabilities.
I didn't really weigh in on this and instead based my decision to participate on the conservative assumption that every game piece would win the minimum 500 points; anything above that would be a bonus. In other words, I assumed you'd win at least 47,000 points.
Well, the 500 minimum win per game piece turned out to be (mostly) correct, assuming you received the game piece at all. While we did have a few non-winning duds, they were few and far between.
But let's go back and look at the pay table again. I've taken the odds, and recast them as the probability of winning that prize. In other words, you should have expected to win a 5,000 point prize 2.3% of the time.
Prize value
(in IHG points)
Odds
Chance of winning
5000
1:42.86
2.3%
2000
1:28.57
3.5%
1000
1:14.29
7.0%
500
1:1.18
84.7%
Now let's translate that into exactly how many of each prize you should have expected to win if you entered and played the game 94 times.
Prize value
(in IHG points)
Chance of winning
Expected wins per 94 plays
5000
2.3%
2.2
2000
3.5%
3.3
1000
7.0%
6.6
500
84.7%
79.7
That shows that we should have expected to win 12 of the bigger point prizes in Group B to go along with our 80 prizes from Group C. That would give us an expected value of 64,050 points.
Mind The Cap
That part about expecting to win 12 prizes from Group B?  Nope, couldn't happen.
IHG included a tricky little rule that said we could actually only win five Group B prizes. That means that instead of getting 12 of the bigger point prizes, we could only get at most five.
Since the probabilities said we should expect 12, but now we're told we'd only get five, we could really only get 5/12 as many of each of those prizes as we thought we would. So those extra seven Group B prizes actually turned into Group C, each worth 500 points. This was actually a point of contention — some tried to argue that once you capped out of Group B, the elevator locked you out and the game was over. In fact, it just meant that you couldn't get any more from Group B.
Now we need to recalculate our expected Group B prizes knowing that we weren't going to get more than five. Which means we got more 500s from Group C.
Prize value
(in IHG points)
Chance of winning
Expected wins per 94 plays after cap
5000
2.3%
0.9
2000
3.5%
1.4
1000
7.0%
2.7
500
84.7%
86.7
Overall, this lowered the expected value of 94 entries from to 64,050 to 53,350. Or possibly 54,500 if you believe, like I did, that every play is supposed to win at least 500 points and that there are no duds. So congratulations, if you scored exactly 54,500 points, you landed right in the middle of the bell curve. 
We averaged 56,916 points per person, beating the expected average any way you slice it. And trouncing my conservative worst-case estimate of 47,000 points.
About Those Duds
You might also notice that the probabilities in that table sum to 97.6%, not 100%.
Admittedly, it doesn't include the Group A and B non-point prizes, but there were so few of those that the chances of winning them are probably insignificant.
So one question is, did IHG really intend for 2.4% of all entries to not earn anything?
Hello World did have a day back in January where the elevator went haywire, though that was supposedly a glitch which was later corrected. I guess one of the big unsolved mysteries here is what was supposed to happen to those 2.4% of plays, and I don't have an answer either.
Our team had a total of 6 duds in 564 plays, or about 1%, much less than the rate at which the pay table would project. Maybe IHG realized that pointless elevator surfing isn't likely to build brand loyalty.
Group B Is Where The Fun Is
Let's think about the Group B prizes a little more.
The probabilities say that we should have each received 12 of the bigger Group B prizes. But alas, we were limited to five. That means we should have expected to hit the Group B cap rather quickly.
If we were expecting to get 12 Group B prizes over the course of 94 plays, we should have hit five Group B prizes in 5/12 of the number of plays. That means the average person would get capped out of Group B on their 39th play of the elevator game.
All six of us got our five Group B prizes, and on average we got our 5th and final Group B prize on our 35th play of the game. Again, we were above average since we were winning bigger prizes faster than you'd otherwise expect. Of course I know this because I kept a play-by-play log of what we won and when we won it.
Fascinating, eh?
Was The Game Rigged?
To be clear, I'm not talking about any missing entries. Or whether there were anomalies between the points you supposedly won and those that ultimately posted to your account.
This is just about whether we were winning points at a rate we'd expect given the pay table. And to some extent, this comes down to how well you do in Group B.

Team OMAAT total Group B prize winnings
It doesn't matter so much whether you received all of your game pieces, as once you hit your five in Group B, you can't win any more of the big prizes anyway.
Prize value
(in IHG points)
Expected wins per 94 plays after cap
Actual OMAAT wins
5000
0.9
1.5
2000
1.4
1.0
1000
2.7
2.3
500
86.7
88.1
As you can see, we received more 5000 point prizes than would be expected, but fewer of the 2000 and 1000 prizes. Dad's $50 gift card took up one of his Group B slots, so if I included that, we'd actually have done better than expected in Group B overall.
At this point, there doesn't seem to be anything in the data to suggest shenanigans. Everything we've looked at actually indicates that our six person team did better than expected:
We averaged 55,916 points, 2.5% better than the expected 54,500
We capped out our Group B prizes in 35 plays, 10% faster than the expected 39
We won the Group B prizes at about the rate you'd expect, and more points from Group B overall than would be expected
As a result, I see no reason to doubt the integrity of the game.
Is this enough data to conclusively answer the question of whether the game was fair? Statistically speaking, no. We'd need even more data to increase our confidence in the conclusion. But it's still a pretty good indicator.
Not Every Play Of The Game Was Equal
Did you notice that by the end, all you ever won was 500 points? There was a reason for that.
Since the average player could expect to get capped out of Group B on their 39th play, their last 55 plays would all have earned 500 points. In our case, we all hit the cap of Group B prizes. My mom actually took the longest to hit the cap, reaching it on her 53rd game play.

The longest it took someone on our team to hit the Group B cap was 53 game plays
So by the time you got near the end, all you could do was win 500 points, and the game became a slog. It was just pressing the damn button and waiting for the elevator to do its thing. Over and over again.
That also means that your first 39 entries were worth more than the last 55. Since five of the first 39 could be expected to be Group B prizes, those plays averaged 692 points per game play, while the last 55 averaged only 500 each.
So if you wanted to maximize your return per entry, you'd enter 39 times, not 94. Maybe that would have been a better strategy for Ben, who entered zero times….
What About The Missing Entries?
Yeah, it stinks that Hello World lost or mishandled some entries. I know that at least a few of our readers are a little peeved over that. I've heard that some people didn't receive any of their entries at all, and for sure, that would really upset me.
But here's why maybe you shouldn't be too mad — assuming you received most of your game plays.
If you had already hit your Group B limit of five, each of your missing entries was only going to be worth 500 points at best. So if you were missing 10 game pieces, the most you lost was 5,000 points.
The key is that you didn't get robbed of a big Group A prize because that simply couldn't happen. So you can calculate exactly what you missed out on. Maybe it's enough to be peeved over, maybe not.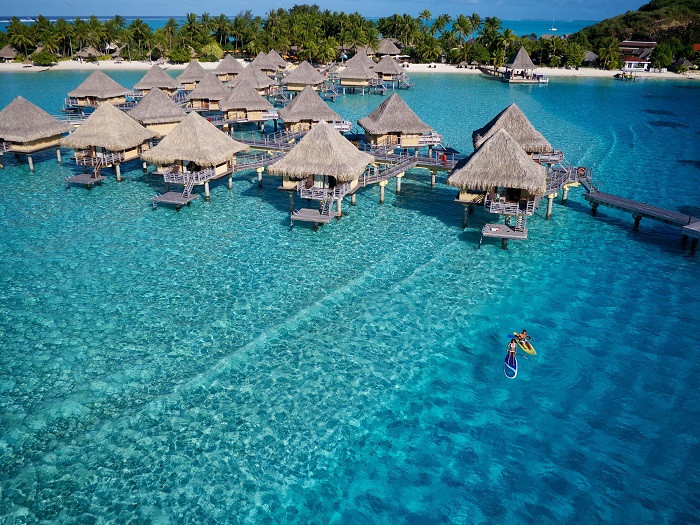 If you had already capped out of Group B, you weren't going to win a night in Bora Bora
How Many Total Entries Were There?
First, let me say that I really have no idea. But I'm going to speculate based on the one data point that I have.
Looking at the terms and conditions, there were 1,609 of the special non-point prizes in Group A and B. They ranged from three 2016 Paris Tennis Tournament Packages to 1,050 lowly $50 prepaid Mastercard gift cards like the my Dad won.
But he won one! And that's important.

Form to claim the $50 prepaid Mastercard
Our team played the game 564 times and won a single "big" prize out of the 1,609 available. With the data we have, the best we can say is that 1 in 564 entries would have won a "big" prize. Since there were 1,609 of those, that would mean there were 907,476 total entries into the IHG Priceless Surprises promotion.
Now remember, I'm extrapolating based on the one data point we have regarding non-point Group A and B prizes. So this a crude estimate at best, but perhaps it's enough so that I can guess that Hello World processed around one million entries. 
Now assuming all of those were alternate mail-in entries, and that each person received all of their entries, then perhaps 9,654 people were playing the game like we did.
In some ways, that number sounds small given the huge number of IHG members. On the other hand, there are only so many people who do this stuff. So maybe 10,000 people is in the ballpark?
What's Special About The Number 94?
When I first recruited my mom to help out, she asked what was so special about 94 entries. I told her I had no idea, but that "those with the gold make the rules."
But I think I figured it out.
The contest opened on November 15th. And it ran through February 15th. TimeAndDate.com tells me that there are 93 days between those dates.

This means that if you had hotel hopped within the IHG network for the entire promotion, you could have earned 92 game pieces the hard way. (You only earned a game piece beginning with the second stay.)

The IHG Priceless Surprises promotion ran for 93 days. Which is close to 94.
So I don't quite understand why the mail-in cap was set at 94 instead of 92, but hey, perhaps Hello World isn't so good with the maths — don't forget, we're still trying to figure out where the other 2.4% of the game plays went if they weren't duds!
Anyway, that's my theory about the significance of the number 94. Do you have a better one?
Conclusion
I've already declared our participation in the IHG Priceless Surprises promotion a success. I had conservatively estimated that each of us would win 47,000 points, and we ended up clearing just shy of 57,000 per person.
My statistical analysis indicates the game was most likely conducted on the up-and-up and that the game was fair. We won the bigger point prizes at a rate you'd expect, given the pay table and the rules.
I do wish that Hello World would have been more consistent with sending out the game plays. In the end, we got all we were entitled to, but it took a few emails.
Overall, I'm quite happy with the outcome of the IHG Priceless Surprises promotion. I hope they do something similar again soon, as my 5-year old son is already asking when the elevator will come back in service….
How did you do with Priceless Surprises? Any plans to use your new points?