The IHG Priceless Surprises promotion is underway and it's definitely an interesting one. The idea of this promotion is that you earn entries into the Priceless Surprises instant win contest after staying at IHG hotels. Each entry gives you a chance to win IHG points or a few bigger prizes.
At least that's the way it was probably supposed to work.
But since it is fundamentally a contest, there has to be a "free" alternate method of entry. In this case, you can write your name, address, IHG number, date of birth, and some other information on an index card and mail it in. Then you should eventually receive an email inviting you to play the instant win game.
On the surface, it seems pretty straightforward.
I love the games aspect of the miles and points world, so this was kind of right up my alley. But before I jumped in the deep end, I wanted to see how it worked in practice.
Quick Analysis of the IHG Priceless Surprises Promotion
There has been quite a bit of debate about just what your chances of winning actually are. Although I'm sort of the resident geek here at OMAAT, I think I'm just going to take the easy way out and assume that every entry is going to win something. That's just what makes sense to me given the structure of the contest.
So for now, I'm going to just think about what I believe is the worst case, specifically that you win 500 points for each entry. Because hey, if we can make the numbers work in the worst case, anything else is just going to be bonus.
Ben values IHG points at 0.5 cents each, and that seems reasonable to me.
Assuming that every entry earns the minimum 500 points, that means we should get at least $2.50 worth of points each time we play the game
Although the entry is free, we'll still incur the cost of a 49 cent stamp, and then a few cents for the envelope and index card, so maybe each entry actually costs us 75 cents
That means we should expect to net at least $1.75 per entry
It took me 2 to 3 minutes to complete each entry, so perhaps you could crank out 20-30 entries per hour, meaning you might be able to make at least $30-$50 per hour, assuming you don't mind getting paid in IHG points. This promotion is rather scalable in that you can submit 94 entries per account. If you do that, you should expect to receive at least 47,000 points. And a sore arm.
My IHG Priceless Surprises Trial Results
I wanted to do a bit of research to see what would work and what wouldn't before committing to 94 entries.
So I did a small test by submitting two entries for myself, and two for my wife.
For my two entries, I used our printer to address the envelopes with both the address and return address
For my wife's, I hand addressed the envelopes
In both cases, I hand wrote the index cards and used #10 business envelopes
My penmanship is not the greatest, but I was fairly careful to at least get the IHG number and email address to be legible, thinking that those were probably the most important fields.
Here is the timeline of my trial along with the results:
November 15
I mailed two envelopes for myself and two for my wife.
December 11
We received four emails notifying us that we had received a Priceless Surprise. The subject line was "You qualify for a Priceless Surprise®!" I wonder how her shoe came untied?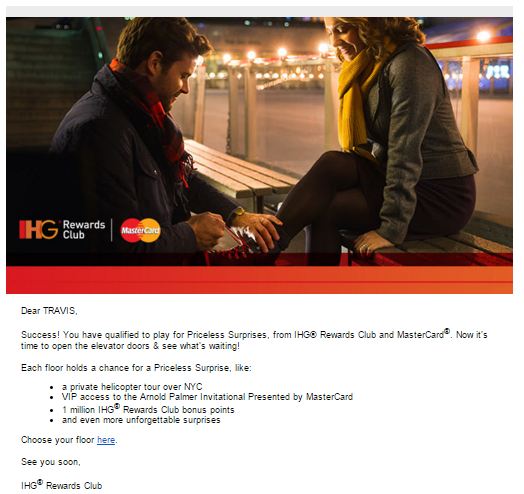 December 13
I played the game by clicking the link in the email. I think I just clicked one of the elevator buttons and then a message appeared telling me what I had won. Then I was able to play again and again until I was out of chances.
December 29
All of our points posted.
My IHG Priceless Surprises Results
Between my wife and I, we played the game four times and won three 500 point awards and a 2,000 point award. That means we averaged 875 points in that limited trial.
Most importantly, both the handwritten and machine printed envelopes were accepted. For the sake of science, I wish I had included some machine printed index cards as well!
Interestingly, my wife also had a revenue IHG stay in December to complete her Accelerate promotion. (She only needed one stay to hit all of her goals — lucky her!) That stay earned her 1,000 points since it was her first stay during the Priceless Surprises promotion. Those points posted four days after the stay, which was much quicker than those from the alternate forms of entry.
If she were to stay again during the promotion, she'd receive an entry for each stay, and presumably that would reduce the number of entries we should submit by mail for her.
My IHG Priceless Surprises Plan Going Forward
Given that my trial was a success, I plan to submit the maximum 94 entries for each of my wife, myself, and my parents. I'm going to continue printing both the address and return address on the envelopes with my printer. My mom, who is retired, has graciously offered to write the index cards, and of course she and my dad will benefit from some of the points. Then I'll sit back and hope to receive a bunch of emails.
It will definitely be interesting to look at the distribution of results from the 94 (or 376) contest entries. In my very limited sample size, we averaged 900 points per entry, almost double the minimum. With 94 entries, I'd expect that an individual's overall results should be fairly close to the mean. I'll try to share my overall results in a later post.
Bottom Line
I am convinced that IHG and Hello World are making a good faith effort to honor the terms of the promotion.
My limited sample set indicates that they are accepting entries that come in machine printed envelopes, so that is how I plan to submit the rest of my entries.
Are you participating in the IHG Priceless Surprises promotion? What have you won so far?