I'm all for loyalty programs introducing more ways for members to redeem points, even if at times the added redemption options aren't great. Well, IHG is currently piloting such a program.
IHG Pay With Points
IHG is rolling out a new program called "Pay with Points," where users are able to pay for virtually anything at an IHG hotel with points. This includes anything from a meal to a spa treatment to a payment towards the room rate.
Members can test out this new offering either using an in-room TV system (via IHG Studio), or via this website.

Currently this feature is available at the following three properties:
Crowne Plaza Atlanta Ravinia (through IHG Studio and online)
InterContinental New York Barclay (online only)
Hotel Indigo Alexandria (through IHG Studio only)
The plan is for this to be rolled out to more properties in 2020.
How IHG Pay With Points Works
I decided to log in online to test out this new feature. I was first asked to select which of the two hotels I wanted to redeem at.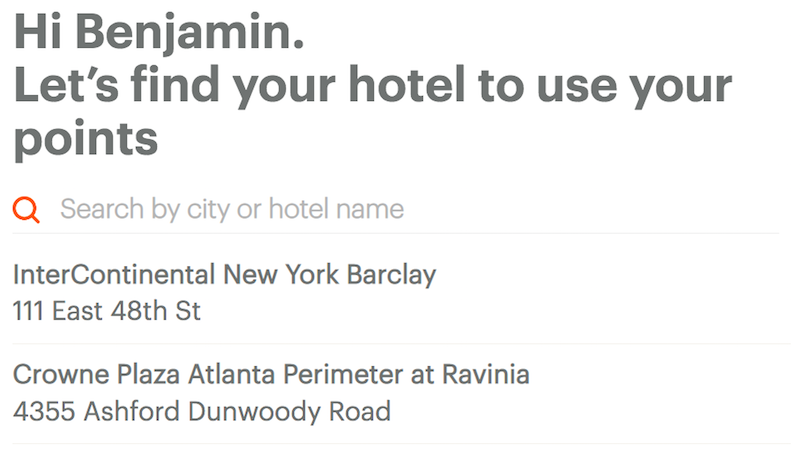 After that I was presented with a slider where I could select how much of a credit I wanted to redeem for. No matter the amount, it seems you can get 0.4 cents per IHG point using this method. For example, I could redeem 10,000 points for a $40 credit.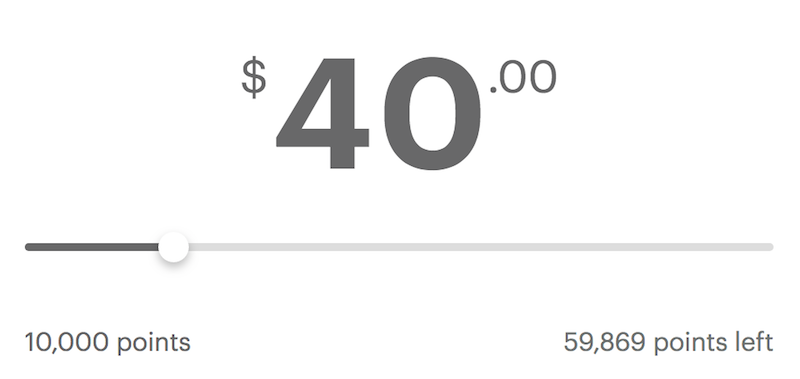 There was a "Redeem Now" button, so I hit that, thinking that it would bring me a page going over all the details of how this works. As it turns out, this actually instantly issued me a code to use to redeem, which has to be redeemed within 24 hours.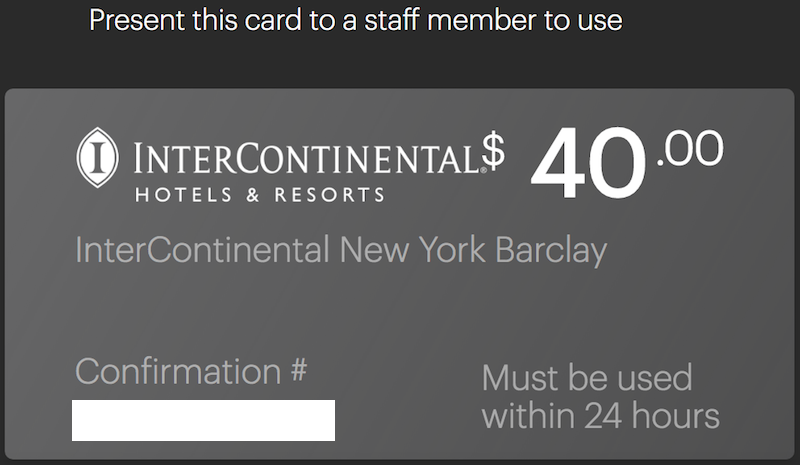 Fortunately there's a "Cancel Redemption" button immediately below that, so you can reverse the transaction and immediately be refunded the points if you change your mind.
There are a few more things to note:
You need to use the entire voucher amount in one transaction
The voucher expires after 24 hours, and if you don't use it, your points will automatically be returned
You can use this even if you're not actually staying at the hotel, so you could use it at a restaurant or bar at a hotel, for example
Is IHG Pay With Points A Good Deal?
Personally I value IHG Rewards Club points at 0.5 cents each. While this is a little bit less than I value them, it's actually not a terrible rate at which to redeem, when you consider that this is basically "good as cash" at an eligible property.
So while I'm not sure this is how I'd choose to redeem IHG points, I could see this being a really useful option with wide appeal. For example, if you stay at IHG properties occasionally and have a small balance of points, it could be nice to cash them out this way when you're staying at an IHG property anyway.
I hope we see this spread to a lot more properties, even if it isn't how I would choose to redeem my points.
Bottom Line
IHG has a new pilot where you can redeem points for 0.4 cents each towards virtually any expense at an IHG property. At this point this is only valid at a few hotels, though hopefully it's expanded to a lot more properties in 2020.
What do you make of IHG's Pay with Points pilot? Would you redeem points this way?