Over the past several weeks we've seen both Hilton and Marriott introduce more restrictive cancelation policies for their hotels. The reasoning behind this is that a lot of people cancel trips last minute, so that sometimes causes rooms to be empty that could have otherwise been filled. While hotels oversell, they can't do so as easily as airlines do, given the challenges associated with "walking" guests. So even when a hotel is sold out for weeks leading up to a date, it's possible that there are empty rooms in the end due to cancelations. The goal here is to reduce that as much as possible.
The latest hotel chain to introduce a stricter cancelation policy is IHG. As of today (August 4, 2017), flexible rates at IHG properties in the Americas need to be canceled at least 24 hours before arrival to avoid any penalties, including for bookings made on ihg.com. Kimpton properties are excluded from this, and continue to require cancelations 48 hours before arrival. Previously a majority of properties let you cancel until the day of arrival. IHG provides the following reason for this change, per Skift:
"The changes to IHG's cancellation policy will provide our guests with greater consistency when managing their reservations and offer certainty for our owners. IHG's previous cancellation policy varied by both region and brand, and this new change will mean that the majority of the IHG estate will now operate under similar terms. Guests will have one day prior to arrival to cancel their reservations without penalty, which still leaves them with 24 hours if they need to cancel their booking."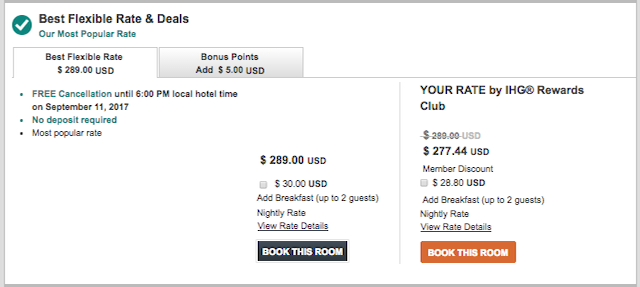 This new policy was rolled out in Europe last week, in the Americas this week, and by September they should roll it out in Africa, Asia, and the Middle East, with the exception of China. I suspect China is an exception since it's still such a growing market and occupancy rates in many cities aren't that high yet, so they don't deal with the same challenge of lost revenue due to last minute cancelations.
The good news is that IHG's new policy is significantly less restrictive than that of Hilton and Marriott. With Hilton and Marriott's latest changes, 48-72 hours advance notice is required for cancelation. So canceling the day before seems reasonable by comparison.
I imagine at some point IHG will even make their cancelation policy more restrictive, to match the competition.
What do you make of IHG switching to a 24 hour notice cancelation policy?