…I'd always fly JetBlue domestically.
I flew from Tampa to New York today on JetBlue, and it's the first time I've flown them in years. Going back a decade when they first started flying, my dad used to commute between Tampa and New York and flew them every week, and he'd always bring me home Blue Chips, so I do have a warm and fuzzy feeling towards JetBlue.
That being said, I haven't flown them in at least five years, and all I can say is… WOW! Flying an airline like JetBlue is a completely different flying experience than flying most legacies.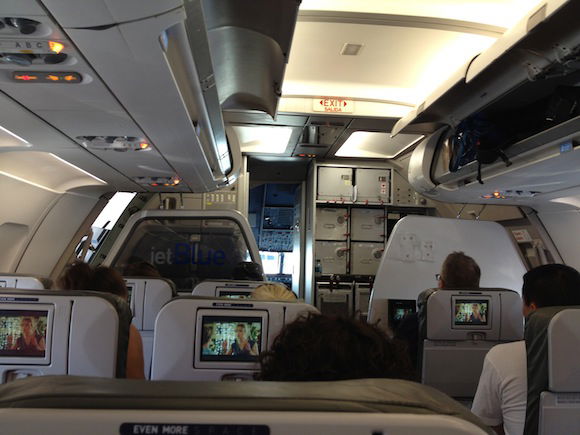 I paid $40 to upgrade to their "Even More Space" seating, which features an unheard of (for coach) 38" of pitch. That's the same as domestic first class, and it actually translates to even more legroom, since the seats don't take up as much room as first class seats.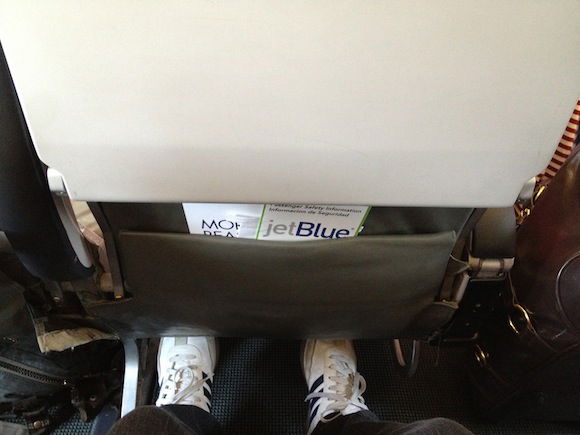 I've also been flying American so much on their 737s and 757s that I completely forgot the benefits of an Airbus 320 from a comfort perspective. Seats on the Airbus 320 are about an inch wider than on Boeing narrowbody aircraft, and that makes a huge difference when you don't have an empty middle seat. I can sit comfortably and work on my laptop without feeling cramped. Now, SeatGuru doesn't actually reflect that, though the seats were definitely wider.
Beyond that JetBlue has DirectTV, XM Radio, and a moving map. Now, I'd trade all that for Wi-Fi, but it's nice to have. I mean, admit it, you wanna know in the case of 18 month old Trisha whether Joe is the baby daddy, don't you? Or you could be like my mom and refuse to go to the lavatory until you find out the verdict in the People's Court. Or you could be like me and completely tune out of everything else that's going on as soon as Honey Boo Boo Child comes on the TV.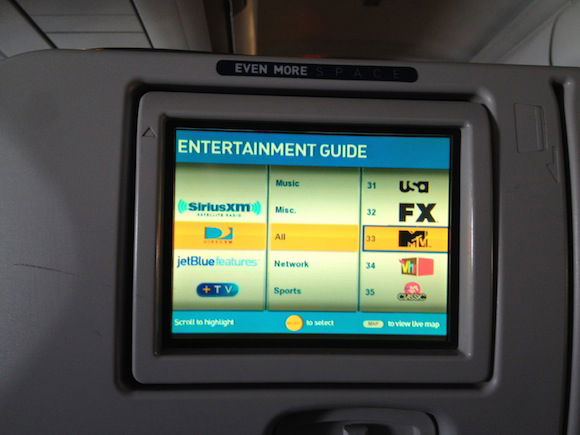 You also can't beat real, free snacks. It might not be the healthiest stuff in the world, but a bag of Blue Chips will keep my happy till later this afternoon, so it sure is nicer than being on an airline that serves nothing in coach (though in fairness American does offer Executive Platinum members in coach free snacks and drinks).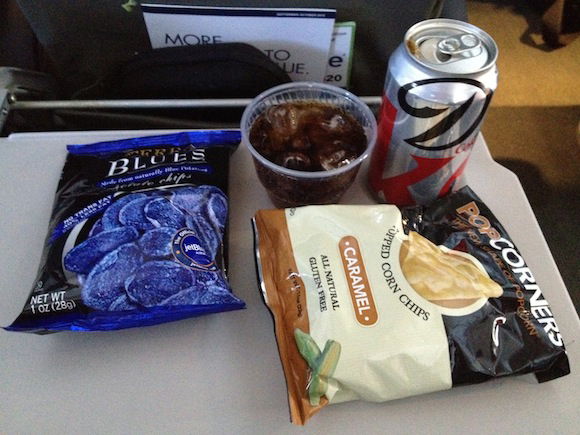 All that being said I won't be making the switch from the legacies to the low cost carriers. With low cost carriers you typically get what you pay for – reliable, comfortable, humane (mostly – I'm looking at you, Spirit!), friendly travel.
With the legacies, on the other hand, you rarely get what you pay for. If you're an elite member you get a lot more than you pay for – first class upgrades, first class award tickets on Cathay Pacific, lounge access, etc. But if you're traveling in the cabin you paid for (be it coach, business, or first class), your money is typically better spent elsewhere.
So while I almost always "push" legacies, I totally understand why the average traveler resents the legacies and will do anything they can to fly an airline that treats them well.
And one final note – it's amazing how far you'll get just by treating the crew with respect. Flight attendants put up with a lot. A LOT. They announce the snack selection twice on the PA, and then half of the passengers still ask what snacks they have when they get to their seat. Passengers don't take off their headphones when the flight attendants talk to them. They don't say "please" or "thank you," but instead say "I want" and "get me."
Perhaps it's more a sad reflection of what flying has become, but it's amazing how far just being nice gets you. I always say "please" and "thank you," take off my headphones when the crew is trying to talk to me, and respond quickly. Just for that the flight attendant told me how nice I was and proactively offered me extra snacks (which I declined, but it was a nice gesture). Even if a crew isn't overly friendly, I find just treating them like a human will make them smile and change their mood.