It has been a while since we've seen Iberia add a new route to the US, so this is pretty exciting. Iberia has announced that they're adding a seasonal summer flight between San Francisco and Madrid in 2018. The route will operate 3x weekly (Mondays, Wednesdays, and Fridays) between April 25 and September 28, 2018, with the following schedule:
IB6175 Madrid to San Francisco departing 12:25PM arriving 4:00PM
IB6174 San Francisco to Madrid departing 6:00PM arriving 2:15PM (+1 day)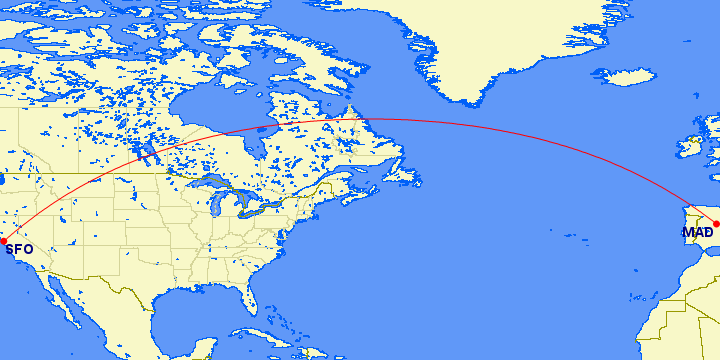 The flight covers a distance of 5,984 miles in each direction, and is blocked at 12hr35min westbound and 11hr15min eastbound.
Iberia will operate the flight with an A330-200, featuring 19 business class seats, all of which are fully flat and feature direct aisle access. Personally I quite enjoyed my flight in Iberia's business class last year, and would fly their business class any day over British Airways', so I think this is a great new option for oneworld flyers.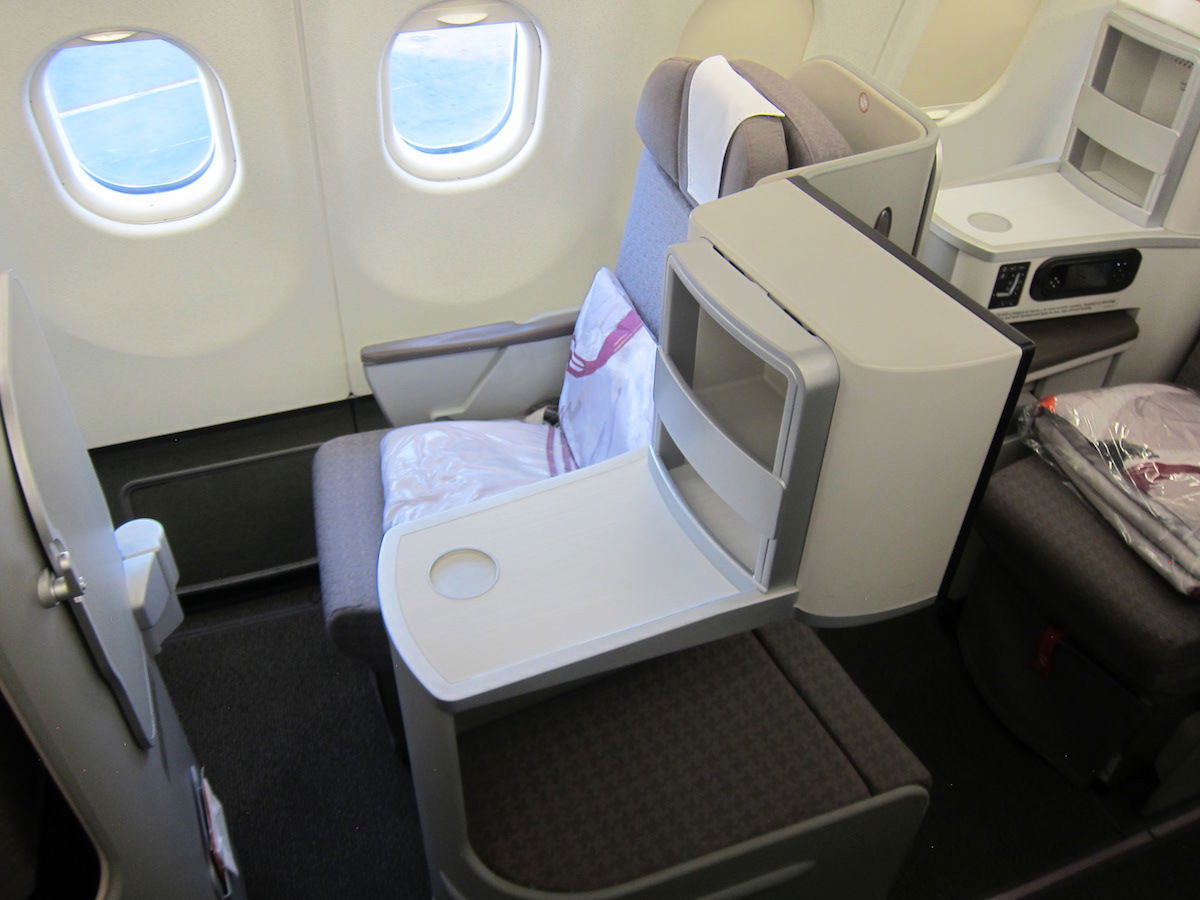 Presently Iberia's US destinations include Boston, Chicago, Los Angeles, Miami, and New York, so it's nice to see them adding service to a second west coast city.
The other fantastic news about this route is that at the moment Iberia has one business class award seat on every single flight in both directions. Typically getting award seats nonstop between the west coast and Europe using oneworld miles can be tough.
For example, you can redeem just 57,500 AAdvantage miles for the one-way ticket, which is a good value.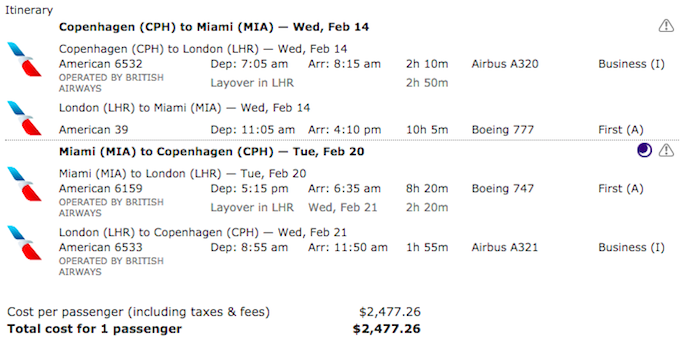 However, there's a catch. Ordinarily carrier imposed surcharges on Iberia are very mild when redeeming American AAdvantage miles. While a one-way business class ticket on British Airways will cost you $500+, when redeeming on Iberia you'll typically only pay ~$100. For whatever, reason, this flight has the full carrier imposed surcharge you'd pay on British Airways, as American is trying to charge $506.10 for a one-way business class award.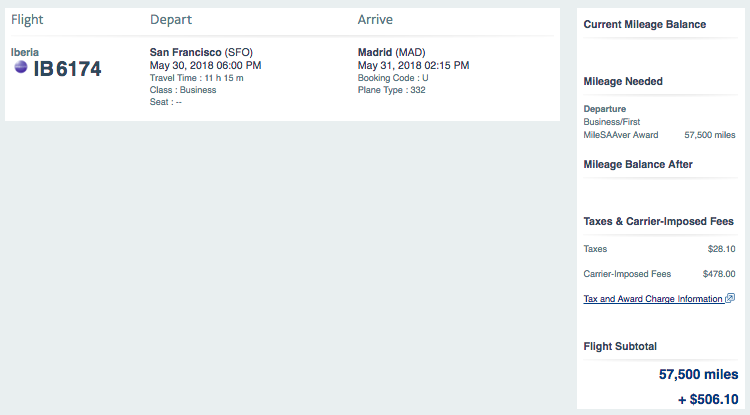 So at first I thought it was a glitch on American's end, though it looks like this is actually on Iberia's end. For example, when redeeming Iberia Avios, you'd pay a total of 179.24EUR for a roundtrip business class ticket from New York to Madrid.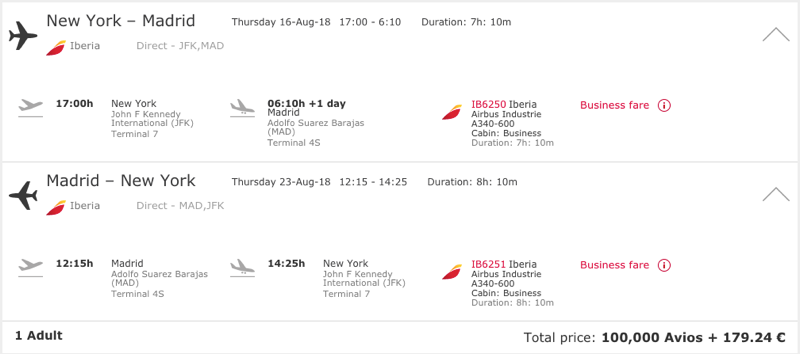 Meanwhile for San Francisco to Madrid they're charging 888.20EUR roundtrip.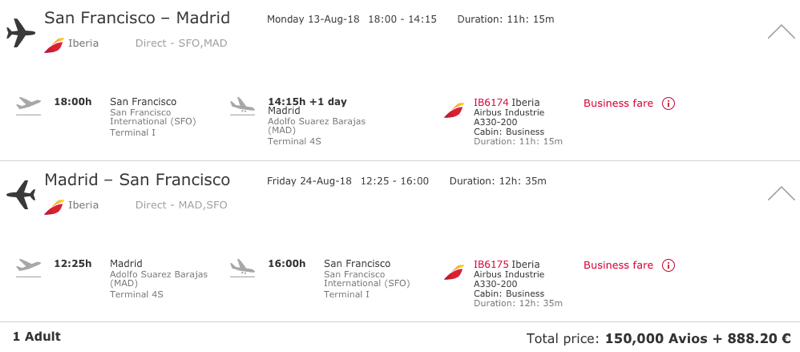 Hopefully this issue works itself out soon. I'm not sure there's anything American can do since it's Iberia mispricing the flights.
Bottom line
It's great to see Iberia adding another longhaul flight to the US, even if it's only seasonal. On one hand I'd optimistically like to think that it may be year-round if it does well, though I doubt it. Iberia also only seasonally flies to Los Angeles, and that's a market with a lot more connection opportunities for oneworld flyers.
Anyone considering taking Iberia's flight from San Francisco to Madrid?