In responding to comments this morning, it seems there is still a lot of enthusiasm around the potential 90,000 mile Iberia promo, and even more questions about how to actually use Iberia Avios.
As you've probably noticed when booking your revenue tickets, the Iberia website is not the most intuitive experience. So I figured I'd go through the basics of how to use the site.
A few things to note upfront:
Iberia.com is having a bit of a time this weekend — if searches won't complete, or you get errors, it's likely not your fault, and trying again when things have calmed down should help
If your account is brand-new, you may not be able to effectively search space — you don't have to have miles in your account to search, but the account does need to be fully active
With that out of the way, let's dig into some of the quirks of the site.
Tricks to using your Avios on Iberia.com
If you've used any airline website ever, you would think that after logging in to your Iberia account, you would simply click on the link under your profile that says "Book flights with Avios."
But you'd be wrong.
That page takes you to the pretty, yet useless, calculator page. Don't even try using this, as it's incredibly maddening, only shows a handful of airports, and the widgets get stuck constantly.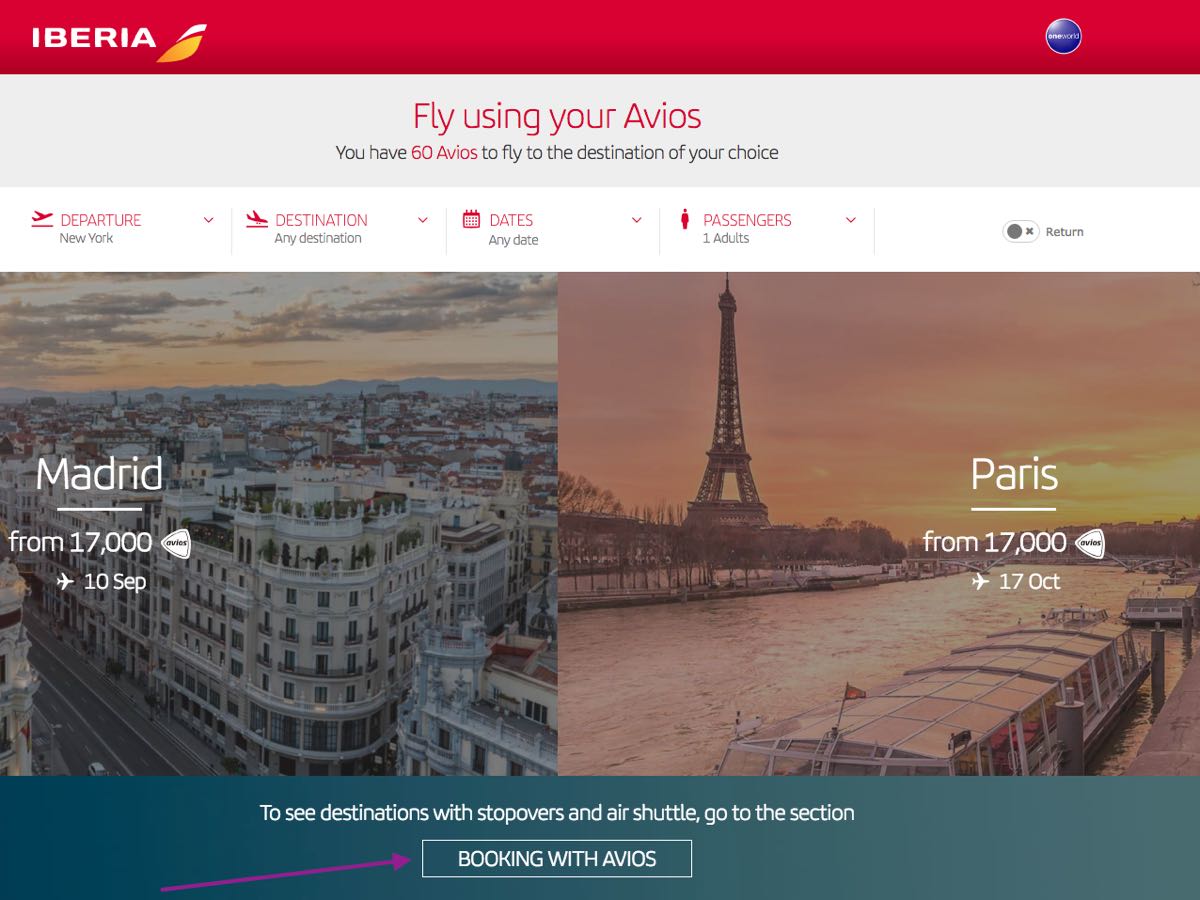 Instead, you want to go directly to the "Advanced Avios Search," which will actually populate most of the cities in the route network. I saw some people in the comments saying they couldn't find their home airport in the search list, and I suspect that's because they weren't using the proper page.
It should look like this: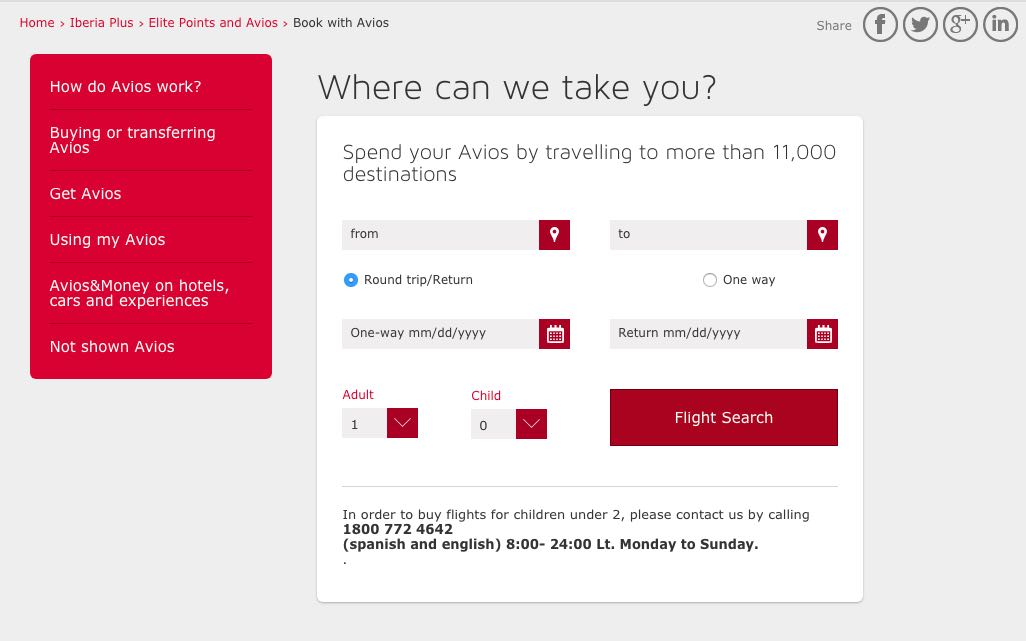 From there, you should be able to search for flights from non-hub airports, keeping in mind that for partner awards, you have to search for a round-trip.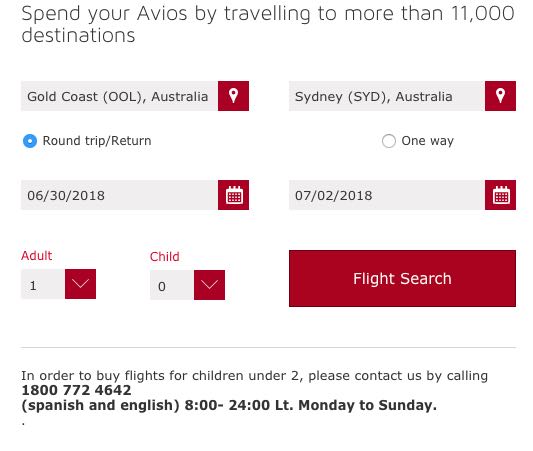 If there's availability in both directions, you should (more on this later) get results, and can price the itinerary: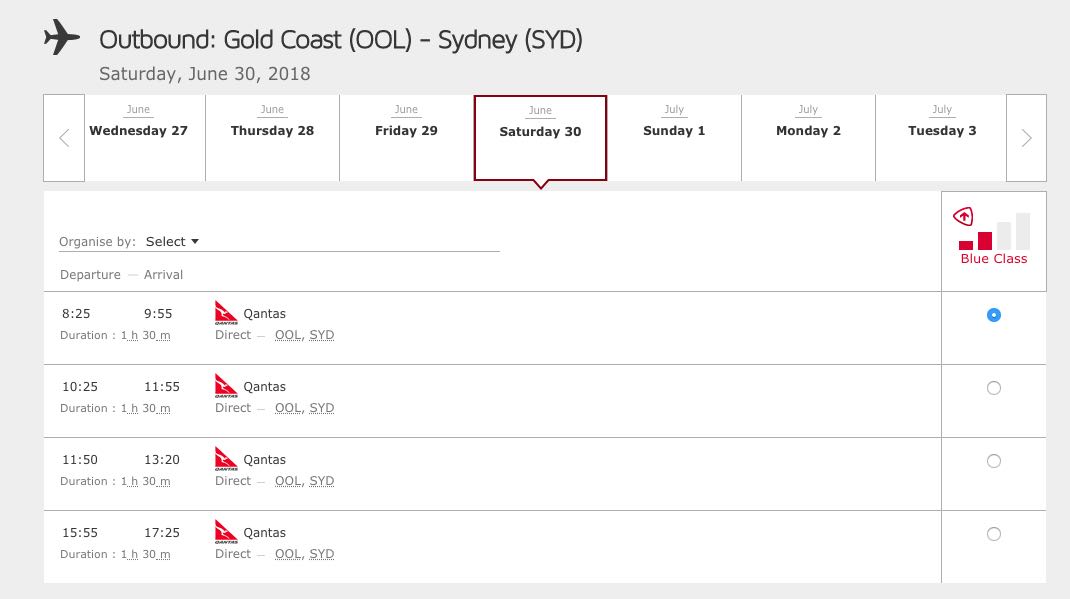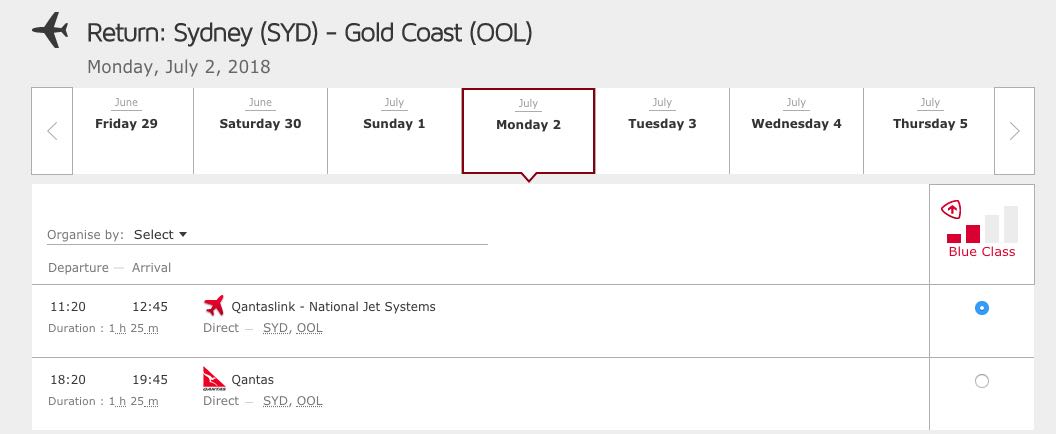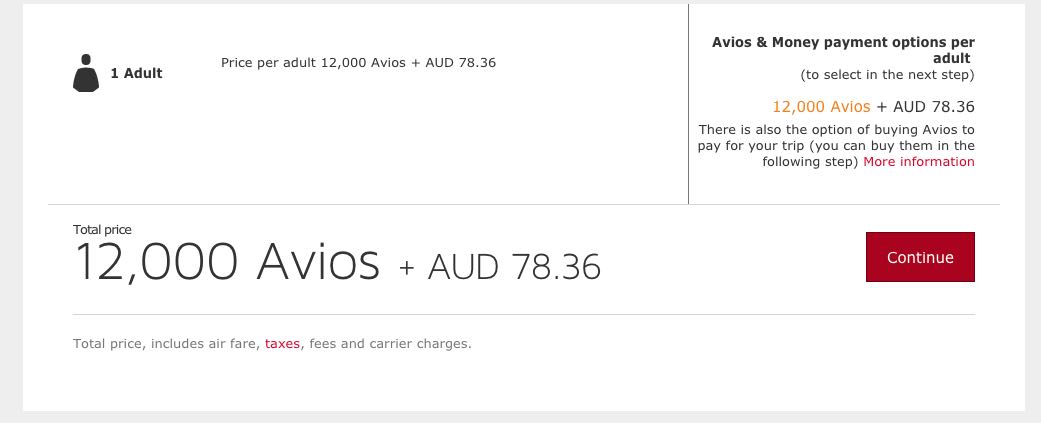 As a side note, this isn't an amazing use of Iberia Avios — these flights would be 9,000 British Airways Avios — I'm just using it as an example of a non-hub routing, and someone in the comments asked about Australia specifically.
Sometimes space just doesn't show
While you can theoretically book flights on all oneworld and non-alliance partners, in practice the search engine is fairly mediocre. Though you should be able to search and book flights on American, British Airways, Cathay Pacific, Qantas, Qatar, Royal Jordanian, Sri Lankan, etc.
To save your sanity, I'd recommend searching on the British Airways, Qantas, or even JAL tools beforehand, as the Iberia site is just useless if space isn't available in both directions.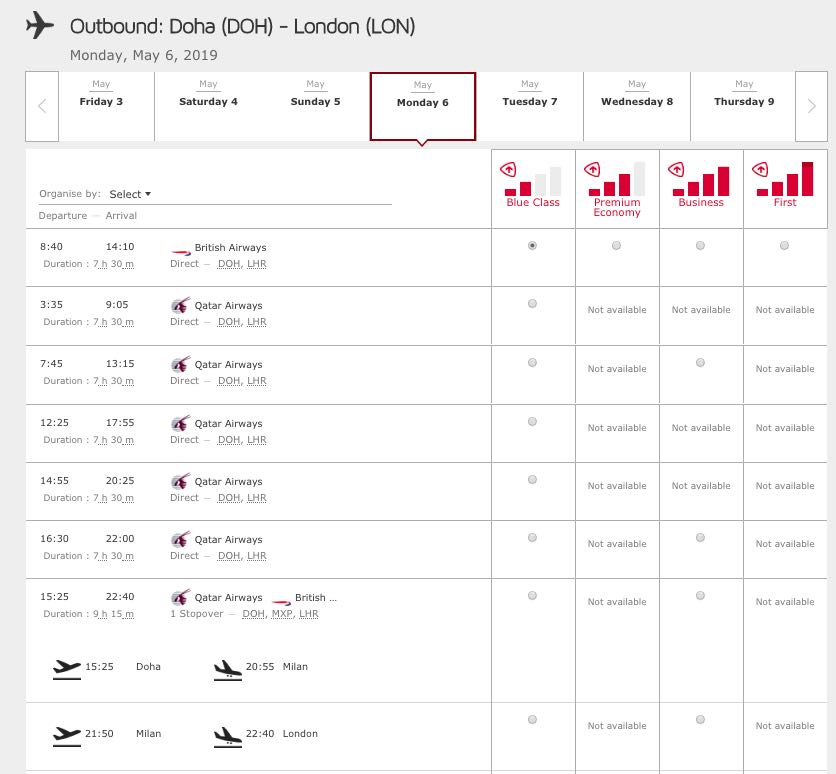 That being said, even when you're on the right page (and why they have two is bananas to start with), there are times where some routes just won't populate.
Oddly, itineraries that won't work in one direction will oftentimes work in the reverse, which makes absolutely no sense.
Additionally, awards on Japan Airlines, Air Italy, Malaysia Airlines, and Royal Air Maroc have to be booked over the phone.
But it's the flights that should be bookable online that somehow aren't there that are frustrating. If saver space is being made available to other oneworld partners, Iberia should have access to it as well, but for whatever reason that isn't always the case through the website, particularly on connecting itineraries.
In those cases, once again, you'll need to call Iberia at 1-800-772-4642. And be patient.
Connections really matter
Like British Airways, Iberia has a distance-based award chart. Unlike their counterparts, however, Iberia's chart is based on the cumulative distance of the trip.
So where you connect makes a huge difference.
Let's look, for example, at a trip between Orange County and Spokane (again, showing that smaller airports can in fact be searched). Both are served by American, but neither are real focus cities, so you'd have to connect in either Phoenix or Dallas.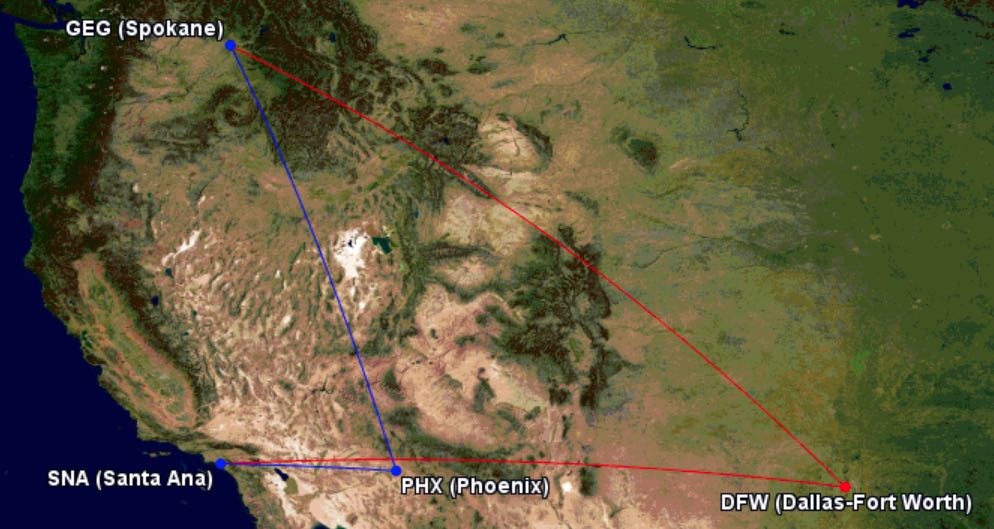 A round-trip through Phoenix would be 2,717 miles, which would require 23,000 Iberia Avios in economy. This is a much better option than British Airways Avios, which would require 30,000 Avios for the four-segment routing.
Meanwhile, connecting in Dallas instead puts the round-trip at 5,091 miles, pushing it into the 42,000 Avios tier.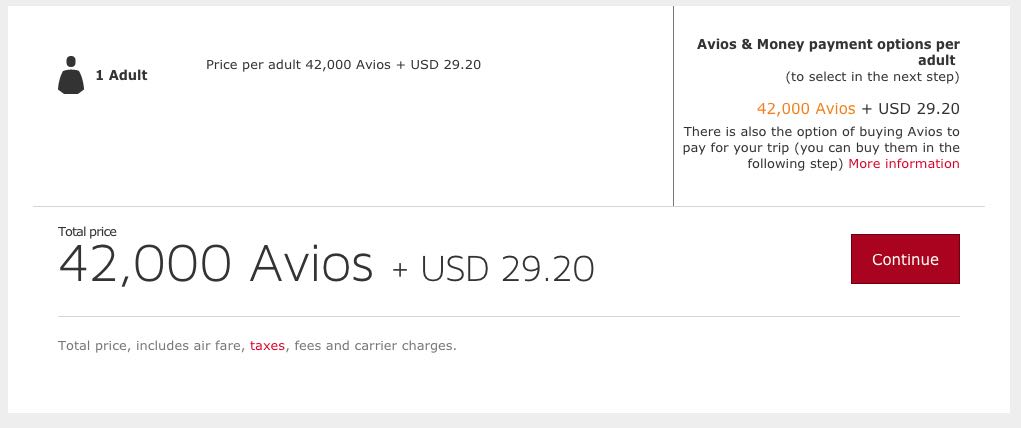 That's still better than British Airways, which penalizes you for connections such that it would require 45,000 Avios for the trip, but at those rates you'd be better off booking through American or Alaska — both of which price based on the zones you're traveling between.
Keep in mind, however, that you don't have to connect in the same airport in both directions. In this case, connecting in Phoenix on the outbound and Dallas just on the return drops the mileage requirement to 28,000 Avios.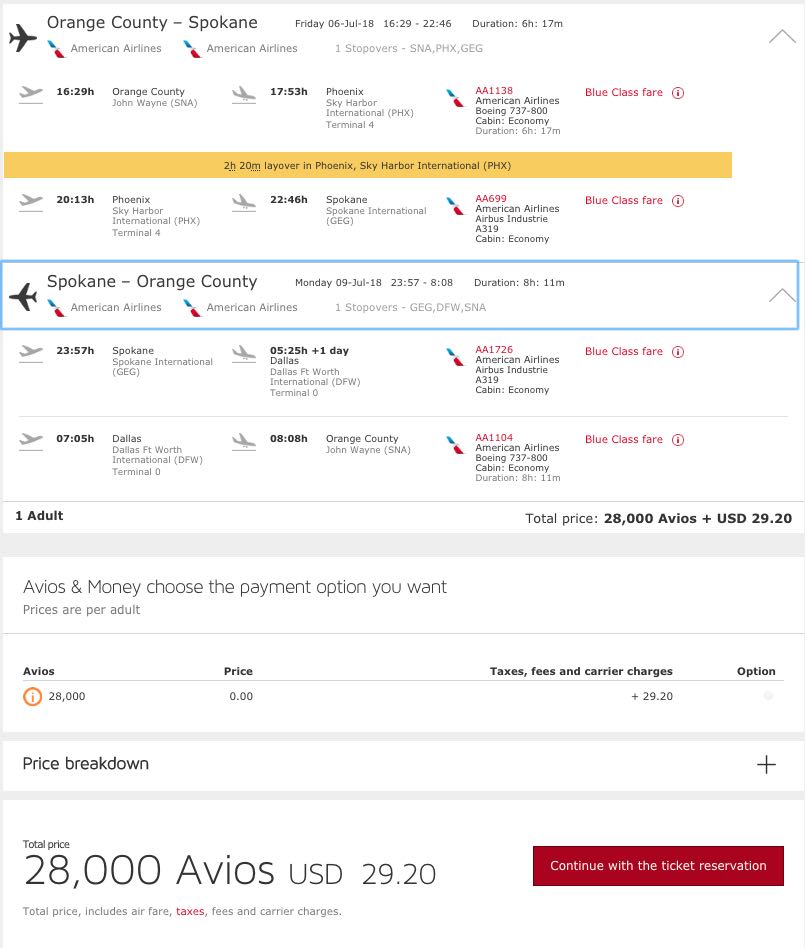 Again, I'd ideally prefer to use another currency in that situation, but just so you can see how it works.
Hotels & Rental Cars
If the flights aren't working out, or if you just want to use these points in a different way, you can use Iberia Avios for hotels and rental cars. There's a link to "Avios&Money on hotels, cars, and experiences" under the "Iberia Plus" menu at the top of the webpage.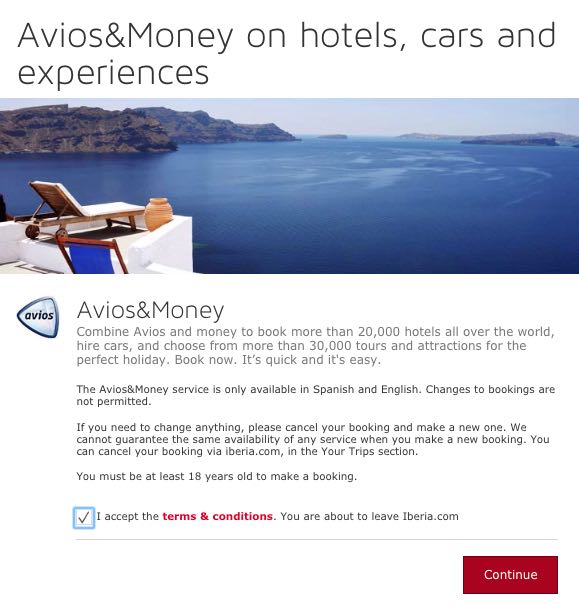 The pricing on these vary, and there are occasionally promos as well. The site has a range of hotels, so whether you're looking for a luxury stay or something cheap and cheerful, there are typically tons of options.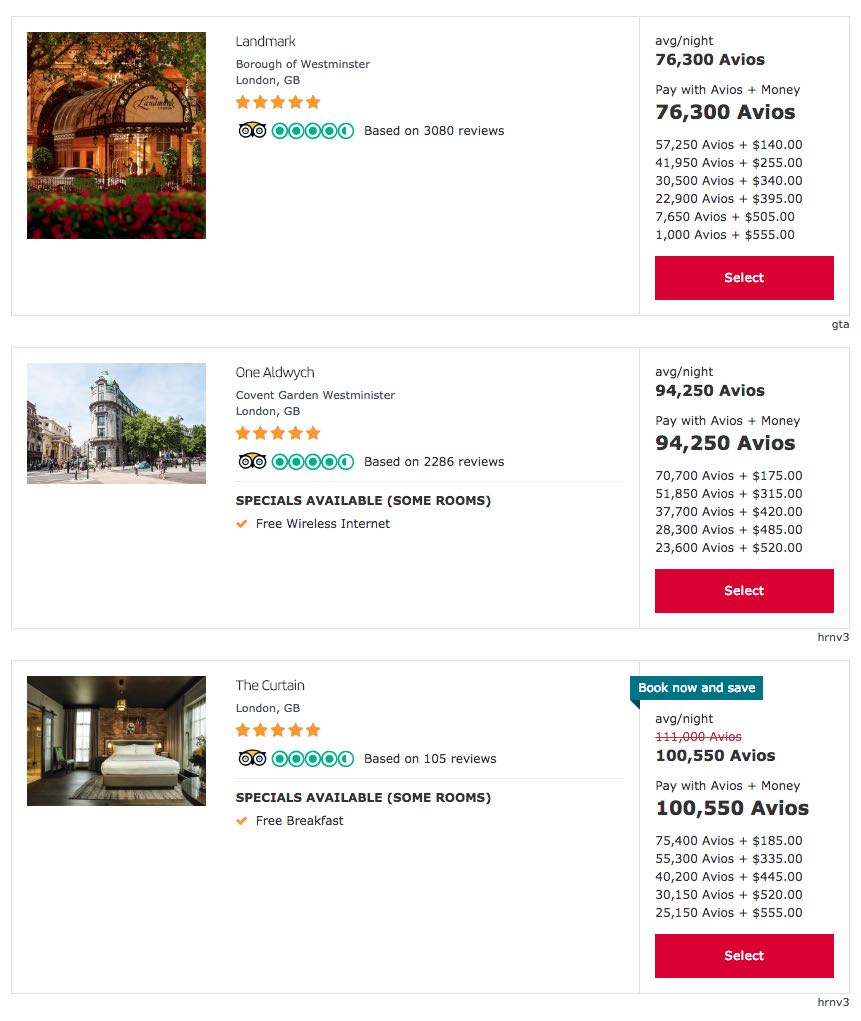 Keep in mind you won't receive elite benefits or credit for hotels booked with Avios, so this is a particularly good option for independent or non-chain properties.
Bottom line
Sometimes, programs with the potential for outsized value come with a bunch of quirks and challenges. Iberia's non-intuitive website certainly falls in that category.
But if you're patient with your searches, or are willing to call (again, requiring even more patience), the redemption opportunities are plentiful.
What other Iberia Avios questions can we answer?