One of the advantages that hotel loyalty programs have over airline loyalty programs is that there typically aren't blackout dates. If a standard room is available for sale, most hotel loyalty programs will let you redeem points for a stay. Unlike with airlines, there's typically only one award cost (or perhaps there's some slight seasonal pricing), so you're not having to pay some super-high "rule buster" price.
However, increasingly I've found that hotels have been playing games with this. I'm not sure whether the games are happening on the part of the loyalty program, the part of the individual hotels, or what, but the number of times this happens seems to be on the rise.
I find that Hyatt's program has gone from being the most transparent to among the less transparent programs, and it's quite frustrating. For example, a few days ago I outlined how one hotel was trying to "game" the rules to avoid making rooms available for free night redemptions (and they aren't the only hotel that uses this practice).
Well, here's another interesting situation. Over the years I feel like many Hyatts have changed their room categories around, both for the purposes of defining "standard" rooms (which have to be made available for free night awards), and also for the purposes of defining "standard" suites (for the purposes of confirmed suite upgrades). They've in many cases created new categories of rooms and suite so that not as many are available to be redeemed for.
However, here's something I haven't seen before — the Andaz 5th Avenue New York seems to be using accessible rooms as a way of limiting free night award availability.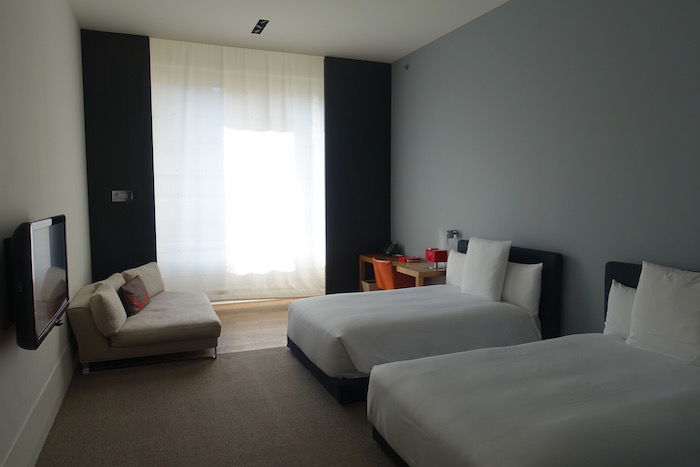 The standard room at the Andaz 5th Avenue is the Andaz King, so that would need to be available in order to redeem for a free night.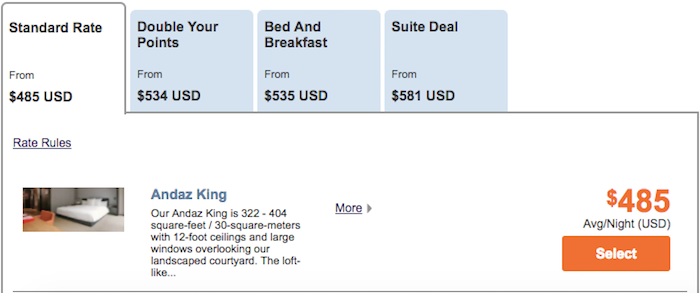 Interestingly the ADA King Shower (which is an accessible room) is exactly the same price.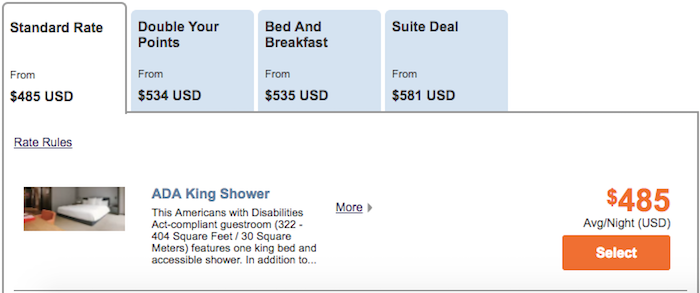 However, Hyatt doesn't seem to define that as a "standard" room, as it's conveniently not available on points.

It's pretty obvious they're playing games here, because you'll notice that the Andaz 5th Avenue will never show you the price of both an Andaz King and an ADA King Shower room for the same night.
If the Andaz King is for sale, then there's award availability, while if the ADA King Shower room is available, then there's no award availability. I called the hotel about this, and they did indeed confirm that the rooms were priced the same.
When I think of a standard room, I think of an entry level room that's priced the cheapest, whether it has one bed, two beds, or is an accessible room. I would consider a non-standard room to be one that's priced higher than a standard room.
Per World of Hyatt's terms & conditions, here's how they define a standard room:
Free Night Awards cannot be redeemed for packages, unless specifically stated as part of a particular award offer (in which case additional terms may apply, as specified at the time of award offer). Free Night Awards are valid for standard guest rooms, unless specifically stated as part of a particular award. Standard rooms are defined by each hotel or resort and may differ by hotel or resort. Some properties do not have standard rooms.
Now the issue here is that standard rooms are defined by each hotel, so technically I suppose a hotel could have 40 of the same rooms, but decide that only a single room is a standard room, if they so chose. That's certainly not within the spirit of the policy, though.
To take it a step further, it certainly doesn't seem fair to tell those that need an accessible room that they can't redeem points for it, even though in cash it's priced the same as a standard room.
What do you make of this — is it fair game for a hotel to claim that accessible rooms aren't "standard," even if they're otherwise identical to the standard rooms (including the price)?