Hyatt has just announced a heck of a promotion, available exclusively for those with their co-branded Chase Hyatt Visa Card.
Through this promotion, Hyatt is offering Gold Passport members with their co-branded credit card a 20% refund on points bookings.
In order to take advantage of this promotion:
Register before March 31, 2015
Stay at a hotel using points before July 31, 2015
Receive a 20% refund on points redeemed within 4-6 weeks after the stay is completed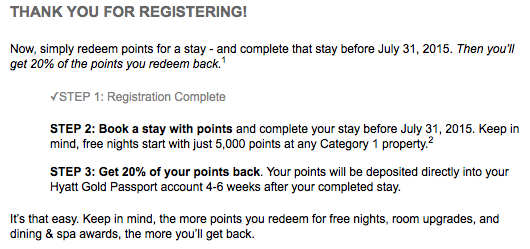 The best part is that not just outright free night redemptions qualify for the promotion. Points + Cash bookings, suite upgrades, and dining/spa redemptions qualify as well (that being said, of those I'd say Points + Cash is the best value by far, and actually the best use of Gold Passpoint points altogether).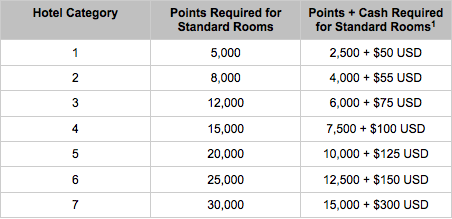 This really is an incredible promotion. Keep in mind that last year Hyatt had an award chart devaluation whereby they added new Category 7 properties to the award chart, which cost 30,000 points per night.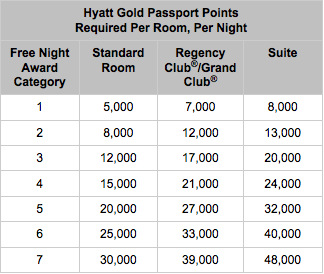 Through this promotion you'd actually pay just 24,000 points per night for a Category 7 property. I recently stayed at the Park Hyatt Sydney, which is hands down my favorite Hyatt property in the world. So receiving a 6,000 point discount per night there would be awesome, given that I'd gladly pay 30,000 points per night to stay there.

Park Hyatt Sydney Opera Deluxe Room
The funny thing is that Hyatt made some minor award chart adjustments a few weeks back which were actually a net-positive, though some properties went up in price.
One of those properties was the Park Hyatt Maldives, which went from a Category 6 to Category 7 property. Many of us made bookings at the hotel for 25,000 points per night before the increase, though if you rebook now for a stay during the promo period, you'd actually pay 1,000 fewer points per night for that stay.
On the other end of the spectrum, lower category properties become an even better value. The Grand Hyatt Santiago is just a Category 2 property, meaning it ordinarily costs 8,000 points per night (despite rates being $300+ per night). So through this promotion you'd pay just 6,400 points per night there.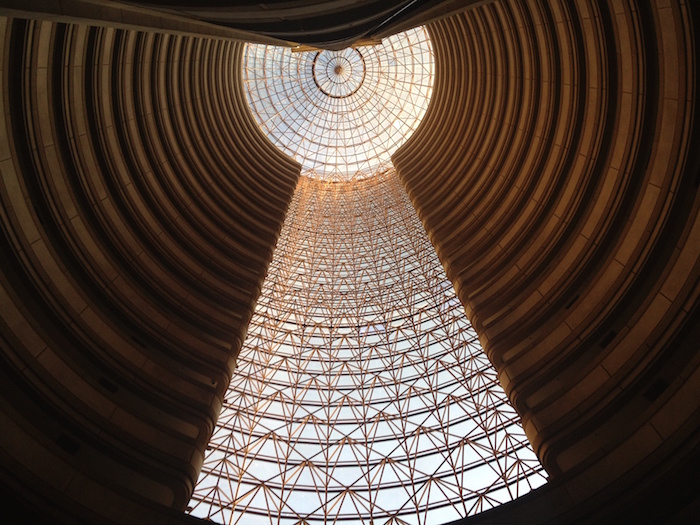 Grand Hyatt Santiago atrium
The terms of the promotion are as follows:
1The promotion is valid only for Hyatt Credit Cardmembers in good standing as of 1/31/2015 who receive this promotion from Hyatt and register for the promotion between 2/17/2015 and 3/31/2015.   To qualify for this bonus offer, account must be open and not in default at the time of fulfillment.  Only points redeemed between 2/17/2015 and 7/31/2015 will be eligible for this promotion.  If a redemption is connected to a stay, the entire stay must be completed by 7/31/2015.  You will receive 20% back on the Hyatt Gold Passport points you redeem for award stays, points + cash, suite upgrades and dining and spa activities.  Points redeemed for Avis car rental certificates or points transferred to airline partners are not eligible for this promotion.  Please allow 4-6 weeks after your points redemption has been completed for your bonus Hyatt Gold Passport points to be loaded into your account.
Bottom line
This is a really awesome promo. If you have Hyatt's co-branded credit card and can rebook your award stays for the coming months I'd definitely recommend doing so. And it'll definitely drive me to make more points redemptions for upcoming stays.
Will you save any points thanks to this Hyatt promo?
(Tip of the hat to Gary)