It's normal for hotel chains to adjust award categories based on demand, market conditions, average nightly rate, etc., and it looks like Hyatt is doing just this. As of February 7, 2013, ten hotels will be moving into a lower category, while seven hotels will be moving into a higher category.
Those hotels changing categories are as follows: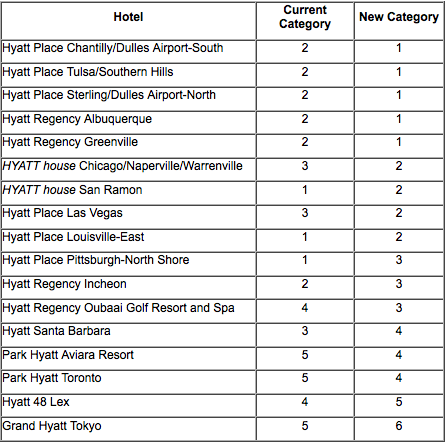 This really is fairly minor. The great news is that it doesn't look like they're adding a new category (like they did the last time) or raising the number of points required across the board. Seeing only 17 properties switch categories is quite minor in the grand scheme of things.
I think the one "shift" most worth mentioning is between categories four and five. If you have the Chase Hyatt Visa card you get an annual free night certificate, and that can be redeemed for up to a category four property. As you can see the Hyatt 48 Lex will no longer be a category four property, meaning you won't be able to redeem the free night certificate for that anymore. Conversely, the Park Hyatt Aviara will become a category four property, so you'll now be able to redeem the annual free night certificate there.
Reservations made before February 7, 2013, will still be charged the old rates, even for stays on subsequent dates. Apparently Gold Passport will automatically credit you the difference in points if your hotel goes down in category, which is mighty generous.