beVancouver.com is back with another amazing promotion on Vancouver hotels for this winter, similar to the promotion they ran last year.
beVancouver is offering a $50-$125 gift card for each booking at one of their qualifying hotels, even for one night stays. This can be a great way to book Vancouver hotels this winter for next to nothing. The gift cards are issued by American Express and can be used however you'd like — they don't have to be used during your stay.
The basic terms are as follows:
Booking must be made before November 16, 2014
Valid for check-ins through February 28, 2015
All rates booked with this offer are pre-paid and non-refundable (which wasn't the case with last year's promotion)
The American Express gift cards are awarded on a per stay basis, and not on a per night basis (back-to-back stays at the same hotel still only count as one stay)
Each person can earn the American Express gift card for a maximum of three stays
Every 10th booking is free
There are 36 hotels participating in the promotion, from budget hotels to Vancouver's top hotels, like the Fairmont Pacific Rim and Shangri-La.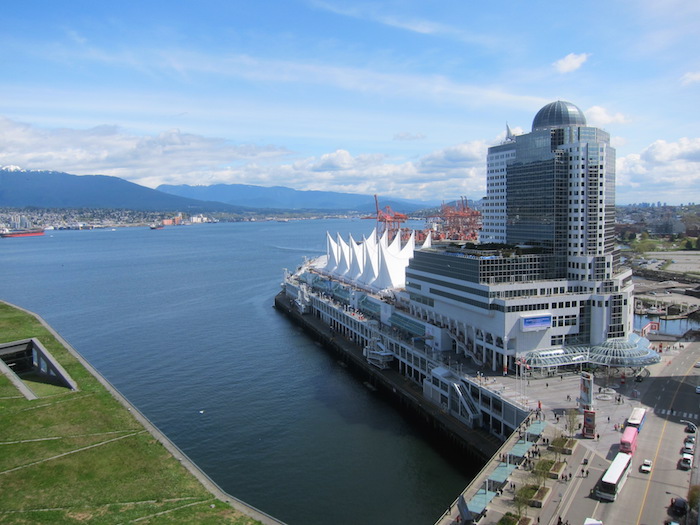 View from the Fairmont Pacific Rim Vancouver
Vancouver hotels for less than $25 per night
On the budget end, this promotion brings the cost of many hotels to $25 or less for a one night stay:
Then for mid-range hotels, it brings many of them down to ~$30 per night. For example, you can book the Westin for $129 and receive a $100 gift card:
And then it's also a great way to lower the cost of some of the luxury options in Vancouver, which are reasonably priced in winter to begin with. For example, the Shangri-La is $235, with a $125 gift card, bringing the cost down to $110 per night:
The Pan Pacific is even cheaper, as it offers a $125 gift card on a $209 rate, bringing the cost down to $84 per night:
All of the above prices don't include tax, so you do pay taxes on the full amount, which is something to be aware of.
Don't forget American Express Fine Hotels & Resorts
I do think it's worth noting that if you're looking at booking a luxury hotel you'll also want to consider booking through American Express Fine Hotels & Resorts or Virtuoso.
For example, the Shangri-La can be booked through American Express Fine Hotels & Resorts on a refundable rate for a similar price.
And on top of that it comes with the following benefits:
Noon check-in, when available
Room upgrade upon arrival, when available
Daily breakfast for two people
Guaranteed 4PM late check-out
$100 property credit to be used during stay
Bottom line
Vancouver is one of my favorite cities in North America, and this promotion is definitely valuable for many. Be sure you consider everything before using the promo, though:
If you're staying at a chain hotel you won't earn points for your stay, and in many cases won't get elite credit, since you're booking through a third party
The stay is non-refundable and pre-paid
This is still a hell of a deal, though in many cases for luxury hotels I think Fine Hotels & Resorts or Virtuoso can be an even better deal.

Lobby of the Shangri-La Vancouver
Do you plan on using the beVancouver promotion to get a great deal on a Vancouver hotel?