I asked you guys what you'd like to read about, so this post is in response to a question posted there. I'll address as many of the questions as I can in the coming weeks. Feel free to keep adding to the list and I'll use it as a basis for future posts.

Reader Col wanted to know the following:
Tips on finding non-united premium award space to Australia. Seems that both AirNZ and AC have almost zero J space over the next year. Tricks? Timing?
As Col points out, using Star Alliance miles for nonstop business/first class travel between the US and Australia/New Zealand can be very difficult.
Air New Zealand releases virtually no business class award space on their nonstop flights between North America and Auckland. In the past they'd consistently release space 60 days before departure, though that's not the case anymore, and I don't remember the last time I saw an Air New Zealand nonstop business class award seat out of Los Angeles, San Francisco, or Vancouver.
As far as Air Canada goes, they are quite stingy with releasing business class award space on their Vancouver to Sydney route. That being said, it's not impossible to find space on it. They occasionally release award seats 11 months out, though not in any consistent pattern. It's much more common for them to release award space closer to departure, though even then they're hardly generous.
United does fairly consistently release award space 11 months out and then again within a couple of weeks of departure, but you specifically note you'd like to avoid them, which I can understand.
So in practice the best way to get to Australia using United miles in a non-United premium cabin is by routing through Asia. There are a few options I consider to be pretty awesome:
Asiana through Seoul Incheon
Asiana operates a daily 777 between Seoul Incheon and Sydney. Availability is excellent, as you can see below (the dates in green have both coach and business class saver award space available on the nonstop), even in the high season. The flight is also timed well for US connections, so it's not too grueling of a journey to make in a single day.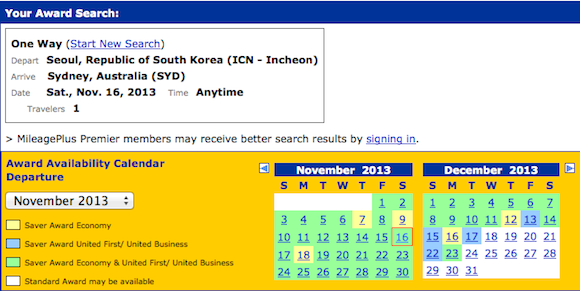 Air New Zealand via Tokyo, Osaka, Shanghai, or Hong Kong
While Air New Zealand is stingy about releasing award space on their US routes, they're quite generous with releasing space on their Asia routes. While they're stingy on their Hong Kong route, they release quite a bit of award space to Tokyo and Osaka, and a ton of award space to Shanghai.
For example, in the high season they have business class award space from Shanghai to Auckland almost every day.
Award availability out of Osaka isn't quite as good, though still decent given that it's the high season.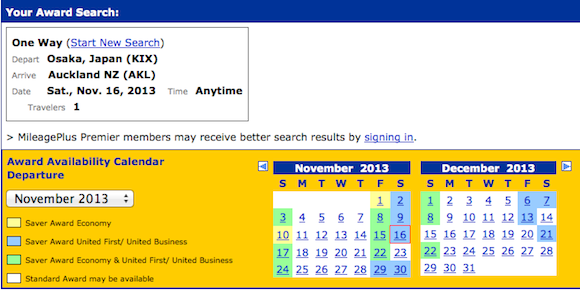 And while I'm not seeing much award space out of Tokyo in November and December, the route is fairly wide open the rest of the year.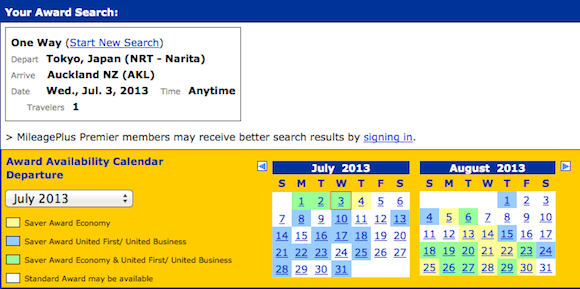 One note of caution — be sure you book a 777 and not a 767, as those feature Air New Zealand's regional business class seats, and they aren't especially comfortable for a ~10 hour flight. However, their longhaul business class product is excellent with fully flat herringbone seats.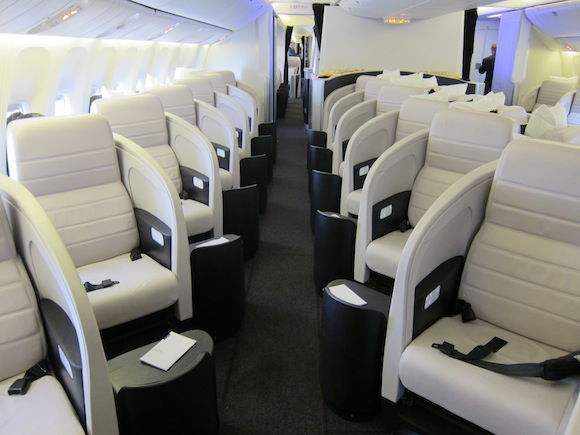 Air New Zealand BusinessPremier
Thai Airways via Bangkok
Thai Airways has amazing award availability between Bangkok and Australia/New Zealand. For example, take a look at award space between Bangkok and Sydney, which is operated by a three cabin aircraft (meaning you can redeem for first class on the route).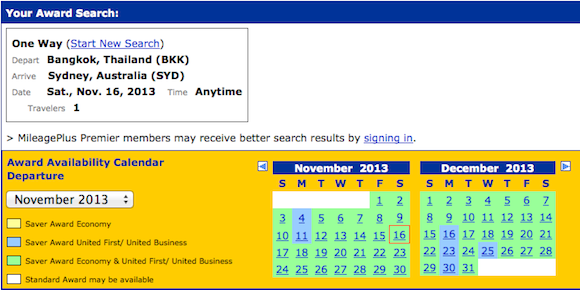 Thai Airways also offers service to Auckland, Brisbane, Melbourne, and Perth. Award space is also quite good on those routes, though generally Sydney has the best availability.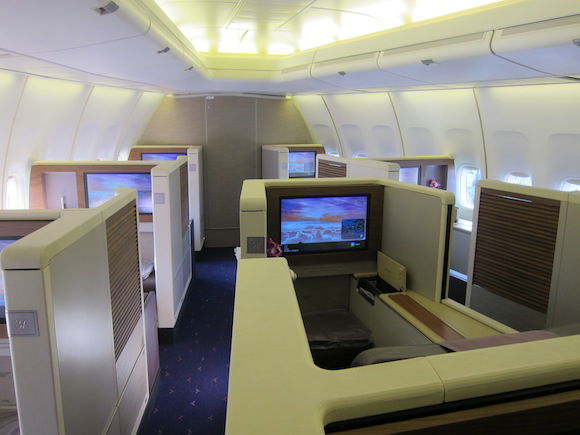 Thai Airways first class
Singapore Airlines via Singapore
Singapore Airlines only releases first and business class award space for their new first and business class products to those redeeming KrisFlyer miles, while those with partner Star Alliance miles don't have access to that space. That being said, they do release business class award space on their old product, which they still fly on several of their routes to Australia and New Zealand. As a result, award space on Singapore Airlines is excellent. As you can see, almost every day in the peak season has nonstop business class award space between Singapore and Sydney.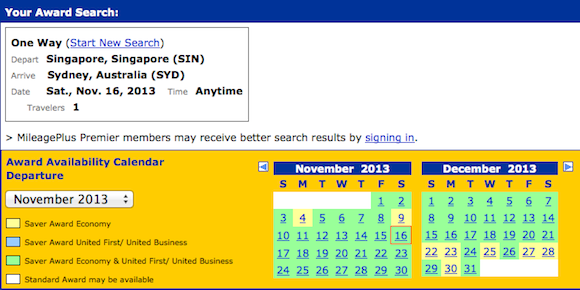 Singapore Airlines also flies to Auckland, Adelaide, Brisbane, Christchurch, Melbourne, and Perth, and award space on those routes is unreal.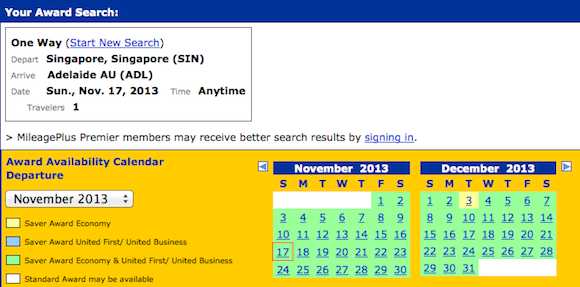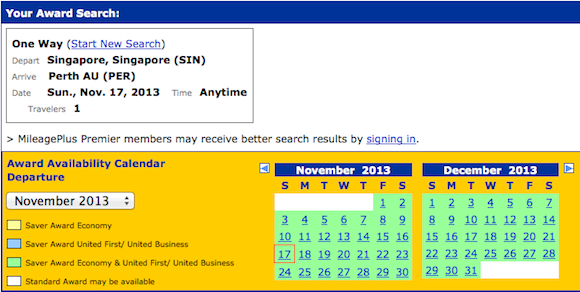 Unfortunately the hard product on their old product isn't great, though you can't compete with the service on Singapore, which is consistently top notch.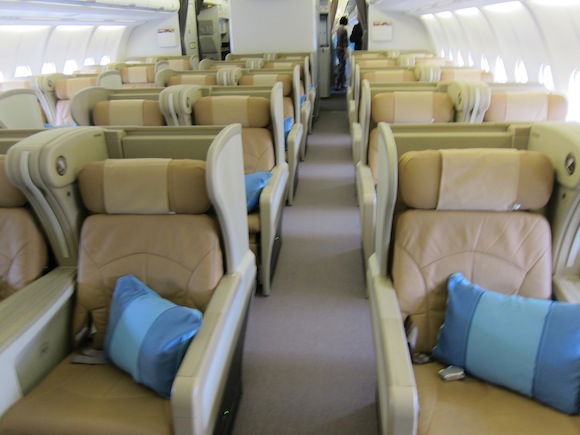 Singapore Airlines Airbus A330 business class
So I guess the short answer is that there's no "easy" way to get award space on Air New Zealand or Air Canada direct from North America to Australia. But if you're willing to route via Asia, there are some pretty cool options. Keep in mind that if booking through United you're entitled to one stopover enroute, so you could break up the journey by stopping in Asia in one direction. You also get an open jaw, so can fly into one city in Australia and out of another.
Any questions/comments?