A week ago Swiss made some first class award seats available through partner programs, including Aeroplan, which quite a few people took advantage of (or as Aeroplan calls it, "a small number of bookings"). Neither Aeroplan nor Swiss have reached out to any customers (as far as I know), though Aeroplan claims that over the next few days their agents will be "contacting each member to personally arrange first or business class redemptions on another Star Alliance carrier or to reinstate miles free of charge."
I'm actually very curious to see how they do that. If they rebook people in business class that's a downgrade, while they don't have many partners on which they can rebook people in first class.
Yesterday Tiffany shared her thoughts on the situation, and I quite agree. A lot of people have asked how they can go around filing a complaint, and I figured I'd outline that in this post.
Why I plan on filing a DOT complaint
As I said several days ago, I don't plan on suing Aeroplan, or anything like that. However, I do plan on filing a DOT complaint about the situation, not because I necessarily think it will cause Swiss to honor the tickets (even if the DOT tells them to, they may not), but rather because I'm curious how the DOT rules on this.
Since 2015, the DOT no longer requires airlines to honor mistake fares, though they do require airlines to reimburse passengers for any non-refundable expenses. However:
This isn't a mistake fare, but rather a ticket booked at the regular mileage cost
The precedent I really take issue with lately is how long it takes airlines to contact passengers; it's one thing if I were contacted within a day and told the ticket wouldn't be honored, but it has been a week and I still haven't heard from Aeroplan or Swiss
Ordinarily I'd wait until I get direct communication before filing a complaint, but I figure the sooner we get this process started, the better.
I'm not sure what will come of it, though historically the DOT is quite thoughtful when they investigate these situations, so it will be interesting to see what they decide.
How to file an air travel complaint with the DOT
The process of filing a DOT complaint is surprisingly easy. Just go to this page and fill out the online form. You'll be asked to enter your personal information, the details of your flight and complaint (which can be up to 3,000 characters), and will also be given the option of attaching a supporting document.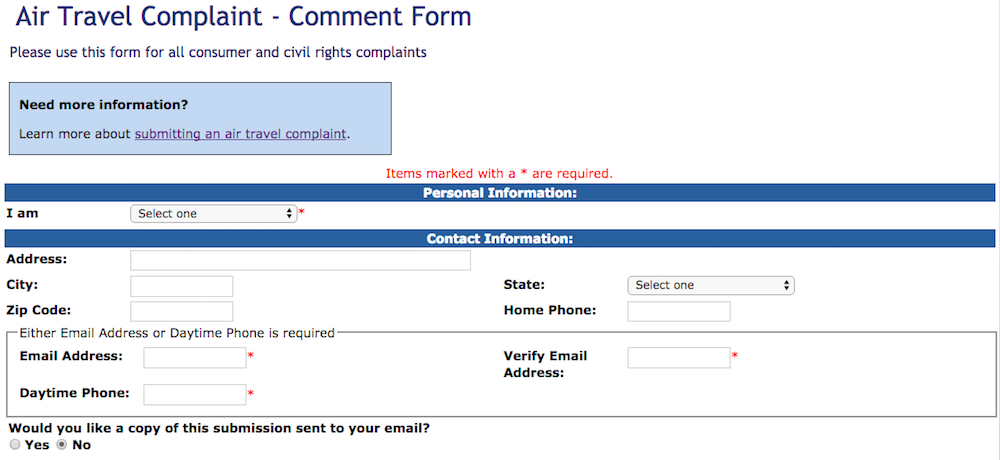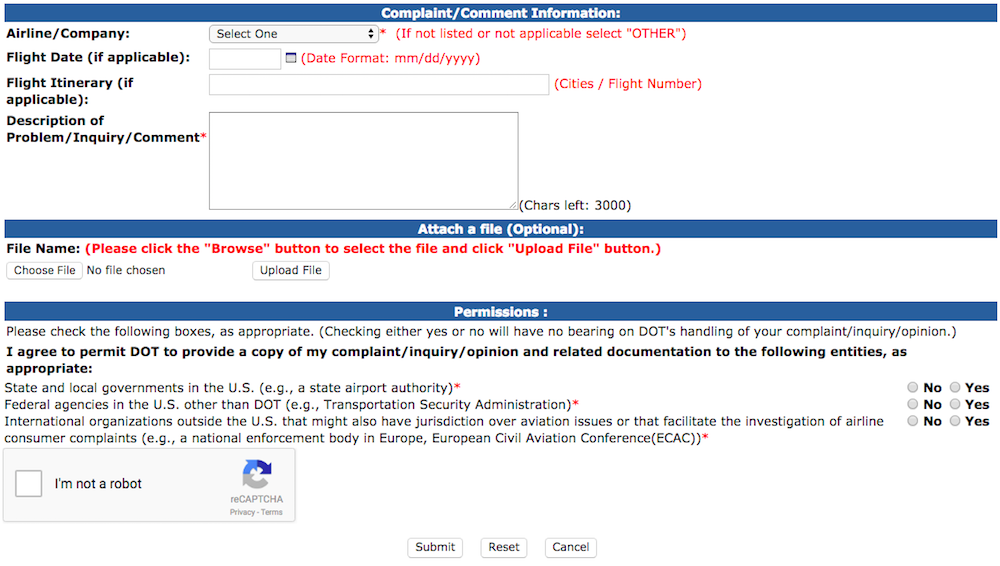 If you're in a similar boat and aren't happy, I also recommend filing a complaint. Like I said, if nothing else the DOT should issue some sort of a statement, and I'm very curious where they stand.
I'll share my own complaint below, which I intentionally kept short, as I always find to be the most effective for this kind of stuff.
On November 30, 2017, I redeemed 160,000 Aeroplan miles for two Star Alliance first class award tickets from Los Angeles to Zurich to Athens, with both flights on Swiss. These tickets were for travel on _________ (e-ticket #_______). This availability showed up on Aeroplan's website, and it's not the first time I redeemed Aeroplan miles for Swiss first class. The tickets were issued quickly, and I was able to select seats for the Swiss flights.

It has now been week since I booked, and my reservation shows as canceled on the Swiss website and intact on the Aeroplan website, though Aeroplan has issued statements indicating that these flights won't be honored. I haven't directly been contacted by either company in this time, even though the decision has apparently been made not to honor these tickets.

This seems like a clear breach of contract given that I had a confirmed reservation that was booked at the regular mileage price, not to mention how long it has taken for the companies to communicate with affected passengers (I'm still waiting to be contacted).
Bottom line
I'm curious to see how the DOT rules in this situation. Usually they're pretty good with their analysis, and I wonder what their take will be. My biggest issue lately is the amount of time it takes airlines to inform passengers they're not going to honor tickets. Recently we saw a situation where Delta and Virgin Australia took over a week to tell passengers they wouldn't honor tickets — fortunately Delta came to their senses and honored them in the end.
If you booked one of these Swiss tickets, do you plan on filing a DOT complaint? How do you think the DOT will rule here?