Imagine you're a 12 year old girl and someone says to you "hey, I have backstage passes to a Justin Bieber concert for you." You go crazy, and then five minutes later they tell you "just kidding."
Well, that's kind of how my day went. Before I get started, keep in mind that Lufthansa is one of my favorite airlines in the world and I posted just a couple of days ago about how Lufthansa's award space in first class is the worst it has ever been. You see, Lufthansa first class is like crack to me. It's my high.
So imagine my excitement today when a blog reader (actually, two blog readers simultaneously) emailed me to point out that Lufthansa was releasing a ton of first class award space on the A380 between Frankfurt and Tokyo/Beijing in late December and early January, even for multiple people in first class.
My initial reaction? I nearly soiled myself. Once I could contain my excitement I headed over to continental.com to see if it was true. Yep, it was. See here (the blue rectangles on the right indicate there's saver first class award space):
Then I went to aeroplan.com to see if they showed the space too.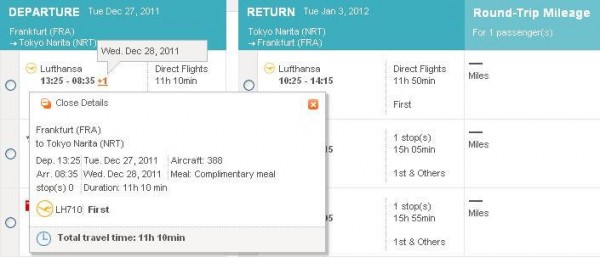 At this point I'm jumping up and down as if I won both showcases at The Price is Right. Heck, I even went to hyatt.com to see if the Park Hyatt Tokyo has any award space available over New Years.
And then, as quickly as my dreams were made, they were shattered by my good friend ANA, who didn't show first class award space:
I justified it by telling myself that ANA was wrong and that Aeroplan and Continental were right, though I couldn't convince myself of that for very long. I called Continental, Aeroplan, and even British Midland for good measure, and none could see the award space available.
When you try to make the booking on Continental's website it brings you all the way to the booking page, and once you hit "purchase" it tells you there has been a change in availability. The same goes for Aeroplan. And unfortunately US Airways isn't able to direct sell the space either.
So I'm sharing this so that others among you don't have your hearts crushed by Lufthansa the way I did today. 😉