Loyalty programs are typically tight-lipped about statistics involving their membership base. Sure, they like to promote things like how many members they have altogether, and how many new members they have (assuming the numbers are impressive), but you'll almost never see them share details of their membership base with status.
I imagine they don't share these things for competitive reasons, since they don't want other programs being able to track the competition too closely.
I'm sure we'd all be fascinated to know the number of elite members major programs have, and in particular how that's broken down between tiers.
But aside from a few leaks over the years, I've never really seen an airline share these things.
In the American AAdvantage program, Concierge Key is the top tier, invitation only status. The qualification criteria aren't published, but as a general rule of thumb:
Don't expect to be invited based on your travels if you don't spend at least $50,000 per year on the airline (and even then it's not a sure thing)
Concierge Key is also often given out as part of corporate contracts, to celebrities, etc.
So while American has never officially revealed how many Concierge Key members there are, we may have just found out unofficially.
As noted by the always observant JonNYC, a chocolatier posted on Instagram about a big project he just finished up. This includes a picture of boxes of chocolates that are allegedly going out to Concierge Key members.
The caption talks about how they've prepared 11,300 boxes, and says "a big thank you to American Concierge Key for trusting us."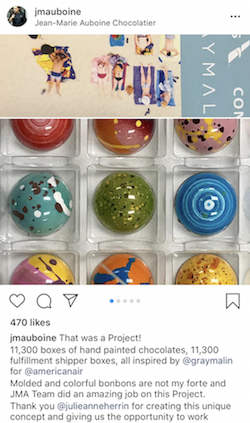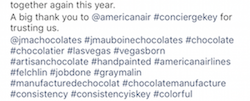 Well that sure is interesting. Based on this I think it's safe to assume that there are at least 11,300 Concierge Key members.
What we don't know is if all Concierge Key members are getting these boxes of chocolates, or if they're only going out to some members. It could be that there are actually significantly more members than that.
Before this whole thing came up, I would have guessed that there were 10,000-15,000 Concierge Key members, so I wouldn't by surprised if this is in fact the entire membership, as it's within the range of what I was expecting.
We should be able to determine pretty conclusively if this is in fact the entire Concierge Key membership base. I imagine these are just being sent out now, so if you're a Concierge Key member, please report back on whether or not you receive a box of chocolates.
If everyone does, we have our answer. If there are several data points of people not getting them, then it's safe to assume there are more than 11,300 members.
Do you think there are 11,300 Concierge Key members, or more, or…?