While I'm doing my best to avoid it, there are increasing odds I might need a hotel in London on Thursday night.
As we've discussed quite a bit recently, London has myriad options for points hotels, though none of them are particularly great. I've enjoyed the more-boutique properties I've stayed at in London, and am always up for trying a new one, even on a short stay.
So I've been trolling around on Hotel Tonight, which is a great app for last-minute hotel bookings (they only search availability within seven days). It occurred to me that while I've used the service in the past, I don't think we've ever discussed it here on OMAAT, and thought it might be helpful to some of you.
Why Hotel Tonight?
What I like about the Hotel Tonight app in general is that it's super fast, and offers a more curated collection of properties. As someone who has been known to spend hours deliberating over the "most perfect hotel option ever," there's something refreshing about going from knowing you need a hotel to booking one of a dozen selections in moments.
The general premise of Hotel Tonight is that properties with high vacancies negotiate with Hotel Tonight for screentime in exchange for reduced rates. You'll see some chain hotels on here (particularly near airports, airport hotel markets being what they are), but for the most part the offerings seem to include more boutique and independent hotels.
For example, the Town Hall Hotel, (which I had previously never heard of, but thanks to commenter Imperator am dying to try), shows up near the top of the list, with a rate of $249. That's a bit steep for a one-night hotel stay, but it is London, and it's a property I've heard good things about, so let's use that as an example.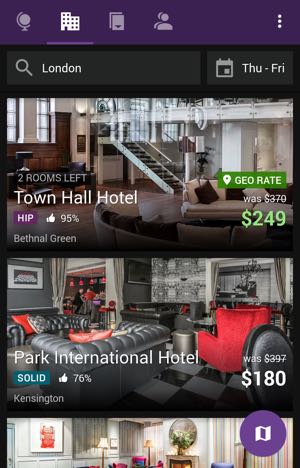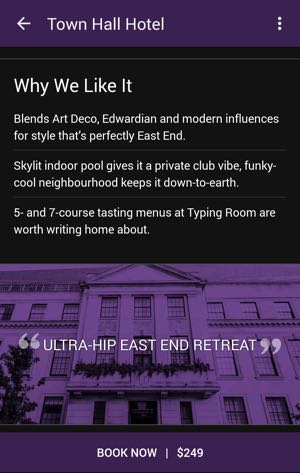 Besides, booking hotels via an app is apparently a pretty hip thing to do, and the Town Hall is decidedly hip.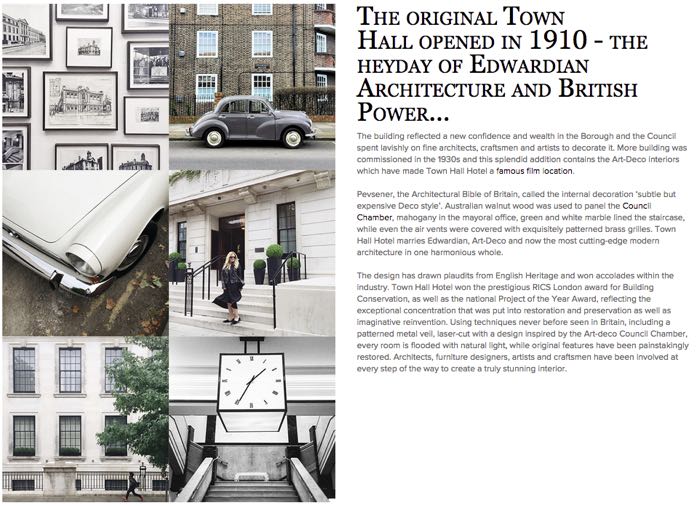 Typically, I recommend people book directly on the hotel website — most brands offer some kind of Best Rate Guarantee nowadays, so there's not always an advantage to using a third-party service. In the case of boutique properties that isn't always the case, and there's not always time to go through that paperwork process at the last-minute.
Interestingly though, the Town Hall doesn't show availability at all on their website, much less at the Hotel Tonight rate:

For comparison purposes, I also checked hotels.com (which is typically my go-to if I'm considering a third-party booking), though their rate was higher:

And just to be thorough, I looked at booking.com, as I've had luck there in the past as well, but their rate was outrageous:

So Hotel Tonight is clearly the better option here, which has generally been my experience when it comes to last-minute rates.
Price Tracking
One of the things I quite like about Hotel Tonight is the option of tracking rates for a given date and location. Left to my own devices I'll either obsessively refresh websites or flat out forget, so it's nice to get a notification if rates drop: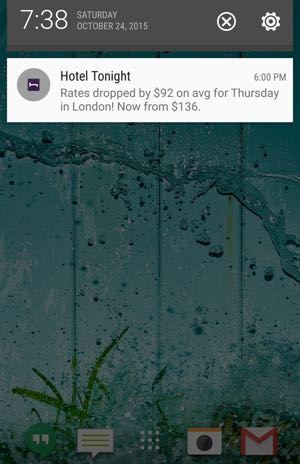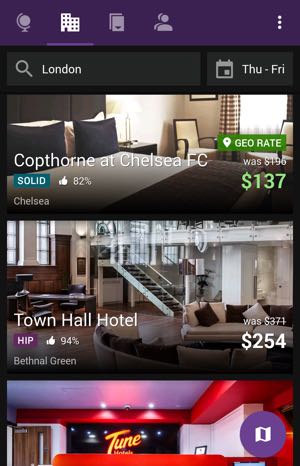 Or even just a reminder that everything is holding steady: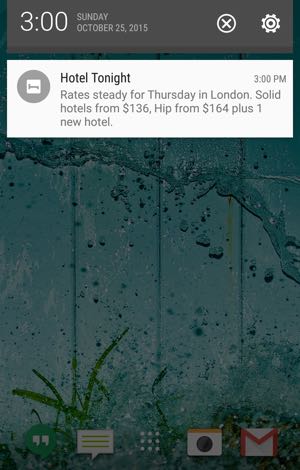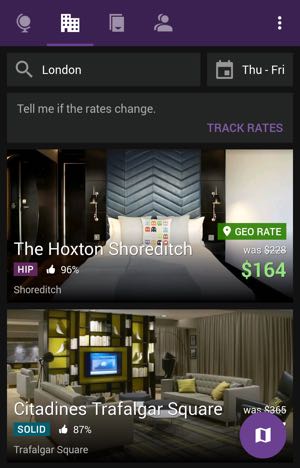 Using Hotel Tonight
This is exclusively available on mobile (or if you're using a mobile emulator on your desktop), so you'll have to install the app to get started.
From there, the signup process is pretty simple (and you can add promocode TFUNK13 to save $25 on your next booking).
Enter the dates of your trip and the destination city, or Hotel Tonight will also provide recommendations for nearby cities: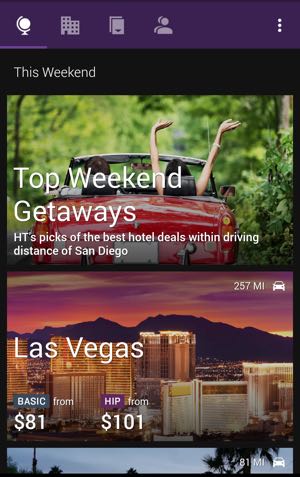 You can also search using the map icon — this lets you pull up a map of the area, so you can either see where the suggested hotels are in comparison to the other, or search a specific part of town.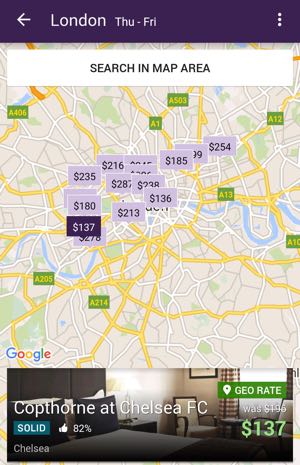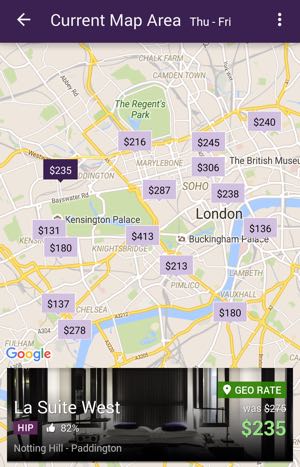 If I wanted to stay closer to Heathrow, for example, I could move the map over that way and redo the search.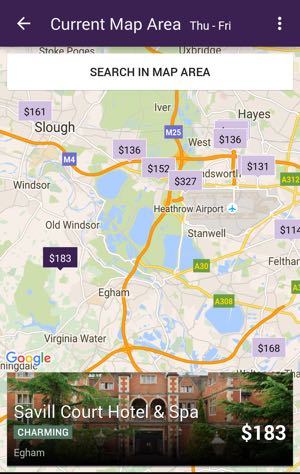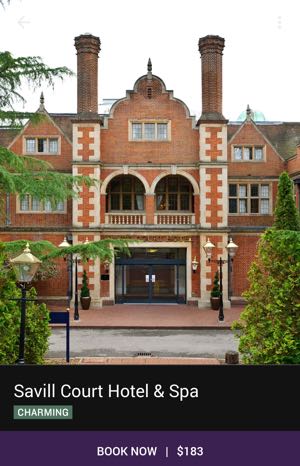 Labels rather than stars
If you've ever been a victim of the European "Oh, we have a restaurant, so we'll give ourselves another star even though it's rarely open and the food is horrible" system of star ratings, you might appreciate the approach Hotel Tonight has taken.
Rather than a system of stars, each hotel has a label to tell you more about what kind of property you're looking at:
Luxe | An upscale hotel with stellar service, lavish amenities and serous comfort, for when your feelin' swanky.
Hip | A stylish, sometimes quirky hot spot that's as popular with in-the-know locals as it is with travelers.
Solid | A comfortable, reliable hotel with all the gotta-have-em amenities.
Basic | A modest hotel with limited extras, perfect for when you need a place to lay your head.
Charming | A hotel, B&B or guest house that's quaint, intimate and delightful.
Crashpad | A budget hostel or inn without many amenities, for those nights you don't need 'em.
High Roller | An over-the-top, tricked-out suite or penthouse for VIPs and high rollers.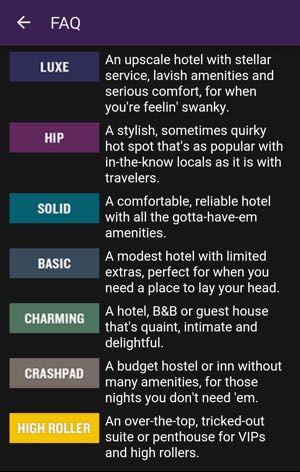 And you also get a quick summary of all the amenities and features, which can sometimes be tricky to find on independent websites: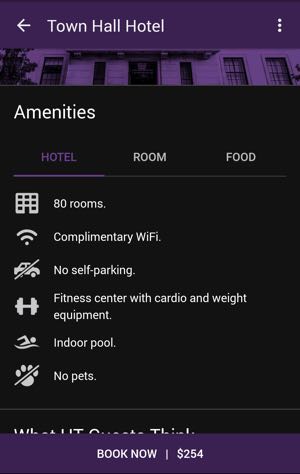 All rates are non-refundable
If you're following the premise of the app, and booking something for tonight then this probably doesn't matter much, but it's worth pointing out.
However, even Hotel Tonight offers a Best Rate Guarantee, so if you do find a cheaper rate an hour later they'll make it up to you with credits for your next stay: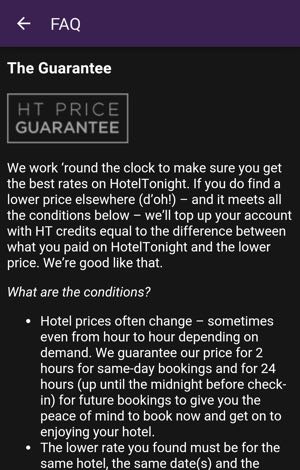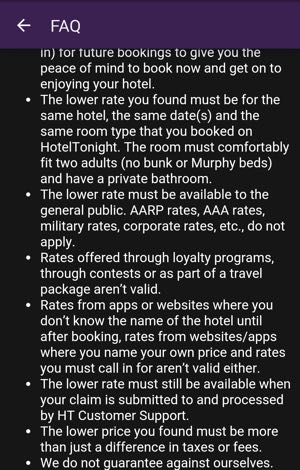 Again, probably not the best option for chain properties, but you can save a lot of money here on independent hotels.
Do these stays qualify for points/elite benefits/etc.?
Nope. But the best rates are typically for non-chain hotels anyway.
Will you actually save money?
It depends.
I definitely have, and if you like the idea of booking upscale, quirky, or charming hotels closer to arrival, you likely will too.
If you're just looking for any hotel at the cheapest possible price, and don't care much about the caliber of the property, there are probably ways to save even more.
Bottom line
While the bulk of my hotel stays go to chain hotels with elite benefits and points-earning options, I do have the occasional stay where an independent hotel is the better choice. Hotel Tonight is great in those cases, and I find the rates to be much lower than the competition when booking last minute.
If you're someone who doesn't care about hotel status, and is interested in trying new properties, Hotel Tonight is absolutely worth trying.
Has anyone used Hotel Tonight? What did you think?
If you don't already have an account with Hotel Tonight, you can receive a $25 credit when you sign up using the promo code TFUNK13. We receive a credit as well, which we of course appreciate. Feel free to share your code and thoughts below if you're a current user!