In 2017 I wrote a post with the title "Dear Hotels: Please Stop Assuming Only Straight, Married Couples Travel." The post ended up generating a lot of comments and was surprisingly controversial.
I wanted to write a follow-up about this, because I've finally seen a hotel group adopt what I consider to be the correct system for this kind of stuff.
Hotels Want To Better Customize Stays
If you ever attend any sort of travel loyalty conference, you'll see hotel executives talk about the next wave of customizing the guest experience, and all the things they have planned. The problem is that on a global level, they consistently fall short.
It's kind of like when you check into a hotel you've stayed at many times before, and they ask you "have you stayed with us before?" If they can't figure that out, then what hope do they have for getting any other details right?
Not Everyone Is A Mr. & Mrs.
Along those lines, I can't wrap my head around the assumptions hotels make about guests. On the most basic level, if there are two guests in a room, a welcome letter will usually be addressed to "Mr." and Mrs."
Don't get me wrong, I'm not at all offended when I get a letter like that, but I just can't wrap my head around how these assumptions are still made:
A lot of straight people aren't married
A lot of people aren't straight
Unless we're talking about a hotel in Saudi Arabia, who in 2019 assumes that two people traveling together are married?
However, I understand the challenges hotels face in this regard, because they don't want to guess gender based on name, just because two guys are staying in a room doesn't mean they're Mr. and Mr., etc.
Personally I think unless otherwise specified, any communication should be addressed to "[Primary Hotel Guest Name] & Guest," because that's accurate.
What Rosewood Does Right
Rosewood does something really simple during their booking process that I'd love to see more hotels adopt. During the booking process you have the option to select your title.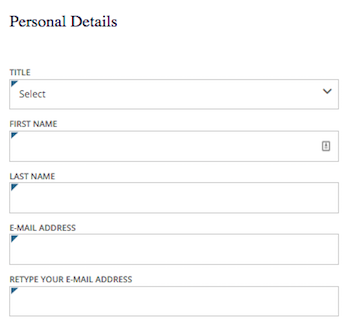 In addition to the traditional options, choices also include Mx., Mr. and Mr., and Mrs. and Mrs.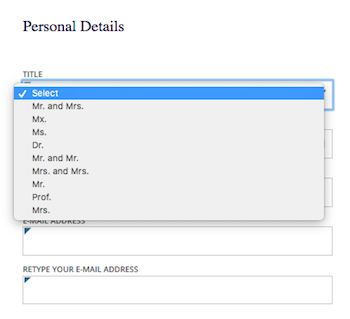 To me this seems so obvious, and like a great solution:
The hotels don't have to make any assumptions
You can self-identify how you like (on my post a couple of years ago, some people brought up that they might not want to "out" themselves in certain places, so this give you that option)
Summary
Let me once again emphasize that personally I'm not at all offended when I receive a welcome letter addressed to Mr. and Mrs. I get it's not personal. However, I am impressed when a hotel is able to make a connection, and addresses a letter to "Mr. and Mr."
I will say that I am a bit disappointed when I stay at an Aman Resort and this happens, because that's a brand that's supposed to be all about customization and knowing their guests.
This just seems like such an easy area where hotels could do better. Hotels should be addressing two people in a room as the name of the hotel guest plus "& Guest," in my opinion, and they should be giving guests an easy way to choose how they want to be identified.
Like I said, this isn't even necessarily a "gay" issue, but rather hotels shouldn't be assuming that a straight couple is married just because they're sharing a room.
Well done, Rosewood!