There's a new Bulgarian airline with an Airbus A330 that plans to start flying to New York…
GullivAir, Bulgaria's new airline startup
GullivAir is a new private airline in Bulgaria. While the airline has a website, it doesn't currently have much information, in spite of the fact that the airline is already operating flights. So let's talk about what we know as of now.
GullivAir fleet
GullivAir currently has a single 14 year old Airbus A330-200, which used to fly for Dutch airline KLM, before starting to fly for Pakistan's Shaheen Air in 2016. That plane has the registration code LZ-ONE.
The airline intends to dry-lease a further two Airbus A330s that used to fly for Turkish Airlines, as well as some ATR-72 turboprops.
Best I can tell, GullivAir's current A330 is in an all-economy configuration. Only time will tell what configuration GullivAir's A330s from Turkish Airlines will have — I'd guess the airline will maintain whatever interiors the planes currently have.
GullivAir destinations & routes
As of now, GullivAir has only operated a few charter flights with its A330:
In October the plane operated a roundtrip flight to Nassau, and a roundtrip flight to Yangzhou
In December the plane operated a roundtrip flight to Birmingham
In the coming weeks the airline intends to operate charter flights from Bucharest to Punta Cana and the Maldives (yes, even though the airline is Bulgarian, it's operating some charter flights out of Romania)
However, GullivAir has quite some growth plans, including plans to operate regularly scheduled flights:
Once the airline has three A330s, it's being reported that there are plans to operate regularly scheduled flights from Sofia to New York, Toronto, and Delhi
The airline submitted a request for US service with the Department of Transportation back in September, so it seems like the airline is serious about flying to the US (at least more so than some other airline startups)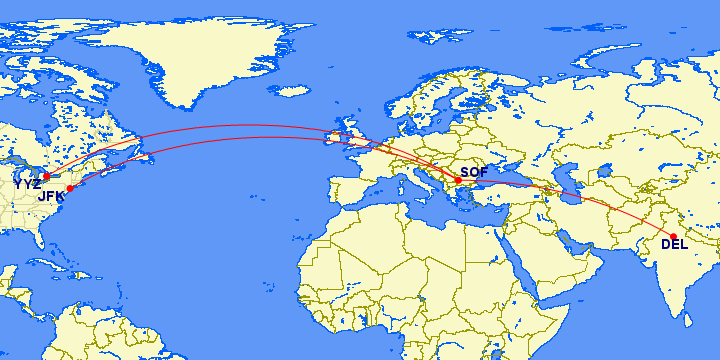 GullivAir's planned long haul routes
GullivAir's livery is something…
GullivAir's A330 livery sure is… simple and blue and white. It almost reminds me of a less nice Finnair livery.
The first A330 for new Bulgarian airline Gullivair landing in Sofia. https://t.co/P1atYGkF5H © Georgi Vatafov pic.twitter.com/MghfzajrL9

— JetPhotos (@JetPhotos) August 27, 2020
Bottom line
GullivAir is an airline startup in Bulgaria, that plans to have a fleet of three Airbus A330s within the next several months. The airline has big growth plans, with the goal of flying to New York by the summer of 2021.
We'll have to wait and see how this plays out. Historically both Bulgaria and Romania have struggled with long haul airlines. While this seems like a tough time to start a new airline, I suppose the airline could at least get a good deal on new planes…
What do you make of GullivAir's plans?