As I mentioned earlier in the week, I just flew Gulf Air business class from London Heathrow to Bahrain. I've always been intrigued by Gulf Air, though due to their financial situation they seem to be on the decline, and are cutting routes rather than adding them.
That being said, they're an American AAdvantage partner airline, so I could fly on them between Europe and the Middle East in business class for just 30,000 American miles one-way.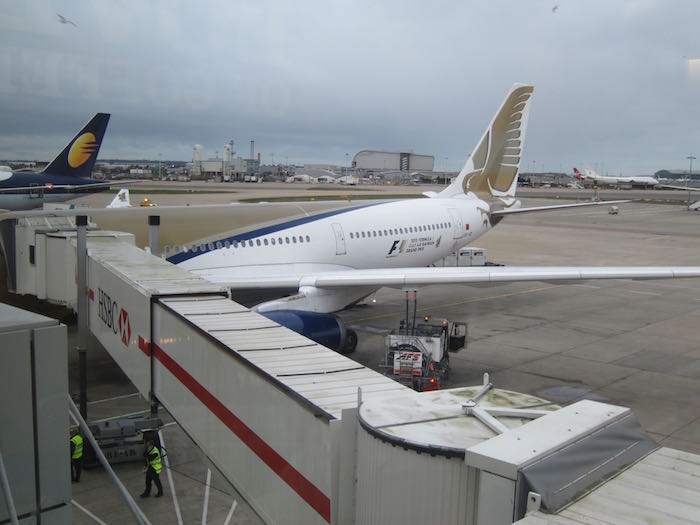 Gulf Air A330 London Heathrow
Gulf Air operates two flights a day between London and Bahrain — I took the daytime flight (departing at 9:30AM and arriving at 7PM), while they also have a redeye.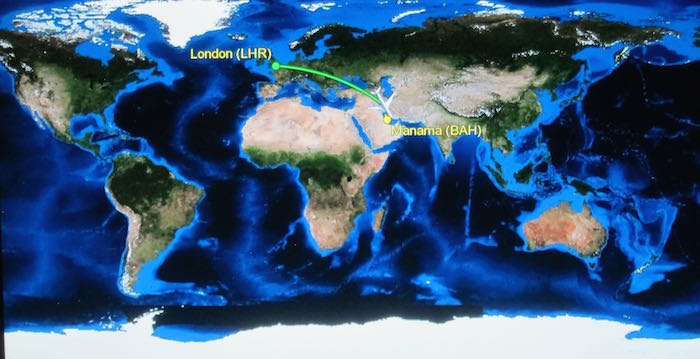 Gulf Air airshow

I figured I'd share my initial thoughts on the experience.
Gulf Air Business Class Seat A330
Gulf Air does a horrible job marketing their new seats, which are actually fairly competitive. Based on their website you'd barely be able to tell that they have fairly new business class seats.
Gulf Air has 30 business class seats on the A330, spread across five rows in a 2-2-2 configuration. The forward cabin has two rows, while the rear cabin has three rows.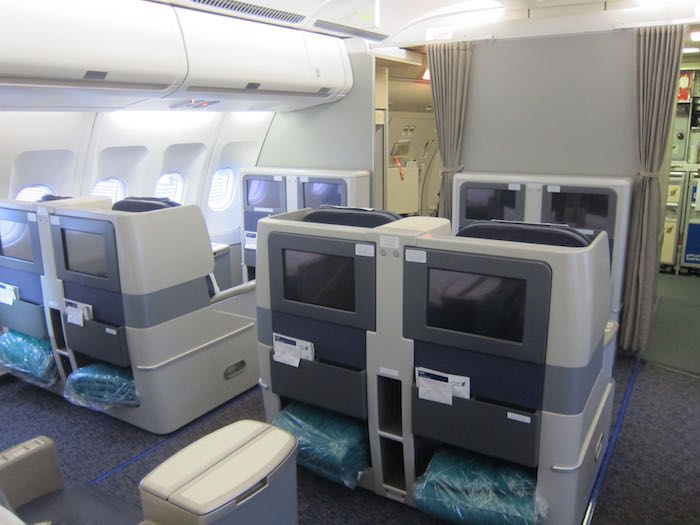 Gulf Air business class cabin A330
As far as forward facing fully flat seats go, these are quite nice. Ultimately there are other types of business class hard products I prefer, though if you're traveling with someone these seats are ideal.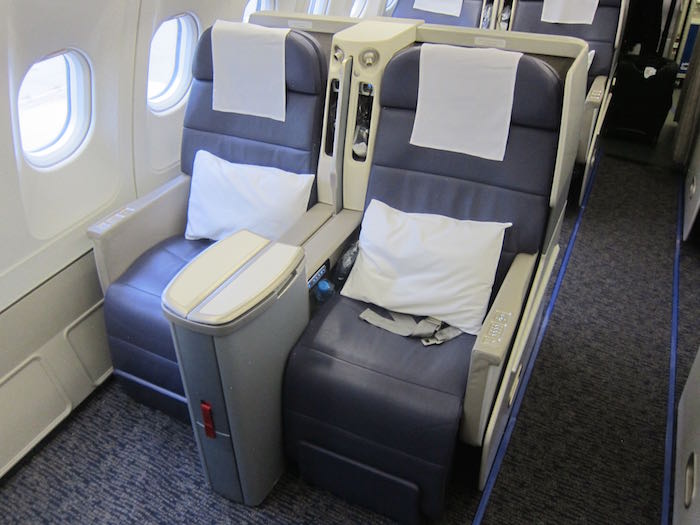 Gulf Air business class seats A330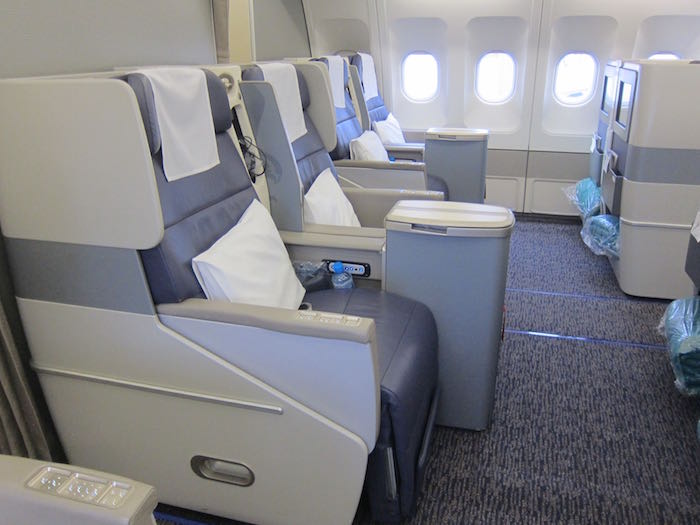 Gulf Air business class cabin A330
What makes them quite nice if traveling alone is that there's a large privacy partition that can be extended between seats. My seat opponent slept for the whole flight, so I didn't have to look at him (I did, however, have to smell him the whole flight).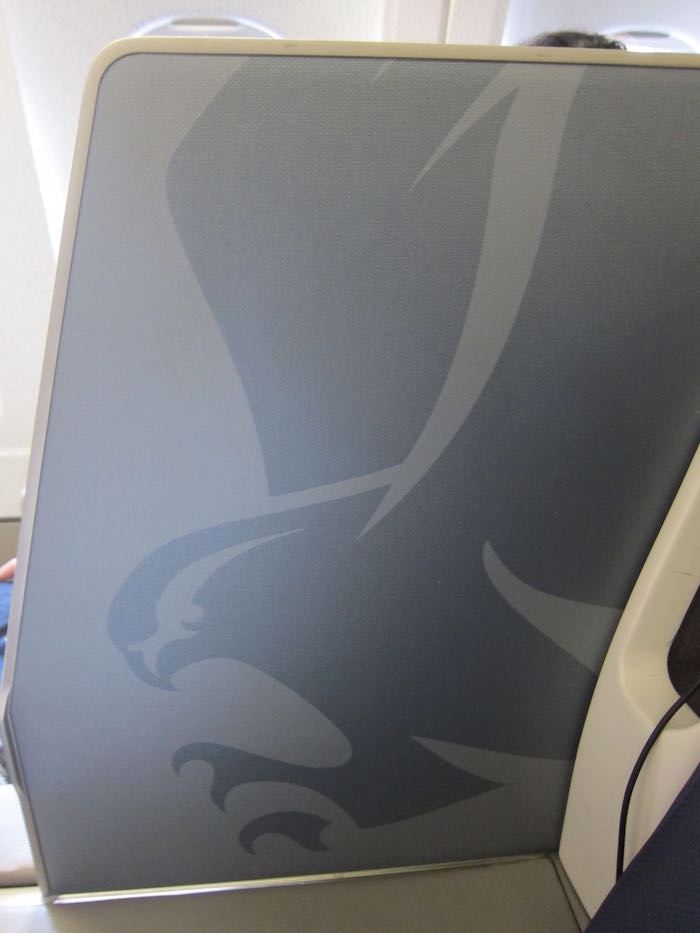 Gulf Air business class seat partition A330
So while it's not an amazing hard product, it's definitely solid. Especially since Gulf Air doesn't really operate any longhaul flights (the furthest they go is Europe and Southeast Asia).
Gulf Air Business Class Food

Gulf Air has an onboard chef, and the one on my sector was super enthusiastic. I'm not sure what value the onboard chef really adds, but this guy was by far the most enthusiastic crew member. He was French, and totally loved what he did.
There were printed menus, but despite that you couldn't get a word in without him basically listing everything on the menu.
"Have you decided what you would like as your starter? Maybe an Arabic mezze? Or maybe a fresh garden salad? Or perhaps a potato and leek soup?"
"And for your main course, have you decided? I have a lovely lamb shank. Or perhaps some butter chicken? Or would you prefer a sea bass fillet? Or how about some linguini pasta?"
Anyway, service began with drinks and nuts. While Gulf Air doesn't have a printed wine list, they're not a dry airline.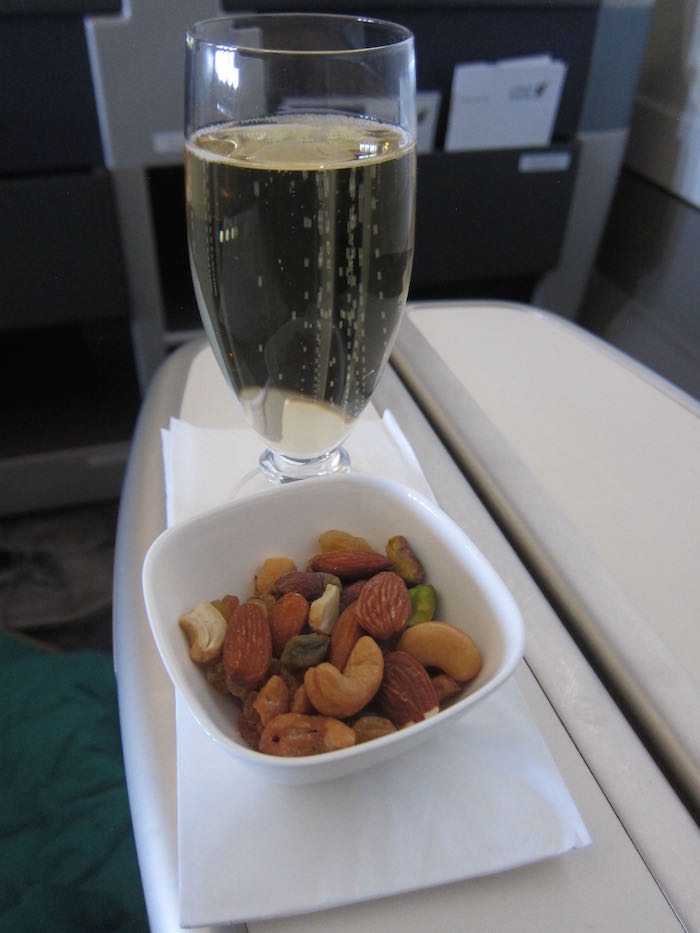 Gulf Air business class champagne & nuts

For the starter I had the Arabic mezze. It was decent enough. Certainly not the presentation or quantity you get on some other airlines, but tasty nonetheless.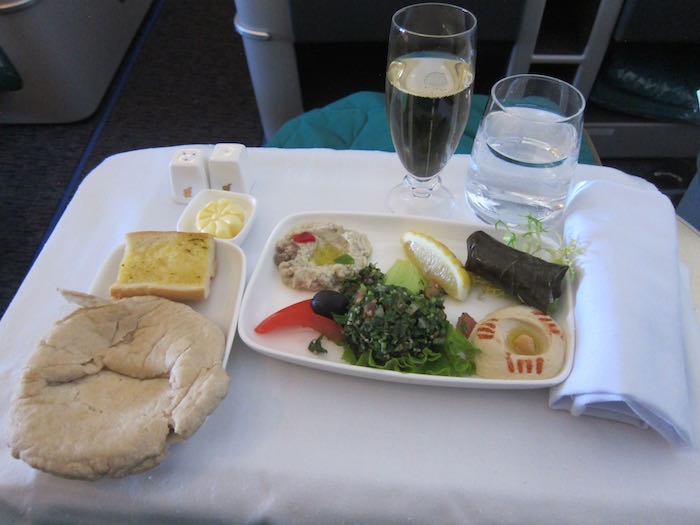 Gulf Air business class starter
For the main course I had the sea bass fillet. It was flaky and chewy at the same time, though all things considered it was good.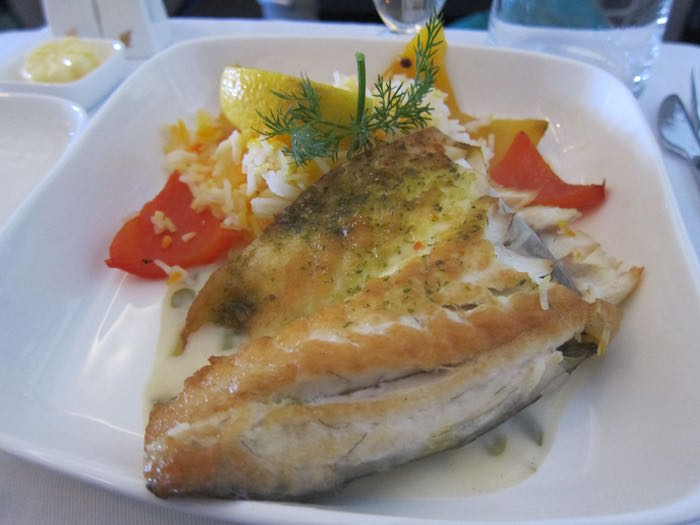 Gulf Air business class main course

Dessert was plated directly off a cart, and I had the opera cake. YUM!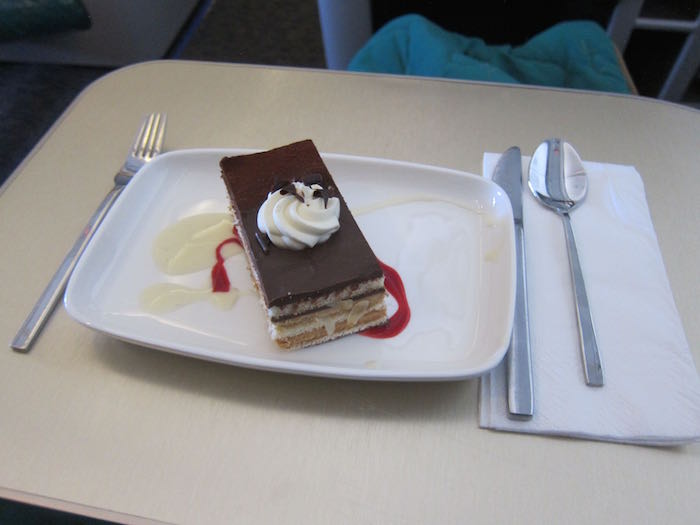 Gulf Air business class dessert
Then prior to landing a selection of sandwiches, scones, and sweets were served off a cart. Not the fanciest afternoon tea setup, but everything tasted good. And for a six hour flight, it was the perfect pre-arrival snack.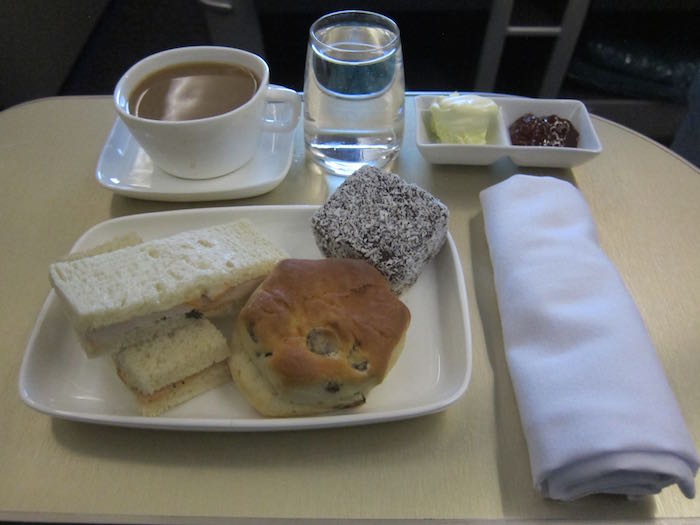 Gulf Air business class afternoon tea

Gulf Air Business Class Service
The service was interesting. The crew was generally friendly. In terms of nationalities, we had a Russian, Thai, and Kenyan flight attendant in business class, along with the French chef. They were all friendly enough, though I can't say they were the most attentive bunch.
Between meals they were nowhere to be seen, though they did quickly respond to call lights.
So they were unmemorable, but that's not necessarily bad. I don't mind crews being "removed," as long as they're responsive and friendly when they do interact with you.
Gulf Air Business Class Amenities
Gulf Air has a nice business class amenity kit with all the things you'd expect.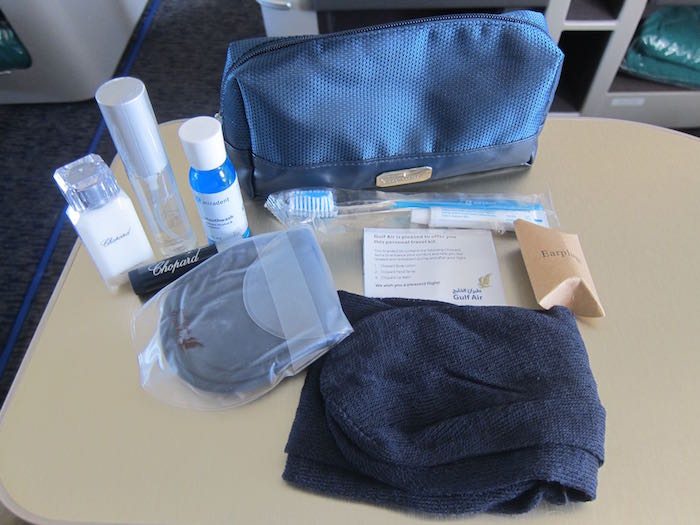 Gulf Air business class amenity kit

The pillow and blanket offered in business class were large. Almost too big, given that the seats aren't that huge.
And the entertainment selection was varied. My complaint, however, is that they had a large variety of shows, but for the most part, had only one episode of each show. For example, they only had one episode of Hawaii Five-0. On the plus side, they had the best episode ever (as anyone that has seen it can attest to).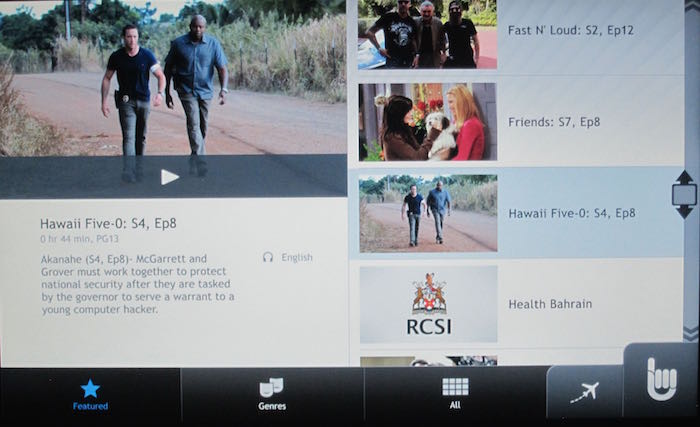 Gulf Air business class entertainment system

Gulf Air Business Class Bottom Line
I was pleasantly surprised by the Gulf Air experience. The airline is in financial trouble so I assumed the experience would reflect that, but it really didn't. The food was good, the business class seats were comfortable, and the service was sufficient.
I wouldn't hesitate to fly them again, especially given how good award availability is on them across the board.
Sadly the airline doesn't really have much of a chance. While they could potentially be in the league of Emirates, Etihad, Qatar, etc., Bahrain Airport can't compete with the world class facilities offered by other airlines. You can't have a world class airline without a world class airport.
Deplaning via air stairs and going into a terminal that looks like it's straight out of the 80s doesn't exactly make you want to connect there again.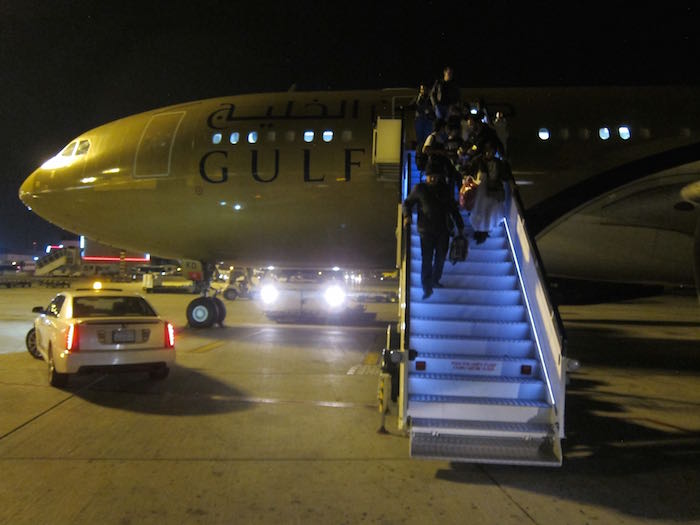 Gulf Air A330 Bahrain Airport

But like I said, all things considered I was impressed.
If you've flown Gulf Air, what was your experience like? If you haven't yet flown them, would you?