In the interest of full disclosure, OMAAT earns a referral bonus for anyone that's approved through some of the below links. These are the best publicly available offers (terms apply) that we have found for each product or service. Opinions expressed here are the author's alone, not those of the bank, credit card issuer, airline, hotel chain, or product manufacturer/service provider, and have not been reviewed, approved or otherwise endorsed by any of these entities. Please check out
our advertiser policy
for further details about our partners, and thanks for your support!
There are many benefits to making purchases with credit cards, ranging from the ability to earn rewards, to purchase protection. For those of us who are frequent travelers, having a credit card that offers travel coverage is essential.
Earlier this year I had a trip where I misconnected, forcing an overnight layover. Fortunately I paid with The Platinum Card® from American Express (review), which offers a fantastic trip delay insurance benefit. While I found the whole claims process to be a bit time consuming and cumbersome, it worked out in the end, and that's what counts.
In this post I figured I'd outline my experience, because I know many people will likely go through the same process.
Basics of Amex Platinum trip delay insurance
While the Amex Platinum offers a variety of coverage benefits, I'll be focusing specifically on the trip delay insurance coverage, since that's what I used, and where I can share my firsthand experience. While you'll want to consult the Guide to Benefits to read all the fine print, let's talk about the basics of the coverage.
With Amex Platinum trip delay insurance coverage, you can be reimbursed up to $500 per covered trip for necessary expenses when your trip is delayed for more than six hours. You can claim this benefit up to two times per eligible card per 12 consecutive month period. Eligibility and Benefit level varies by Card. Terms, Conditions and Limitations Apply. Please visit americanexpress.com/benefitsguide for more details. Underwritten by New Hampshire Insurance Company, an AIG Company.
Here are what I consider to be the most important terms to be aware of:
You must have proof of roundtrip travel, which means you have to return to your starting point within 365 days; multi-city itineraries are fine, as are trips booked as two one-ways, as long as you can prove this
This coverage applies for you and your family members and travel companions when the trip is purchased with your eligible card
You need to pay for the airline ticket with your card, though it's fine if only a portion of it is paid this way; in other words, if you redeem miles for a ticket, paying the taxes with your eligible card would be sufficient
To be eligible for this coverage, you must be delayed by at least six hours; this doesn't mean a single flight has to be delayed by that long, but rather if you misconnect and will end up at your destination six or more hours later, you'd be eligible
It doesn't matter if the delay is within the carrier's control or not; eligible reasons include everything from bad weather, to aircraft mechanical issues
The coverage applies for reasonable expenses, including meals, lodging, toiletries, medication, and other personal use items; as you can tell, this is pretty vague
You can use this benefit up to twice per consecutive 12-month period
Let me emphasize that I'm just trying to hit on the key points here. You'll want to read the full Guide to Benefits for all the details, because there's obviously a lot of fine print (as there is with any insurance policy).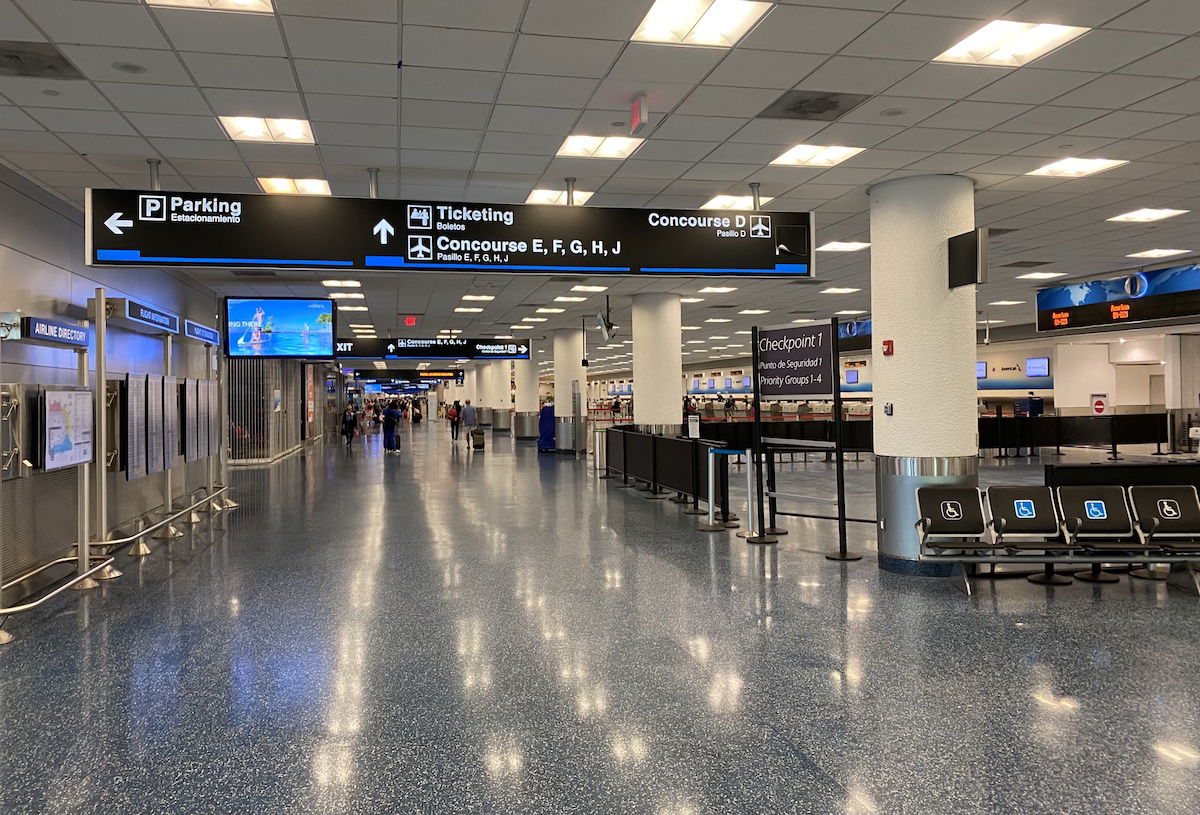 My American Airlines trip that got disrupted
This claim actually dates all the way back to an itinerary I had on January 22, from Puerto Vallarta to Dallas to Miami. I was supposed to have a roughly two hour connection in Dallas, but due to a maintenance issue in Puerto Vallarta, the flight was delayed, and I ended up misconnecting.
The Dallas to Miami flight that I was booked on was the last flight of the evening, so I was rebooked on a 5:30AM flight the following morning.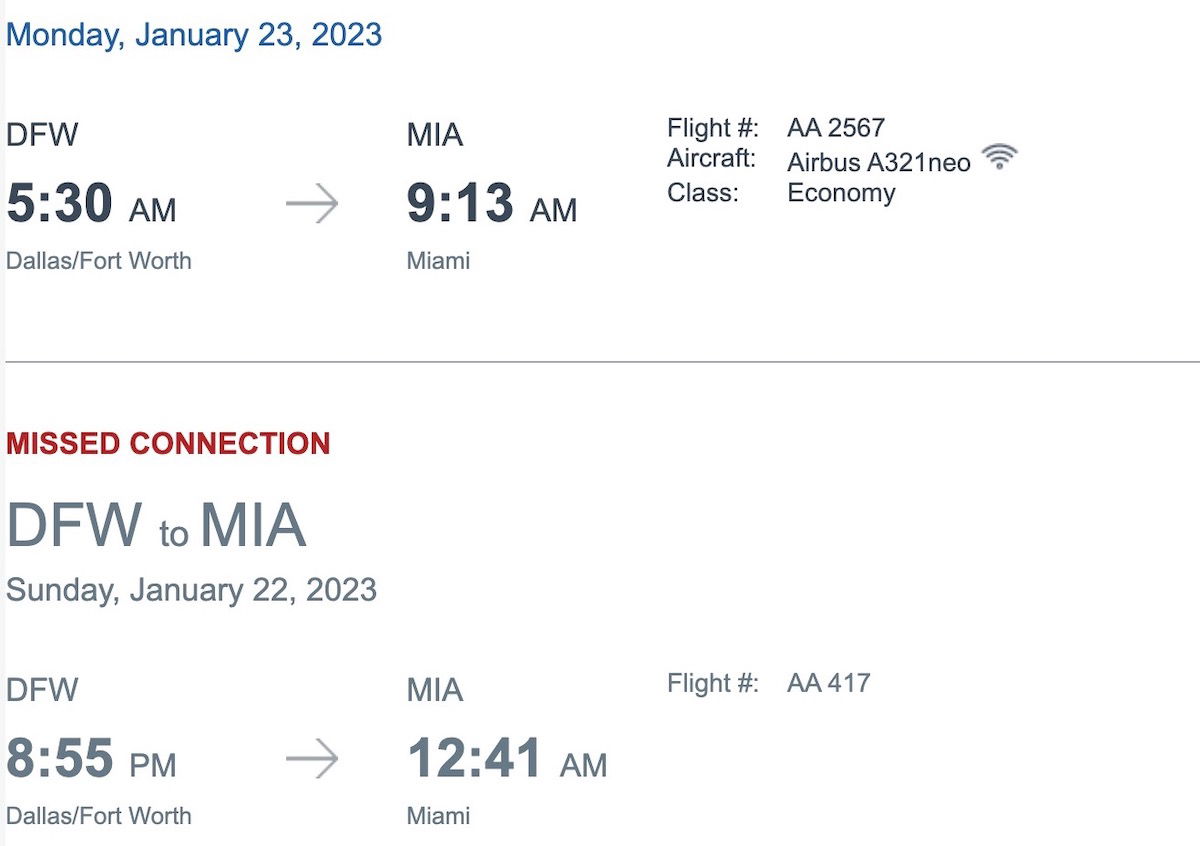 Now, since this delay was within American's control, I was offered a hotel accommodation… at the Super 8 Grapevine. It's pretty disappointing what American offers an Executive Platinum member traveling in paid first class, especially when you consider that some decent hotels near the airport weren't unreasonably priced.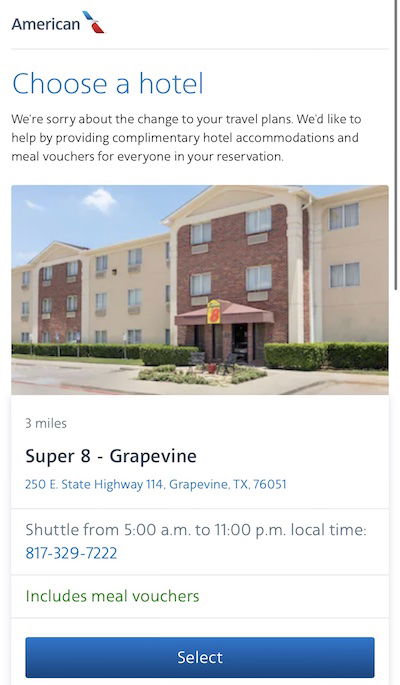 DFW happens to have one of my favorite airport hotels in the world, the Grand Hyatt DFW, which is connected to the terminal. I had pondered just redeeming points there, because it's so much more convenient. I then wouldn't have had to wait for a shuttle or pay for an Uber to & from the hotel, not to mention I'd have a much more comfortable stay.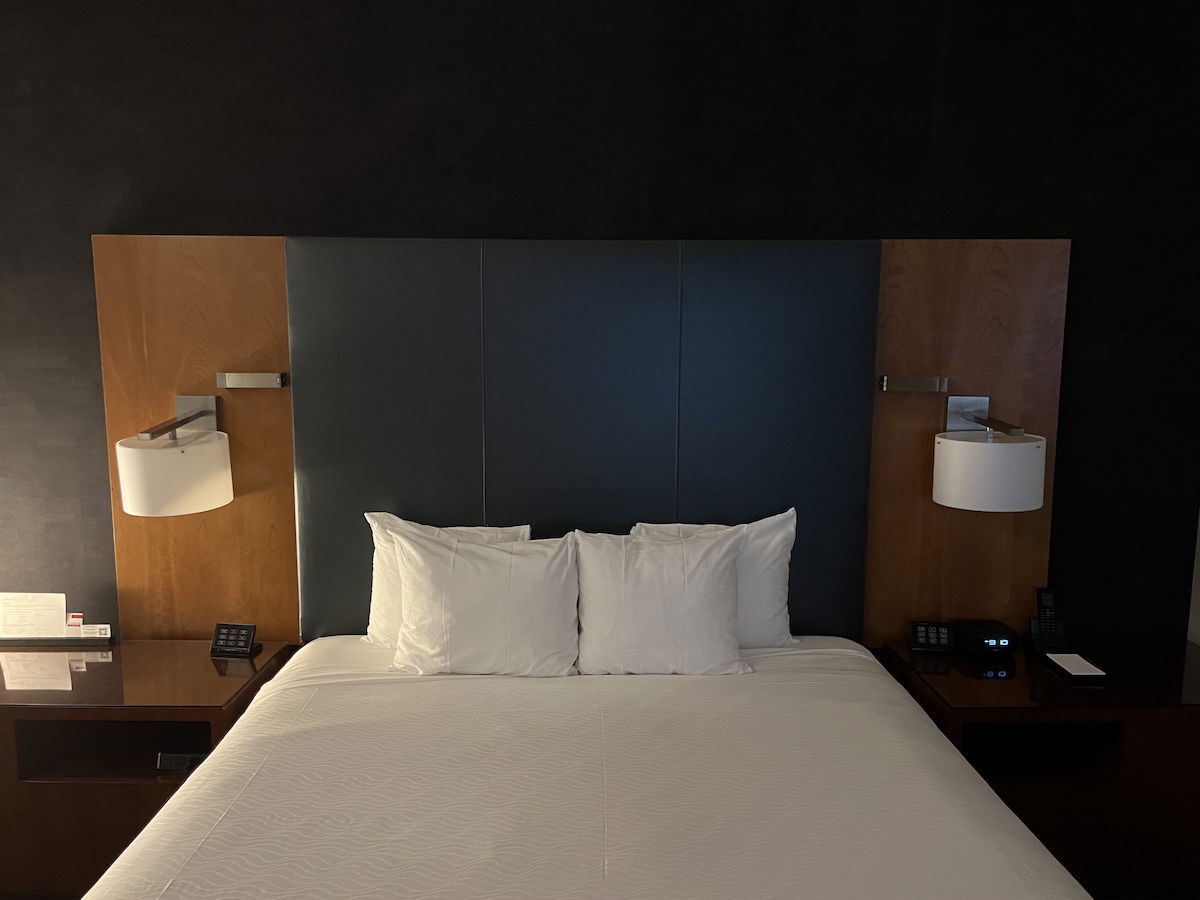 But I didn't even need to do that. The beauty of credit card insurance is that I was covered in this case. There's nothing in the terms stating that you have to accept the hotel an airline offers you, but rather you just can't double dip, and request reimbursement from multiple sources.
So I booked the Grand Hyatt DFW (which was running around $300), and then ordered room service as well (which cost around $100), knowing that would be covered (for the record, Ford was with me, so the food wasn't all for me). 😉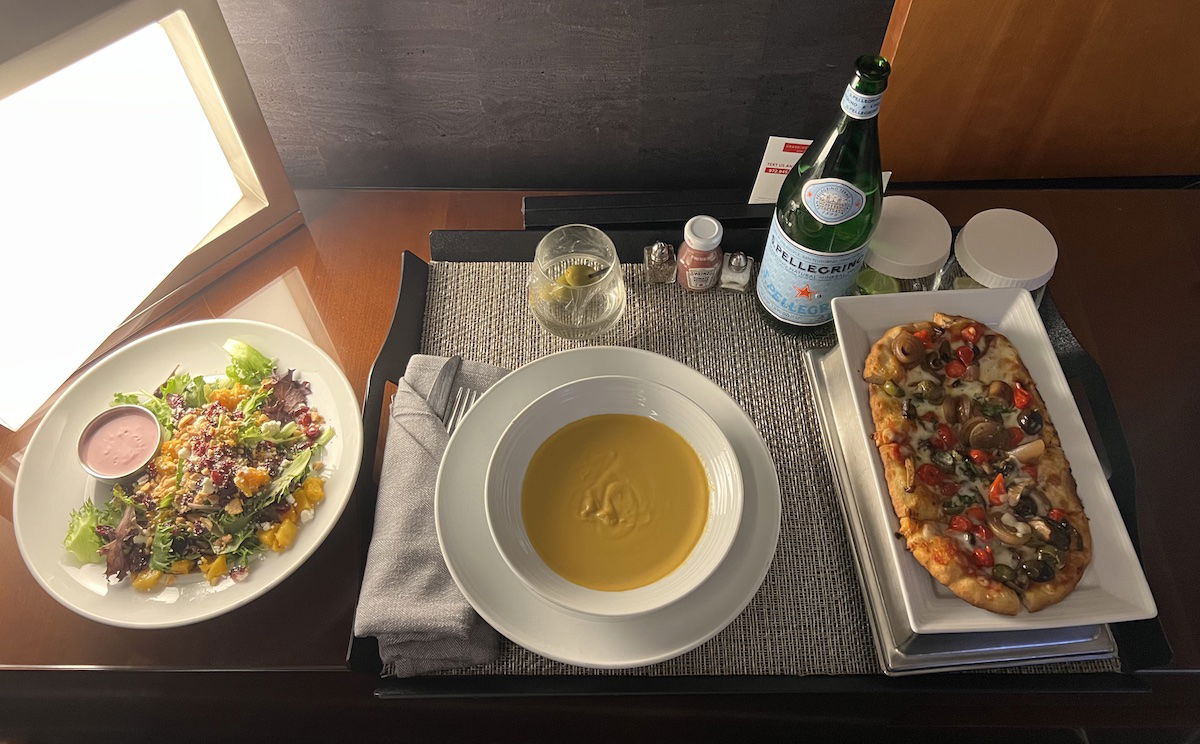 My Amex trip delay coverage claim experience
The process of being reimbursed as part of this coverage consists of three steps, all of which are handled by AIG, Amex's benefits administrator:
First you have to call to file a claim
Then you have to submit the documents for your case
Then you have to wait for reimbursement
Let me share my experience with each of these steps.
Filing a trip delay coverage claim
To kick off this process, you first need to file a claim within 60 days of your disruption. This has to be done by phone, by calling 844.933.0648. The phone call took around 15 minutes, and I was asked to provide some basic details about my trip, as well as the interruption I experienced, including how, why, and when I misconnected.
This is just intended to establish the basic details of the claim, and then you'll be sent an email with a case number, and all the documents you have to complete.
Submitting trip delay coverage documents
Okay, to be honest, they don't make it easy to file all the required documents, but then again, which insurance policy does? I'd say the process of gathering documents, filling out all the paperwork, and submitting them, took me around an hour, and I'm usually pretty fast.
What all is required?
Filing out a claim form, which asks for your personal details, as well as the details of the itinerary
Proof of the original flight itinerary, showing your roundtrip journey (if you have two one-ways, you'd want to submit both itineraries)
Proof of payment of your itinerary, in the form of a credit card statement showing that the trip was charged to your eligible card
Proof of your revised itinerary resulting from irregular operations; fortunately American sent me an updated itinerary when I was rebooked, so that was easy enough
Proof of the reason for your claim, and if it's due to an equipment failure, you need documentation from the airline about this; this was easy to do, as I could go to American's customer relations form, click on the "trip insurance verification" tab, and then a day later I got an email from American customer relations outlining the reason for the delay
Proof of the expenses incurred that you want reimbursed; this includes receipts for the purchases, as well as the billing statement showing proof of the card this was charged to
I was a little worried about that last point, as the form stated that I had to show "additional expenses purchased on your Eligible American Express Card," though I used another card. Fortunately IAG confirmed that this was okay, and I just needed to submit proof of that billing statement.
Gathering all these documents and filling out these forms took a bit of time. On top of that, AIG has a 14MB limit on how big emails can be, so you may have to resize some files, or send multiple emails.
Waiting patiently for reimbursement
I found it odd that when I submitted my email, there wasn't any sort of an automated email response confirming that my documents had been received. I only mention that because I was pretty close to the 14MB email limit, so I wanted to make sure I didn't do anything incorrectly.
I also sent an email to confirm my initial had been received, but never received a response. However, when I called a couple of weeks later (and waited on hold for 20 minutes), an agent confirmed that my documents had been submitted, and were being reviewed.
In the end it took around six weeks for my claim to be approved, and then the check arrived around a week after that.
Bottom line
The Amex Platinum Card offers valuable trip delay insurance, whereby you can be covered for up to $500 in necessary expenses when your trip is delayed by at least six hours. When I misconnected at DFW earlier this year, it seemed like the perfect opportunity to give this coverage a try.
I'm happy to report that it worked exactly as planned, and I was reimbursed the full cost for my hotel room and dining at the hotel.
I'd say there are two major things to be aware of. First of all, the process of filing a claim is fairly time consuming, so expect that altogether you'll likely spend a couple of hours on this. Furthermore, don't expect the claim to be processed quickly, as it will likely take several weeks.
If you've used Amex's trip delay insurance benefit, what was your experience like?