Amex's "Pay Over Time" feature is something that I recommend not using, but which could still be worth signing up for. Let me explain.
What is Amex Pay Over Time?
Generally speaking, one of the ways that credit card companies make money is through people financing charges. I recommend avoiding financing charges whenever possible, because you'll usually pay a pretty high interest rate.
One interesting thing about American Express is that not all cards in the issuer's portfolio are credit cards — some are in fact hybrid cards (they used to be referred to as charge cards). With these cards, you generally have to pay off your balance in full each month.
That is, unless you enroll in Amex's Pay Over Time feature. With this, you're given the option of taking more time to pay for your purchases. Purchases can be placed into a Pay Over Time balance, and then you can pay them off over an extended period, meaning that you don't have to pay your balance in full at the end of a billing cycle. The catch is that you'll pay interest.
Which Amex cards are eligible for Pay Over Time?
Purchases on American Express credit cards are automatically eligible for financing, so there's no need for this Pay Over Time feature. Pay Over Time is available on select hybrid American Express cards, including the following:
Why you shouldn't use Amex Pay Over Time
If you can avoid it, I'd recommend not using Amex's Pay Over Time feature:
You'll get the most value from rewards cards if you pay your balance in full each billing period, so you're not financing any charges; the interest rate you pay will typically more than offset any of the rewards you earn
If you absolutely do need to finance charges on a card, there are some cards offering 0% intro APR, so I'd look into one of those instead
Why you should (maybe) enroll in Amex Pay Over Time
The reason you should consider enrolling in the Pay Over Time feature is because American Express often provides an incentive to do so. Keep on eye on your email and mail from American Express, and you may see an offer giving you an incentive to sign up for Pay Over Time. For example, I received one of these in the mail yesterday, offering 20,000 bonus Membership Rewards points for enrolling (I value Amex points at 1.7 cents each, so to me that's like $340 in value).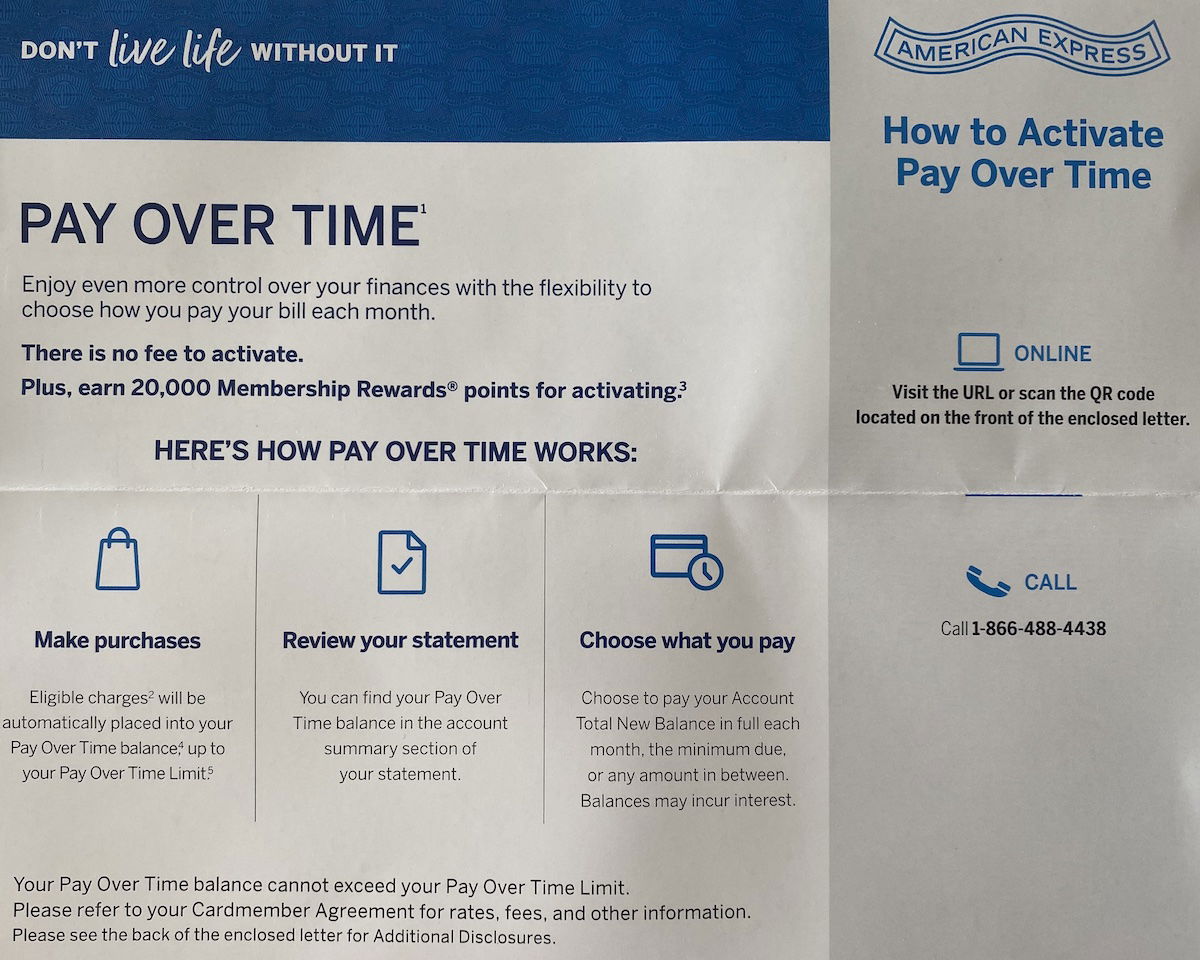 Suffice to say that this is an awesome deal — there's no fee to activate Pay Over Time, and you don't actually have to use it to earn the 20,000 points. In my case, the points posted within 24 hours.

If you continue paying off your bill with each billing cycle (as you presumably did before), nothing will change.
It's always worth keeping an eye on these offers. And while they might sound too good to be true, they're not… this is exactly how it works, and who doesn't want 20,000 "free" points?
While you'll typically be contacted about these offers directly, you can also check this link to see if you're eligible. If you have multiple hybrid Amex cards, you'll want to switch to the profile of each card to see if you are eligible for a bonus for enrollment.
Bottom line
Amex's Pay Over Time feature allows you to finance charges over an extended period on hybrid cards, which haven't historically been eligible for financing. In general I recommend avoiding financing charges on cards, since the interest rates can be quite high (aside from some 0% intro APR offers).
That being said, it could be worth enrolling in Amex Pay Over Time if you're targeted for a promotion. It's not unusual to see enrollment offers of 20,000 Membership Rewards points, which is a lot of points to get for nothing. There's no need to actually use Pay Over Time, and if you continue to pay off your charges in full, you won't be charged anything.
Have you ever signed up for Amex's Pay Over Time with a targeted offer?