Gol is a Brazilian low cost carrier that can probably be most closely compared to Southwest Airlines in the US. They're South America's largest low cost carrier, and Brazil's second largest airline, after LATAM Brazil. The airline presently has a fleet of 119 Boeing 737s, though they're looking at some massive growth over the coming years.
Gol has 120 Boeing 737 MAX 8 aircraft on order, which they'll start taking delivery of around the middle of the year. For those of you not familiar, the 737 MAX is the more fuel efficient and longer range version of the 737, which has opened up a lot of interesting routes for airlines (for example, Norwegian uses their 737 MAX planes for transatlantic flights).
While Gol operates primarily within Brazil, they also operate some flights around South America. For the first time ever, the airline has announced plans to fly nonstop between Brazil and the US (in the past they operated flights to the US via third countries, including flights through Punta Cana).
Brazilian media is reporting that Gol will begin flying between Brazil and the US as of November 4, 2018. Specifically, the airline will fly from both Brasilia and Fortaleza to both Miami and Orlando.
All four routes will be operated daily using Boeing 737 MAX 8 aircraft, with the following schedule:
G37600 Brasilia to Orlando departing 9:50AM arriving 2:50PM
G37601 Orlando to Brasilia departing 9:30PM arriving 8:20AM (+1 day)
G37664 Fortaleza to Orlando departing 8:35AM arriving 2:25PM
G37665 Orlando to Fortaleza departing 9:45PM arriving 7:15AM (+1 day)
G37748 Brasilia to Miami departing 9:50AM arriving 2:25PM
G37749 Miami to Brasilia departing 9:45PM arriving 8:20AM (+1 day)
G37732 Fortaleza to Miami departing 8:35AM arriving 2:05PM
G37733 Miami to Fortaleza departing 10:00PM arriving 7:15AM (+1 day)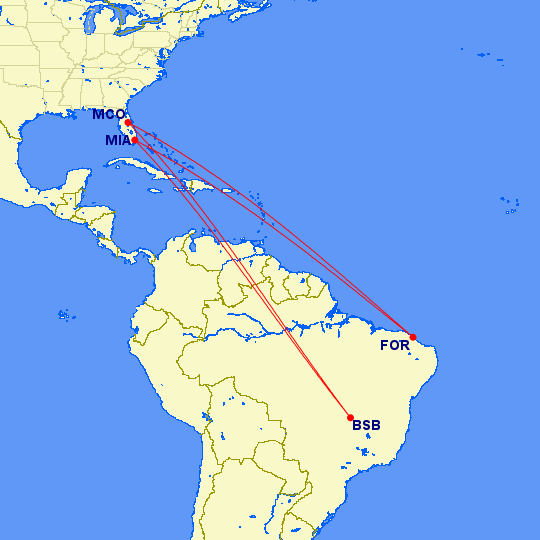 These are long routes, as they all range between 3,400 and 3,800 miles one-way. As far as I know, Brasilia to Orlando will be the world's longest 737 route, at 3,778 miles. That's just barely within the range of the aircraft.
Gol is a low cost carrier but not an ultra low cost, so it's expected that they'll offer complimentary meals and drinks on these flights. Gol doesn't have business class, though on select flights they offer a premium cabin, which is just economy with a blocked middle seat and additional legroom. I suspect we'll see that on these routes as well.
Delta owns a stake in Gol, and it's possible to earn and redeem Delta SkyMiles on Gol. Presumably that will be the case on these flights as well, and maybe we'll even see Delta codeshare on Gol's services. You can earn SkyMiles on Gol at the following rates: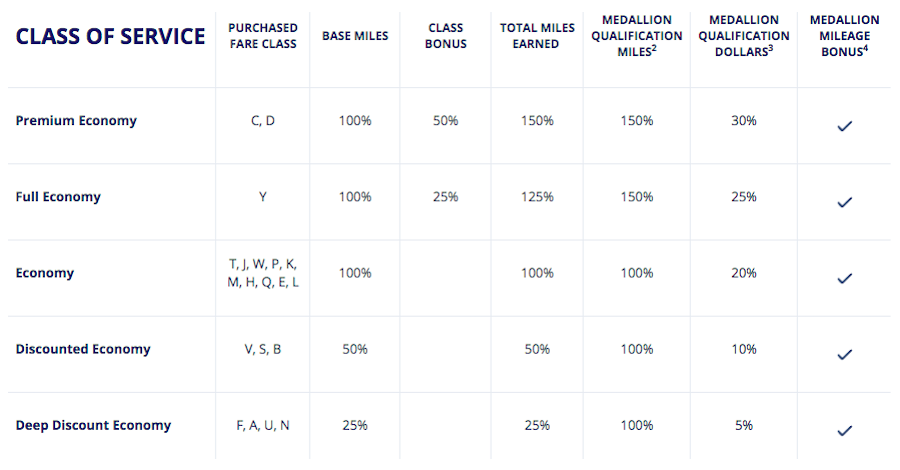 We don't yet know what fares will look like on these flights, though tickets should go on sale later this month, so we should know within a couple of weeks.
What do you make of Gol's expansion to the US?