We're spending a few days in Bogota, a city I'm still trying to form an opinion on. On one hand the city feels rather gritty and the traffic is horrendous, so it's nothing like (relatively) slow paced Cartagena. On the other hand, there's something sort of captivating about the energy of the city, everything is cheap, and the food is great.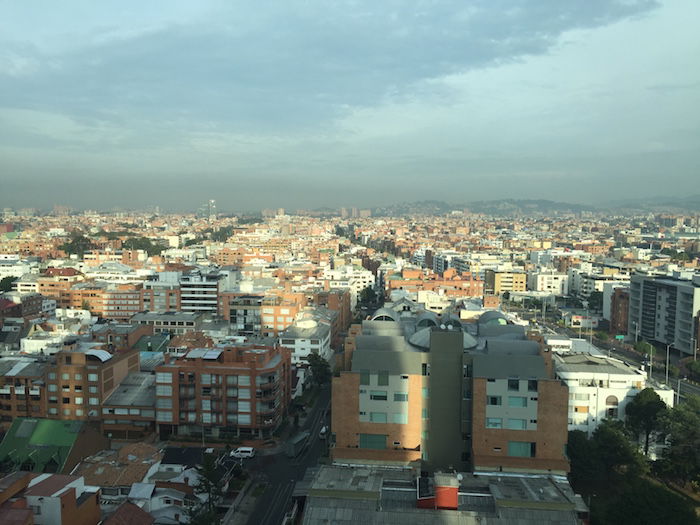 I'm still working while traveling, so we only have a few hours a day to sightsee, which is made worse by the fact that the traffic is so bad; getting across town from the W Hotel can take an hour.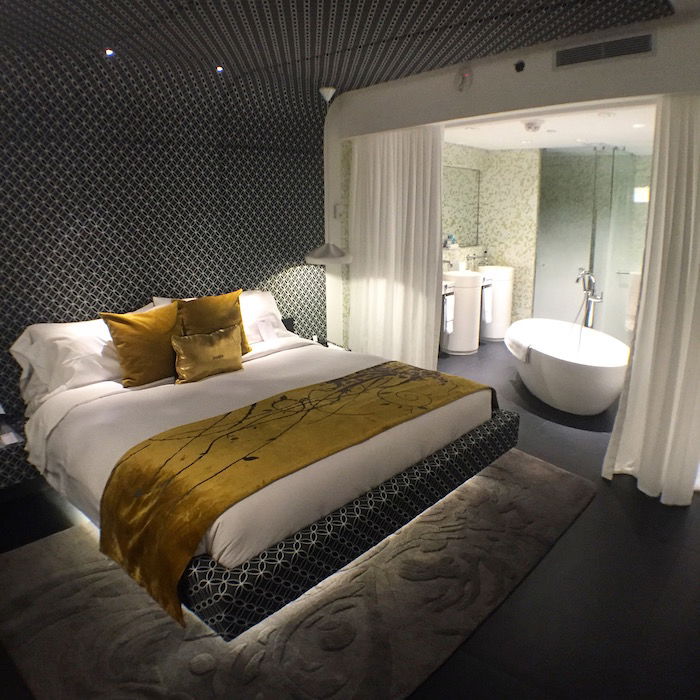 Yesterday we went to a cathedral located inside a salt mine, which was… random interesting? I felt like I was back at my Catholic high school after all the Stations of the Cross we stopped at.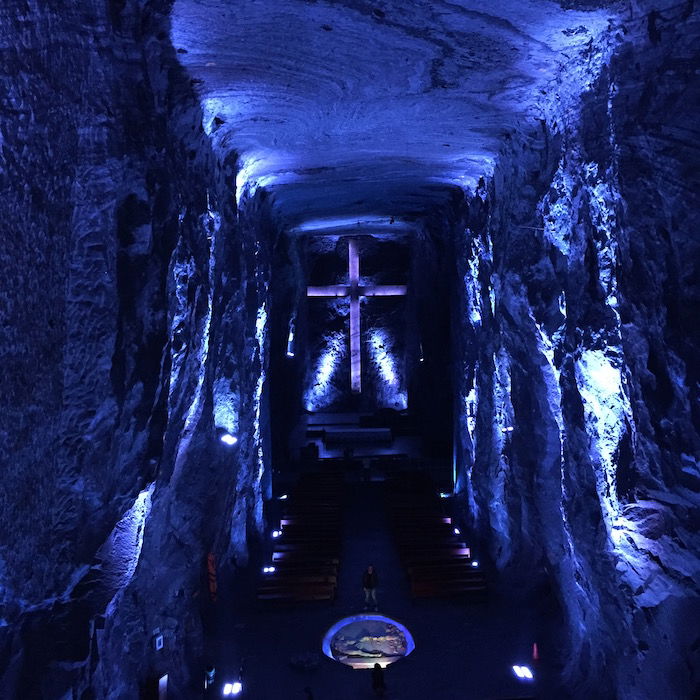 While the W Hotel is located in a fairly good part of town, earlier today we went to the other side of town, which certainly has a lot of rustic character. This is where the Plaza de Bolivar is located, which is beautiful.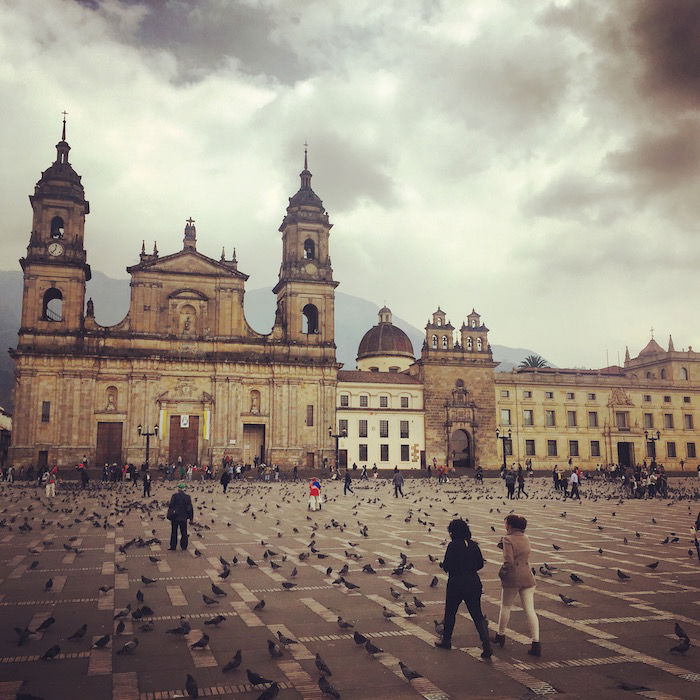 I'm always cautious when I travel, and try to be aware of my surroundings. That's especially true here, because we really felt like we stood out; as far as we could tell, we were the only tourists. The streets were extremely crowded, so I didn't really snap any pictures aside from the above, and kept everything in my pockets at all times.
So it's not that I felt unsafe, but rather that I was just being cautious.
We eventually sat down at a coffee shop for a drink, which seemed to be a local chain. People kept coming in and begging, and there was a guy working there who seemed to be responsible for asking people to leave.
I was facing towards the interior of the cafe, while Ford was facing towards the exterior. After a few minutes he said "don't turn around, but there's a creepy guy standing outside behind the sign by the entrance." I didn't make much of it, until I eventually turned around and saw he was glaring at us.
I'm not sure if there's a good way to describe him, but he just looked mean and intimidating, based on the expression on his face. He was really tall, had his hands in his pockets, bloodshot eyes, and was glaring at us. It's tough to put one's intuition into words sometimes, but he made us feel really uncomfortable (which isn't true of someone who is just begging for money, or something).
First he stood by a sign to the right of the entrance looking at us, and then after another 10 minutes he moved over to the right side of the entrance, where I could see him more easily. He was still glaring.
I was feeling pretty uneasy, and wasn't sure what to do:
I was convinced he was specifically targeting us for whatever he had in mind (which isn't surprising, since we stood out)
Ultimately it could have just been that he was planning to ask for money when we came outside, but then again the other people begging had no issues walking inside, while he was standing right at the entrance
He seemed to think he was being sly based on where he was positioning his body, as he was hiding it behind the sign by the entrance; when we looked at him we avoided eye contact and didn't appear alarmed
This all leads me to believe he thought he was being sneaky and that we weren't catching on, though obviously we were.
I've been in all kinds of uncomfortable situations in different countries, but nothing like this, where someone was making me feel really uncomfortable, and was standing at my only exit (usually if someone makes you feel uncomfortable you can walk into a store, or take a different turn, etc.). In this case there was no way out.
So Ford and I were trying to decide what we should do:
Telling one of the staff, though no one spoke English, and the guy who was "shooing" people away wasn't in sight; at the same time, the guy standing outside would surely know what we were doing
Calling the police, though we didn't really know what we'd call them over, since I didn't want to be presumptuous, even though he was making us really uncomfortable; making people feel uncomfortable isn't a crime, after all (at least as far as I know)
Walking out quickly and hoping he wouldn't follow us
Just sitting and waiting and hoping he'd eventually leave
We chose the fourth option, and sure enough, about 30 minutes after we finished our drinks he finally walked away. We made sure he was actually walking away, and not just around a corner. We then called an Uber and headed back to the hotel.
Bottom line
I've faced a lot of strange situations and know how to handle most of them, though this was sort of a new one for me. I believe in always trusting your gut, and regardless of what his intentions were, we were extremely uncomfortable, and there wasn't really a way to "escape" him other than walking out the door, which may very well have also been what he was hoping for.
Perhaps the overall setting of this grimy area of Bogota also got to us. There were police officers and bomb sniffing dogs on almost every block, and many of them had machine guns. I wasn't sure if that should make me feel more or less safe.
The point of this post isn't to suggest something nearly happened to us, because I don't know if it did. I know our guts gave us strange feelings, and that's what counts. Instead, the reason for the post is that I'm wondering how you guys would handle the above situation? Which option would you have gone with?