While I understand the purpose of unions, I've never understood how repeated strikes end up happening so often. I'm not just blaming unionized employees, but also management — at some point there has to be some compromise which is less punitive than the cost of endless strikes. For example, for a while Lufthansa pilots were going on an average of one strike per month, costing the airline hundreds of millions of Euros.
In a similar boat are the French air traffic controllers, who are going on strike for a period of at least 36 hours starting at 7PM CET today, March 30, 2016. This will be the 43rd day on which French ATC is striking since 2009.
This particular strike doesn't seem to impact all flights, and actually no flights to/from Charles de Gaulle are expected to be cancelled. Instead Air France has advised that all flights to/from Charles de Gaulle, including all longhaul flights, will operate as scheduled. Furthermore, 80% of flights from Paris Orly and 65% of flights from Marseille should operate.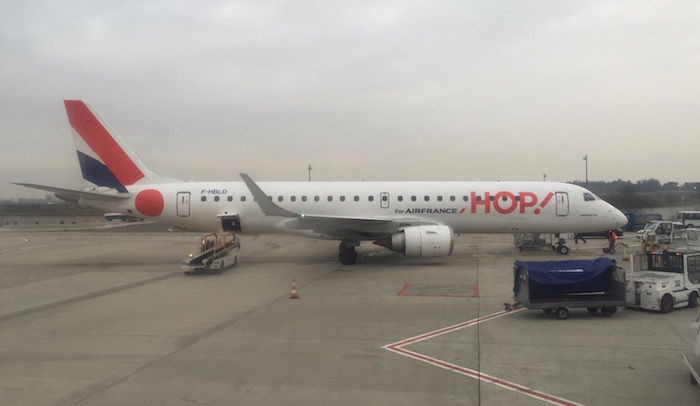 Air France HOP EMB-190 Paris CDG Airport
Airlines For Europe is a trade group consisting of many of the major European airlines (Air France, British Airways, Lufthansa, Norwegian, etc.), and they're calling on the government to take action against these constant strikes. They're claiming that the last two day strike (which was just last week) caused over 1,000 flight cancellations and 500,000 minutes of delays, with more than a million affected passengers. Here's what they had to say:
This will be the 43rd strike day in France since 2009 and it will see hundreds of flights being cancelled creating disruption and extensive delays across the continent.

"Repeated and disproportionate industrial action by French ATC unions is seriously impacting the travel plans of thousands of passengers during Easter. It is unacceptable that airlines and their customers can be repeatedly punished by these unjustified strikes. We call on the European Commission to act immediately to defend consumers", said Thomas Reynaert, Managing Director of A4E.

Last year, more than 10,000 flights operated by A4E members were affected by 28 days of ATC strikes in Europe causing unjustified disruptions to millions of passengers.
On the other end of the spectrum, here's how Ronald Reagan handled strikes:
(Let me clarify that the above isn't meant to be a political statement, but rather just a clip I found interesting of the time Ronald Reagan actually fired thousands of air traffic controllers back in the 80s when they went on strike.)
Bottom line
If you're traveling through France in the next couple of days, be sure to check your flight status. While Air France has published approximate numbers of delays and cancellations, they haven't indicated exactly which flights will be impacted. Also keep in mind that while flights out of CDG as such won't be impacted by the strike, there could very well be spillover delays, given how many airports a plane can fly to in a given day.
Do you think air traffic controllers should be allowed to strike, or should that not be an option for those who work for the government and are tasked with an essential role, like ATC?