A couple of weeks ago I wrote a post about the potential for my first longhaul economy flight in 10+ years.
As I explained at the time, I haven't flown longhaul economy in over 10 years. It's not that I'm not willing to fly longhaul economy, but rather thanks to miles & points there hasn't really been a need to.
My approach to avoiding economy on longhaul flights is generally as follows:
My typical strategy is to pay for my domestic flights and then redeem miles for my international flights, so by redeeming miles for first & business class I'm guaranteed the seat I want.
As an American AAdvantage Executive Platinum member, I receive eight systemwide upgrades per year, which are great for upgrading international flights, like Dallas to Hong Kong. I'm very selective with which flights I use these on, as I always want to make sure my upgrade odds are very good. I do this by:

Trying to find flights with upgrade space confirmable at booking, though that's extremely rare nowadays, as American tends to hold back upgrade space
Booking on off peak days
Checking the business class seatmap before I book, to be sure not too many seats are occupied yet
Checking the economy class seatmap, and in particular the "preferred" economy seats, to see how much potential competition there is for those upgrades
Well, today I'm headed to Madrid, and it seems like I may have gambled badly. Very badly. I'm flying from Los Angeles to New York to Madrid.
My upgrade on Los Angeles to New York didn't clear (I missed the upgrade by two people), and I haven't cleared for my New York to Madrid flight for tonight, which is sold out in business class as of the time I'm writing this post (~12PM ET).
Now, admittedly Los Angeles to New York isn't a "longhaul" flight, though it is my first transcon flight in economy in years. Yes, once in a while my upgrades don't clear on midcons, but I don't remember the last transcon I've done in economy.
In and of itself that's totally fine, though going from my first transcon in economy in years to my first transatlantic flight in economy in 10+ years is a bit more jarring for me.
So I'm presently flying American's A321 from Los Angeles to New York. I've flown this plane about a dozen times before, but always in first class, which is a great product.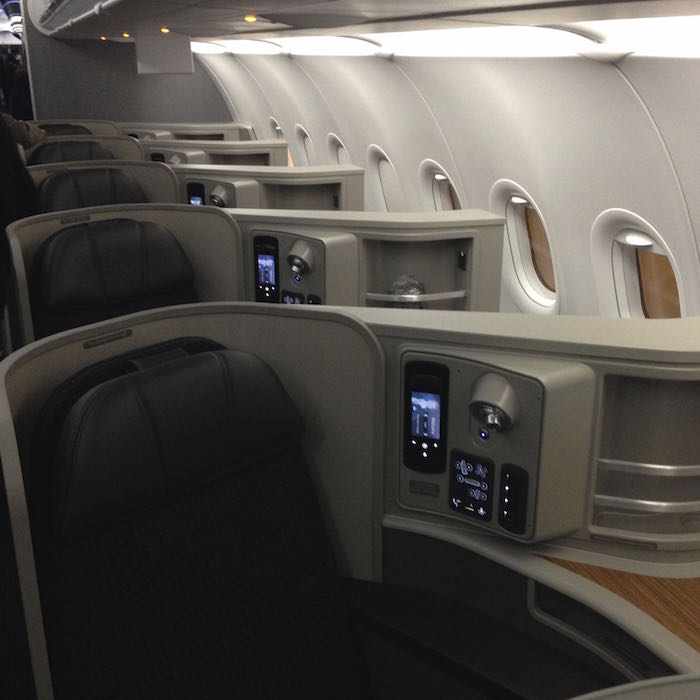 I was dreading the thought of the flight in economy (again, not because I'm not willing to fly economy, but rather because I haven't done it in so long). What are my initial thoughts?
It's actually not bad at all… it's almost pleasant. I guess you could say "the bark is worse than the bite" when it comes to anticipating economy travel, even as someone who hasn't done it in eons.
But I have come to a few conclusions based on this:
Seats, legroom, and seatmates matter
I thought I'd feel squished in economy, but that really isn't the case. I'm in a window seat in Main Cabin Extra. Legroom is excellent, the seat is comfortable, the seat is reasonably wide, etc. And my seatmate is quite small, so that helps as well.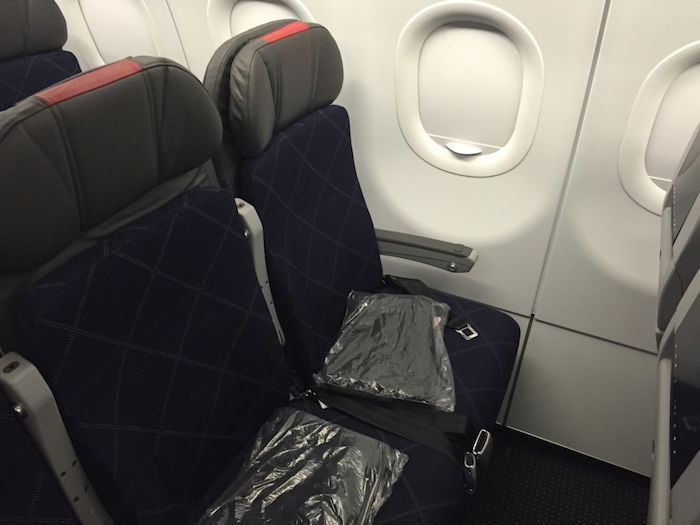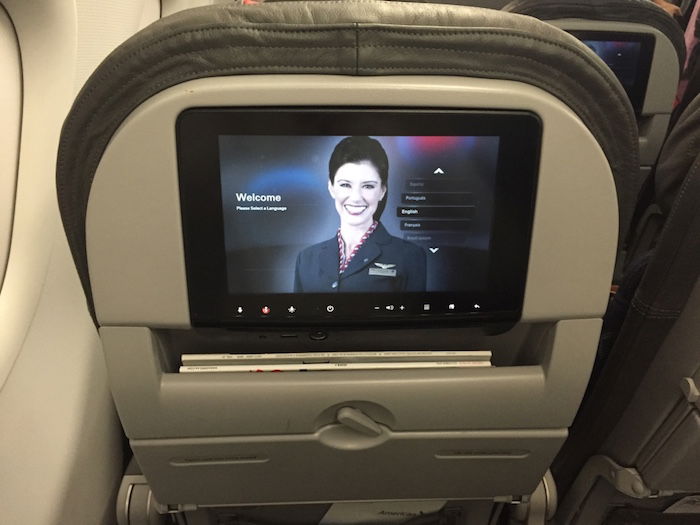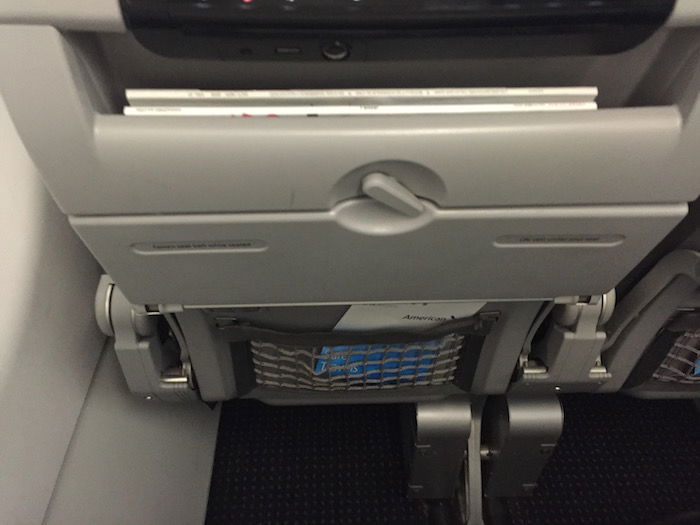 I'm actually able to comfortably work on my laptop, despite the fact that the person in front of me is reclined all the way.
Beyond that, the fact that the seat has conveniently placed power outlets, Wi-Fi, and inflight entertainment really helps.
So I'm really not physically uncomfortable in the slightest… even in economy. That's a testament to extra legroom economy seating, and really how airlines are investing in the onboard product overall.
Back in the day when I frequently flew economy, there were no power outlets, no Wi-Fi, no individual entertainment screens, and extra legroom seating as an option was the exception rather than the norm.
I feel more recognized in economy than first class
As an Executive Platinum member you receive a free drink and snack in economy. I'm generally not a fan of airplane breakfast, but the turkey croissant on the economy menu sounded decent, so I ordered it.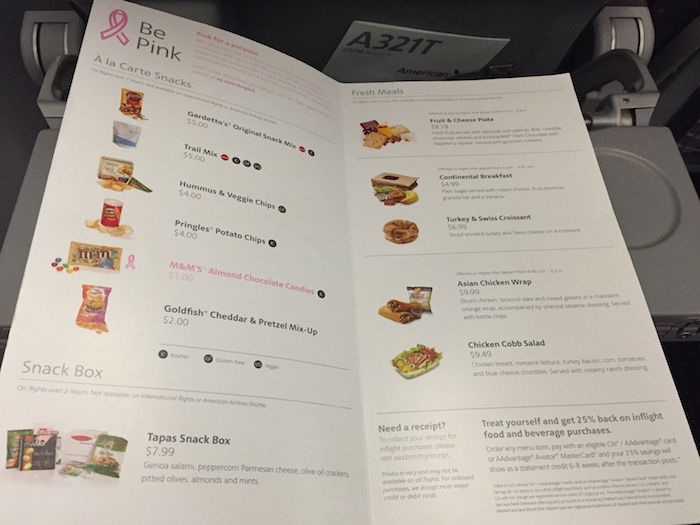 The flight attendant looked at her little tablet and said "thanks for your loyalty, Mr. Schlappig. This one is on us."
And frankly the turkey croissant was about as good as any dish I've had in first class.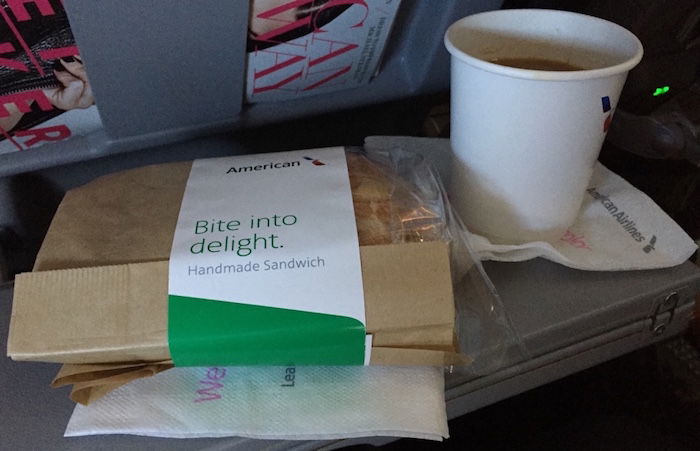 The view from behind the wing is kind of awesome
As an aviation geek it's really fun to sit behind the wing. I love looking out and watching the world go by, and the view is just that much better when you have the wing as the backdrop.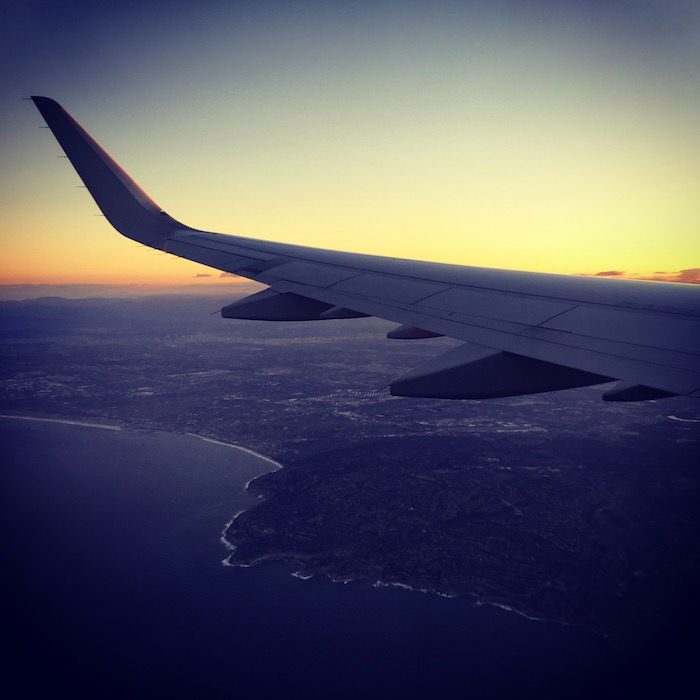 It makes you appreciate premium cabins
Over the years I've come to take premium cabins for granted. Not because I somehow think I'm "entitled" to them, but rather because I've been fortunate enough to consistently sit there on longer flights thanks to this game we play.
This morning I walked through first class, then business class, and then to economy. I've never even been as far back as business class on this particular plane, but boy did those seats look comfortable. You can bet the next time I get on an A321 in first or business class I'll be saying "ahhhh, this is nice."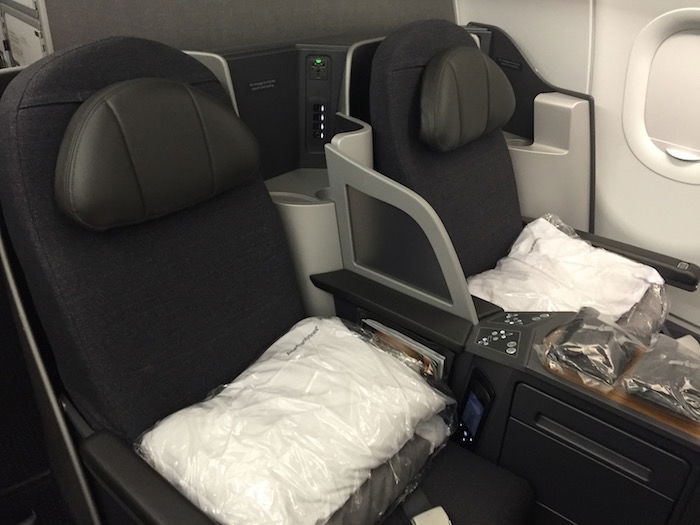 I'm dreading my connection
I'm not someone who cares about inflight entertainment, since I always bring my laptop and iPad, as I'm either working or watching my own shows.
I don't think I ever fully appreciated how much of a difference a "wired" seat makes, though. Power ports, Wi-Fi, and a moving map make all the difference for me in being "comfortable."
Assuming my upgrade doesn't clear on my connecting flight, I'll be stuck in economy on a plane with no personal entertainment, no power ports, old seats, and most likely inedible (complimentary) food. At least domestically I have the option of buying edible food (and getting it comped as an Executive Platinum member).
So I'm still hoping that upgrade clears, because I may have a different impression of economy when I land in Madrid tomorrow morning. 😉
Bottom line
Admittedly this isn't a 15+ hour flight, but it is the longest economy flight I've taken in a long time. And it isn't half bad. With extra legroom economy seating, Wi-Fi, and power ports, I'm a happy camper.
I won't be dreading economy in the future, though I'll still be doing all I can to avoid it using the power of miles & points.
Now let's see how I feel after the next flight (still crossing my fingers that my upgrade clears)!