In my 4+ million flown miles I've had a lot of flight cancellations/delays. But they've almost always been on airlines that I have status with or when I'm flying in a premium cabin.
Yesterday I was scheduled to fly from New York LaGuardia to Tampa on JetBlue with my parents (which is a whole different adventure in and of itself). Everything was looking good, and we left the city a bit early so we'd have time to visit the Centurion Lounge. Five minutes after getting in an Uber I get an email from JetBlue saying that our flight had been cancelled. Crap.

I was confused at first, since the weather looked fine, and this cancellation occurred hours in advance. As it turns out there was a low cloud ceiling, which was causing delays averaging over four hours. That's insane.
Usually I can make flight decisions in my sleep, since I've experienced just about everything. This one sort of stumped me, though. Do we stop the Uber and just stay in the city? Do we still go to LaGuardia? I was doing my best to get JetBlue on the phone while looking up inventory online, calming down my parents, and figuring out what was causing the cancellation.
When I phoned up JetBlue there was a 15+ minute hold time. While we were rebooked on a flight for this morning, I was looking up availability and noticed there was something out of JFK at 7PM. It had quite a few seats left for sale. Woohoo! While not ideal, at least we'd get home the same night.
As I kept holding I kept refreshing availability for this flight on ExpertFlyer… Y7… Y6… Y5… Y4… Y3…
Crap! Apparently I wasn't the only person trying to rebook on this flight!
As soon as I saw availability go down to Y3 (which means a total of three seats were left for sale on the flight) an agent finally picked up. She was suuuuper slow, despite my urgency (admittedly that probably doesn't mean much to her). "Hi, can I give you a confirmation number? Great, it's XXXXXX. Our flight out of LaGuardia was cancelled, and we'd like to be rebooked on a flight tonight at 7PM out of JFK. There are exactly three seats left."
Eventually she saw them, but go figure by the time she went to grab them they were gone. Grrrrr!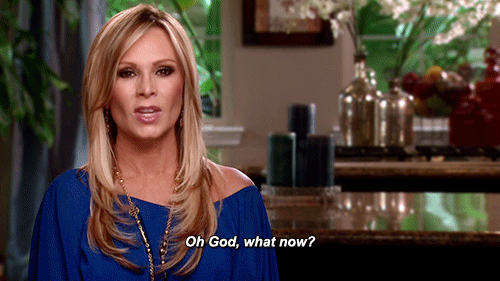 After finding the queues at the JetBlue counter a mile long and not getting anywhere with the agent on the phone, we headed to the Centurion Lounge. I figured if I could get my parents some wine and me some peace and quiet, I'd have a clearer head for getting us rebooked.
I'm used to seeing full Centurion Lounges, but I've never seen anything like this. There literally wasn't a single open seat.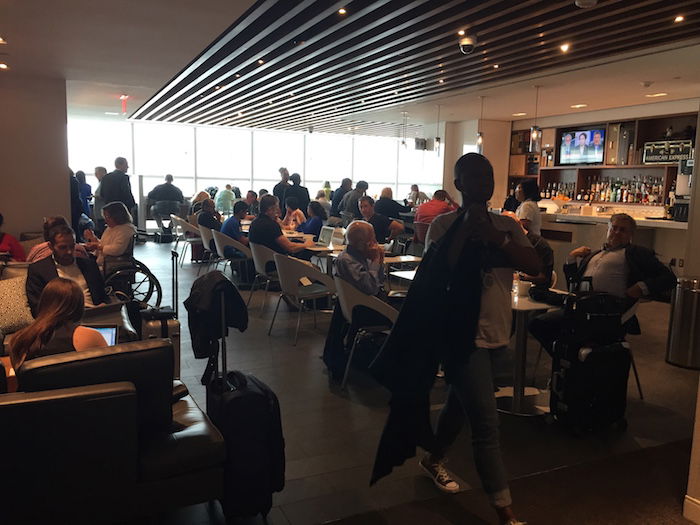 After getting some work done and monitoring inventory for a couple of hours we decided to head back into the city and call it a day. Space wasn't opening up on the flight out of JFK at 7PM, and I figured even if it did open up, I'd have no way of rebooking on it, since presumably JetBlue would have long hold times all day.
Ultimately this wasn't a big deal at all, but there's no denying that dealing with irregular operations is a vastly different experience as an elite/premium cabin flyer, than as an economy flyer.
On American if I have an issue I call the Executive Platinum desk, which rarely has hold times. And when there are hold times, there are "back door" numbers where I can get connected to an agent almost immediately.
While there are certainly tips for minimizing the impact of irregular operations, there's only so much you can do when there's a long queue for agents both at the airport and on the phone…
Now here's to hoping the weather doesn't deteriorate further to the point that we're stuck for another night!