I had heard in the past about MissTravel, a site which describes itself as follows:
MissTravel.com is the only online dating website for travelers, and more specifically, we match Generous travelers who hate to travel alone with Attractive travelers who would love the opportunity to travel the world for free.

Traveling to exotic new places and experiencing new cultures can be so much fun especially when you have the money to travel, and you have someone attractive to travel with (especially when it is with someone you really like). MissTravel.com was built to solve the big travel dilemma, by matching Generous frequent flyers who have the money but lack company with Attractive travel lovers who don't have the financial resources to do so.

Besides matchmaking, MissTravel.com does a whole lot more. The website provides an incentive system that allows Generous members the ability to gift frequent flyer points to Attractive members (hence gifting them the gift of travel). Attractive members who accumulate enough frequent flyer points may redeem them for free airline tickets and hotel rooms, allowing them the opportunity to travel the world for free.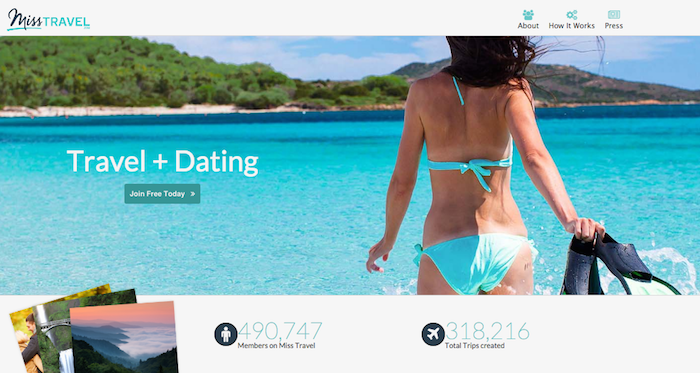 While the site has been around for years and I had heard of it before, Nightline ran an especially interesting segment last week, whereby they followed around two people who were meeting on a trip for the first time through MissTravel. Here's how the setup is described:
Kesslyn was getting ready to jetset off to Miami Beach for a romantic weekend getaway with her date Dave, who was paying for the whole trip, from salsa dancing lessons to fine dining.

The only thing is, Kesslyn and Dave had never met before.

"I am actually going on a date with a guy and we are traveling to Miami and we are going to meet up for the first time he's paying for this entire thing," Kesslyn said.

Dave, a 26-year-old outside sales representative from Santa Monica, California, and Kesslyn, a 21-year-old neuroscience major at Tulane University, are like a growing number of couples seeking spring break romance with the help of MissTravel.com, an online dating website that pairs "attractive" women with "generous" men willing to foot the bill for trips all over the world.
That was actually super interesting. I'll restrain myself from commenting on the two, other than to say that he's significantly more attractive/pleasant-seeming than what I'd expect from a site like this, and she's… well, if I don't have anything nice to say, I just won't say it.
What are your thoughts on MissTravel after seeing the segment (other than the interesting gender, and perhaps orientation, bias)?