In late 2015 it was announced that Accor would be acquiring Fairmont, Raffles, And Swissôtel. Accor was interested in acquiring these brands as it would help them increase their footprint in the luxury market, which is an area where Accor historically hasn't been strong.
Up until now, Le Club Accor and Fairmont President's Club have been run as separate programs, though we've known that eventually the programs will be merged. We now know when that will be happening. It will be business as usual for Fairmont President's Club through July 1, 2018, and membership will renew as usual on March 1, 2018, based on qualifying activity in 2017. At that point members will receive their annual e-certificates, valid through February 28, 2019.
Then Fairmont President's Club will be discontinued as of July 2, 2018. At that point, status will be matches to the Le Club Accor program, as follows:

Meanwhile if you have status with both programs, your status will be upgraded as follows: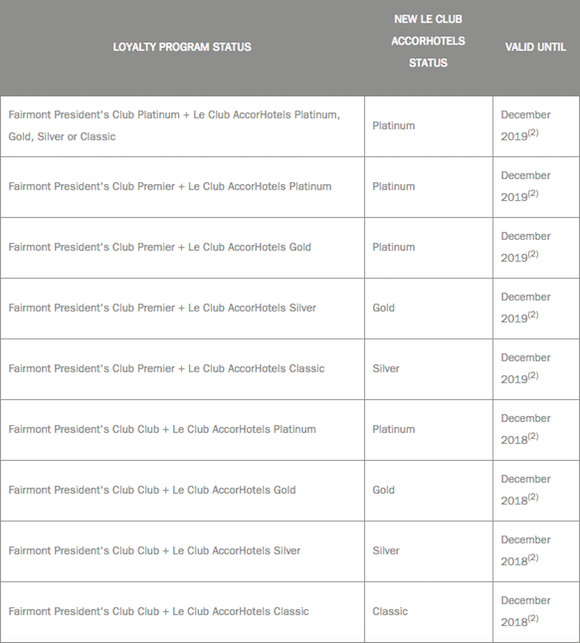 I'm not a huge fan of the Le Club Accor program, as you basically earn rewards in the form of vouchers that you can use towards stays.
For example, members earn the following number of points for stays at luxury hotels:
Classic members earn 25 points per €10
Silver members earn 31 points per €10
Gold members earn 37 points per €10
Platinum members earn 44 points per €10
Then you can redeem 2,000 points for a €40 voucher. In other words, a Classic member would have to spend €800 for a €40 voucher, while a Platinum member would have to spend ~€450 for a €40 voucher.
Accor also doesn't offer much in the way of guaranteed elite benefits. You get a lot of benefits (upgrades, late check-out, etc.) subject to availability, which is very different than Fairmont, which offered guaranteed upgrades (when using vouchers), etc.
Bottom line
The Fairmont President's Club is a really great niche loyalty program, and I know a lot of people are going to be sad to see it discontinued. While Fairmont members now have the benefit of having access to more properties, they won't receive the same generous benefits when staying at Fairmont properties.
(Tip of the hat to View from the Wing)